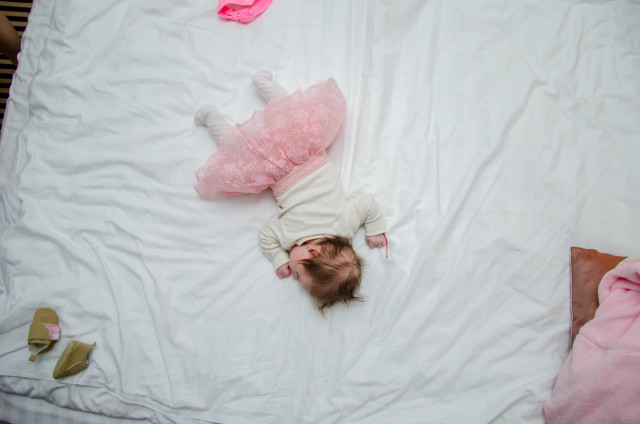 Every week, Preen tackles motherhood sans the rose-tinted glasses. Our columnists L. Juliano, Marla Darwin, Monica Eleazar-Manzano, Rossana Unson, and Ronna Capili-Bonifacio tell their personal experiences like it is—at times frustrating, oftentimes confusing, but always enlightening.
"How do you guys do it?" asked my male friend. He and one of my closest friends Lucy had just gotten on the wild ride of parenting in this millennium and have a sweet six-month-old baby. Apparently, sweet baby loves sleeping on their bed which meant that during those rare and short windows of time when he doesn't need parental love, his mom and pop can't get their love on. And because they live in a condominium, there really isn't much space left for their while-baby-is-sleeping pastime, unless they take his crib.
A few days after, Hannah, mother to a one-year-old, opened up to gal pals and said she and her husband haven't been getting it on lately. "What does 'not lately' mean?" As in, baby had learned to eat solids by the time momma and poppa could do some devouring of their own for the first time since her birth. And even then, sex hadn't been a regular occurrence thereafter. #thestruggleisrealmama. #mynetherregionsfeelforyours.
There are many warnings about the challenges of taking care of a baby, but no one ever said that a little bundle of joy could zap other forms of vigorous joy.
We're Never Alone
Surprisingly, once I asked my other momma friends, Lucy and Hannah weren't the only ones! "The baby's right there!" "I'm so tired!" "I haven't slept!" Becoming a mom introduces you to all sorts of positions—breastfeeding, that is, and wetness—milk, drool, spit up, wet poop. What were you thinking, hmm? And the exhaustion and sleep deprivation is unlike anything you'll have ever experienced. Sex is often relegated to the bottom of our priority list, somewhere below "my sanity" and above "watch the latest superhero movie franchise."
For many of us young moms, it really is the last thing on our minds when we're just trying to get through the day without killing our babies. And we're just trying to make it to the next day alive, too. Because we're so tired. All. The. Time. "Once, I've told my husband, 'Okay. Do whatever you want, I'll just lie here. I was just so tired!'" said my friend Elle and working mom of one.
I take an informal survey on Viber—how often do you have sex after becoming a mom? "Ours is sad," said Lucy. "Once a week na lang." "Once a week! Masaya na kami doon!" Elle answered in jest. Cue: incessant laughing emojis and stickers. "It would be great if it was scheduled. Then I would know so I can prepare," said Elle. Spontaneity isn't our strongest suit anymore. Maybe the obsession over getting baby on a schedule has us seeing our husbands the same way. Lucy, on the other hand, finds the tip-toeing around a sleeping infant to be exciting, almost like the excitement of sneaking around. Except this time, we risk getting caught by a curious set of doe eyes peeking from behind the playpen. So much for Parental Guidance, this is R-18, baby!
It's happened to my other mommy friends, their babies have woken up from their nap right in the middle of sex. What do you do?! "We just covered ourselves in a blanket and finished it right away!" I've seen their baby recently, he looks fine. No trauma or damage there. Maybe that's how his baby sister came about.
New Baby and New Body
Sexual drive doesn't seem to be the same as pre-baby, observes Hannah. It is hard to feel sexy when your boobs are rock solid from milk production—and the girls are getting attention every two to three hours anyway—plus you still have some baby weight on. "I don't let him look!" said Lucy. Our rack could be the biggest it's ever been, but it's often a no-go zone if baby's due to feed any minute now. Sorry, husbands, maybe we'll wear the same sign that accompanies glass figurine sold at the department store: look, but don't touch!
We're sometimes so into our babies that we can't get our minds off them. Even when they're finally sleeping (can I go to sleep instead???), and there's an actual opportunity to get busy with the hubby, we think, "But what if she cries?" "What if he suddenly needs me?" "Isn't it weird to be in the same room?"
Hey, sexy momma. Baby will be okay. It's time to think about the hubs. He may not cry his lungs out if he needs you just like your cute and adorable little angel, but I'm sure he needs to be with you too.
And you know what? You need this too. You want this too. And if you don't, yet, go make yourself a mean cup of coffee, find the sexiest lingerie that can still fit your still rocking body, and revel in the romp. See if this doesn't help you extend your patience next time baby goes on a hysterical crying fit.
Here's the one thing that's the same across the board—"When I see my husband being helpful with the baby, that's a turn on!" said mom of two Veronica. Seeing daddies changing diapers, burping the baby, and putting them to sleep is our new version of getting swept off our feet, and it comes with a much smaller price tag, mind you.
As the saying goes, happy mama, happy baby. Hopefully you let papa take care of your happiness.
Disclaimer: The views expressed here are solely those of the author in her private capacity and do not in any way represent the views of Preen.ph, or any other entity of the Inquirer Group of Companies.
Photo courtesy of Pexels
 Follow Preen on Facebook, Instagram, Twitter, Snapchat, and Viber