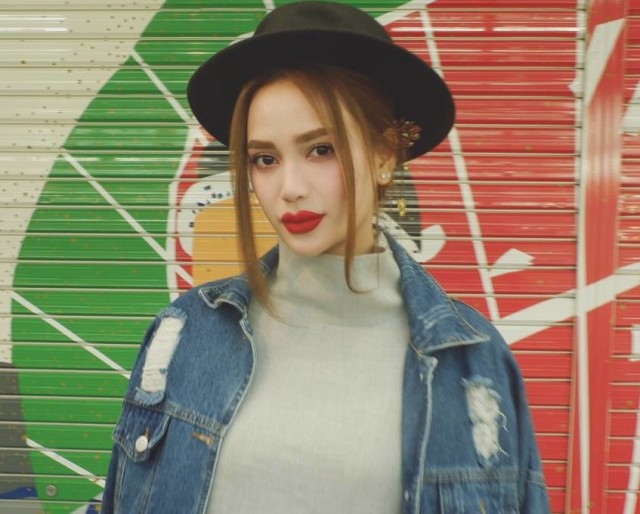 Arci Muñoz is an unexpected woman—one minute you'll see her in dramas alongside leading men like Jericho Rosales, Gerald Anderson, or Sam Milby. The next, she's either singing with her band at music festivals or dressing up as a Disney princess.
I guess you can say that her spontaneity is what keeps people tuned in to her life—on social media, mostly. That, and how her makeup looks and fashion choices always seem to be on-point wherever she goes.
While she shopped for makeup at the J.Cat store in BGC, we asked her a few questions about her favorite looks, her double life as a musician, and dealing with her haters.
How do you switch up your look from walking the red carpet to performing at gigs?
Every time it's different. I can't say I have a specific look because I love experimenting with makeup looks. I think that's what people really appreciate with me. They see that I really explore. Sometimes I wake up and I want a bold or simple look. Sometimes I'm lazy to do my makeup.
Since you often do your own makeup, what's the fastest you've done it?
I guess five minutes—only brows and lipstick. Like earlier, I only did my makeup in the car.
What's the most difficult to do when you're applying makeup in the car?
Brows. [Laughs] I want them to look full always.
What do you do when you make a mistake?
I'll start over! I'd be like, "Oh sh*t! My kilay!" [Laughs]
If you were to create a vibrant look, what colors would you use?
My favorite color is violet so I'll use that for my eyeshadow or lips.
What's the wildest look you've pulled off so far?
A lot. Right now, I'm experimenting on a Japanese look where the eyeshadow is spread below the eyes or the cheeks. Like super pink and it looks like your blush already. I did that in Japan and I wore a kimono.
Like the one Rihanna did for the Met Gala?
I've been doing that way before Rihanna did! She copied me. [Laughs]
What do you usually listen to while getting ready?
Mostly rock just to set my mood.
How do you deal with sleepless nights due to shoots, gigs, and other events?
It's hard. As much as possible when I finish work early or I don't have anything to do, I sleep early. I watch Disney movies before I sleep. But when I can't avoid [the sleepless nights because of work,] I just put milk on my face the next day. Or just apply concealer. [Laughs]
Do you often do the usual "rockstar look" with smokey eyes and dark lips?
Not really. I do whatever I feel like doing. It also depends on what I'm wearing.
Who are your style and music icons?
I always say that it's my mom. I have a clear vision of my mom when I was younger wherein I was sitting on her bed and watching her get ready for work. She always looks so fabulous in the simplest of ways. She's just always so classy. I also like my sister's style.
For celebrities, I like Rihanna and Katy Perry because they're not scared to try new looks. I also like the Olsen twins.
You love dressing up as cartoon characters from time to time. Who are you planning to dress up as next?
I'm still thinking about it. But my goal is Chun-Li from Street Fighter or Sailor Saturn.
How do you deal with people who judge your quirkiness outside of the spotlight?
I really don't give a sh*t! [Laughs] I'm so happy with my life, why would I let them affect me? There are people who always say, "Oh, that girl has an attitude because she has an I-don't-give-a-f*ck attitude." And that's not true! I'm not doing anything to them. [Laughs] I just do what I think will make myself happy.
Do people still get shocked when they find out about your band Philia?
They know that I have a band but they don't know that we play metal. I really can't force them to listen to my kind of music. All I can say is that I do appreciate [various] genres, but everyone likes different stuff.
Products that you consider as your holy grail
I really can't leave the house without brows. So probably all my brow products and lipstick. Take everything away from me except those. It's really true when they say "kilay is life."
Photo courtesy of Arci Muñoz's Instagram account
Follow Preen on Facebook, Instagram, Twitter, Snapchat, and Viber