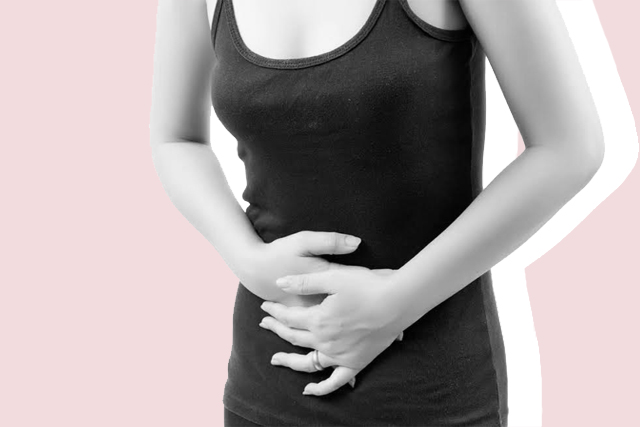 I was 16 when I was rushed to the emergency room due to excruciating abdominal pain. After a few tests, the doctors found that I had bilateral ovarian cysts, both around five inches in diameter, and endometriosis. According to my OB-GYNE at the time, this was a common disease among 30-year-old women and those who have children. So imagine their surprise when they saw a teen on that hospital bed.
I won't go into the technicalities, but here's a graphic idea of my condition: I used to get my period twice a month. And because of the endometriosis, I was also bleeding inside my uterus, which caused heinous blood clots. I endured that for three to four months. (You might've also read about the condition when Lena Dunham and Halsey opened about their condition some years back.)
Obviously, the cysts needed to be surgically removed before they might burst and permanently damage my ovaries. But since I was entering college, we decided to delay it until my semestral break. So my OB-GYNE injected me with a contraceptive that'll stop my period for three months and stop them from growing any bigger. After my operation, I took birth control pills to regulate my period.
That was my intro to contraceptives and birth control pills as a medical solution. During that time, everyone was still debating about the RH Bill. Growing up in a dominantly Catholic environment, I was (emphasis on "was") inclined to be against it because of the idea that it "kills unborn babies." Aside from being protective measures, I merely saw them as abortifacients.
Being sick also had its advantages. It opened my eyes to the possibility that girls who were the same age as me, or even younger, can have reproductive diseases like this. That contraceptives weren't so bad after all. My OB-GYNE once operated on a girl who had a ruptured ovarian cyst. And I know people who've been taking BCPs for their PCOS since they were younger. Imagine how devastating it'll be if the TRO on birth control and contraceptives won't be lifted in the near future.
It's also worrisome to think that young girls would be misunderstood and won't be given the power to choose what to do with their bodies. At 16 or 17 years old, it was sometimes tiring to explain my condition to people, especially my college blockmates. There was a time I had to skip a group assignment to get another contraceptive shot because my period had started. They looked at me like I was lying.
When I started having sex at 18, I had a handful of pregnancy scares. My boyfriend at the time half-joked, "If we did this during the one year your period was gone, we wouldn't be having this problem." Looking back at it now, it felt like it was my fault for finally having a fully functional uterus and cyst-free ovaries. I wish I retorted, "Why didn't you use protection?!"
Fast forward a few years, it's refreshing to see so many people welcoming Pro-Choice and engaging conversation on better sex ed. Even high school students now know more about contraceptives and BCPS, also preaching about everyone's right to choose. But with this TRO, it's back to square one. What's worse is that resources will become limited and eventually wiped out.
No young girl deserves to be scared of conditions that'll mess up their hormones or put them into early menopause. Most especially, they don't deserve to be deprived of the proper medication or knowledge to handle these conditions. This fight isn't just among legal-aged women, we must also think about the reproductive well-being of the younger generation.
If there's anything I've learned from dealing with my disease and contraceptives, it's that I shouldn't give people who don't understand the right to invalidate my struggles. This should be every girl and woman's mindset towards a government that's taking our freedom away.
Art by Anna Cayco
Follow Preen on Facebook, Instagram, Twitter, Snapchat, and Viber
Related stories:
The #LiftTRO on Contraceptive Pills Is Every Woman's Fight
If Men Needed to Take Birth Control, the TRO Would Be Lifted ASAP
Birth Control Shouldn't Be Reduced to a Game of Politics