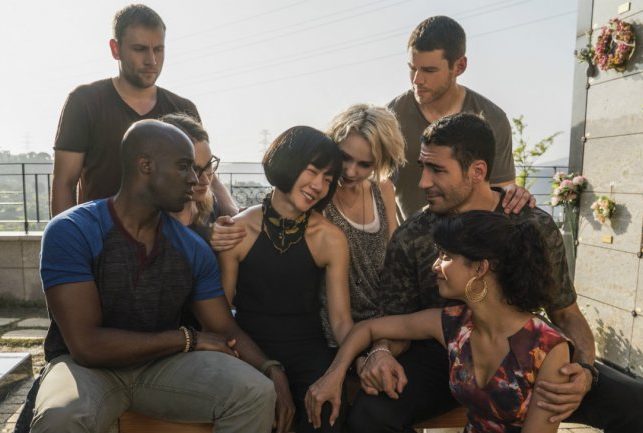 For many, Pride Month started badly after Netflix confirmed that they're canceling Sense8. But this is more than just people ranting about their favorite show. It's about removing a series that openly shows LGBTQ relationships and diversity.
? #Sense8 will live on through YOU. Get out there and LOVE, VISIT, LEARN, SHARE, VOLUNTEER AND FIGHT FOR EACHOTHER & THIS BEAUTIFUL WORLD. https://t.co/wzWmbyKltx

— Jamie Clayton (@MsJamieClayton) June 2, 2017
I'm sorry #Sense8 has been cancelled. It was an incredible experience. Thank u to everyone​ who watched and supported the show. Wl miss it.

— Tina Desai (@tinadesai07) June 1, 2017
If you're not familiar with the show, Sense8 revolves around eight individuals who are connected psychically. What's great about the series is that it portrays the topics that are considered taboo in mainstream media like same-sex relationships and cultural differences. Not only that, it focuses on love and acceptance among different people.
The show just premiered its second season last May, and now people are having a hard time saying good-bye. Many fans couldn't help but be sentimental and share how Sense8 changed their lives. Some are even encouraging people to call up Netflix to keep the show running.
Call Netflix! Call to complain! Just tweeting alone isnt enough, if you can, take 2 minutes to call!! #Sense8 #RenewSense8 #BringbackSense8 pic.twitter.com/JB3IPQJ3xB

— ? (@infinityygem) June 2, 2017
I am genuinely devastated at the cancellation of #Sense8 I feel like I just lost a part of myself pic.twitter.com/x6BLquh3bI

— Post Millennial Mess (@rouxzes) June 2, 2017
Sense8 has taught me many beautiful things not like any other tv show. It inspired me. I'm forever grateful for that piece of art #Sense8

— Mazed Mohamed (@MaZeddd) June 2, 2017
These 8 people, they showed that with love and union can achieve great changes, are a beautiful family and I love them so much! #Sense8 pic.twitter.com/CANbNodSiR

— NAMANANA; SAVE YOU // DON'T MESS UP MY TEMPO (@BloombieOB) June 2, 2017
CALL CaLL CALL #Sense8 #renewsense8 pic.twitter.com/3hbx46s59J

— nardjes (@Amazighoe) June 2, 2017
They also questioned why 13 Reasons Why got a second season. If you read the book, you'll understand why it's an unnecessary move.
https://twitter.com/BassamAldajani/status/870476088601980928
https://twitter.com/stumpkwan/status/870335681347846145
Meanwhile, there are those who are angry about not finding out what'll happen to their favorite characters.
Kala and Wolfie will never meet in person.
Nomi and Neets' wedding won't happen.
Capheus won't save Kenya.
Lito's film!
THE WAR! #Sense8 pic.twitter.com/plloIoplm1

— ? Dale ? (@allanplusdale) June 2, 2017
#Sense8 ends on a cliffhanger and confirmed canceled the first day of Pride month. pic.twitter.com/v19Xnbu28w

— Brooke Grantham (@brookeandsuch) June 1, 2017
Lastly, fans voiced their disappointment over the fact that Netflix let go of a show that promoted equality in gender and race.
Bad Move Example: Cancelling #Sense8… on the first day of Pride Month. I would very much like this show renewed, please & thank you.

— Thomas Sanders (@ThomasSanders) June 1, 2017
Canceled on the first day of #pridemonth, #Sense8 was a masterpiece of queer rep, international community & diverse culture. ??@netflix thx

— DIYA (@thedimishra) June 1, 2017
https://twitter.com/soIoskywalker/status/870333767310880768
sense8 had amazing lgbt rep: two gay men, a lesbian trans woman, a lesbian.. the rest of the cluster wasn't straight either #BringbackSense8 pic.twitter.com/3ogOkDuEZ5

—  (@ravenclvws) June 2, 2017
we get it netflix hates people of color and the lgbt+ community but did it have to cost us sense8

— jay (@pIanetofIove) June 1, 2017
There's no clear reason why Netflix decided to discontinue the show. Directors Lana and Lilly Wachowski also gave a vague statement on the cancellation. If the streaming site won't renew it, the best bet is that another network would pick it up. The problem is that it might not portray the same elements due to censorship and difference in direction. But the important thing is that the message of equality is still there, right?
For now, you can spend your weekend binge-watching the two seasons, including the Christmas special. Prepare tissues just in case.
Thank you for being a part of our journey. Sensates forever. pic.twitter.com/SClwiY3rwy

— Sense8 (@sense8) June 1, 2017
Screengrab from Sense8
Follow Preen on Facebook, Instagram, Twitter, Snapchat, and Viber