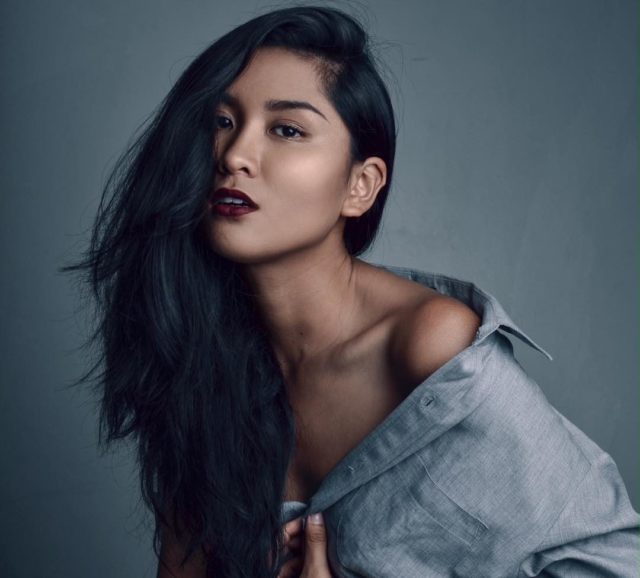 I pursued this story with this idea: Models often follow strict diets, especially on days leading to a show or a shoot so whatever they break their diet for better be worth it.
It better be worth that extra 30 minutes running or the other sacrifices they have to give up. When your paycheck relies on what you intake, the costs can run pretty high. But the reward of giving into your guilty pleasure is sometimes too good. And I was right, the various models confessed to loving the standard childhood favorites to a few underrated gems here and outside the metro.
Take some notes. And hide the weighing scale for a second.
Steffi Ziebert

Samgyupsal or Korean barbecue. If I see samgyupsal, I think, "I'll just start my diet tomorrow." KPUB BBQ is good for more meat choices while Hwang So Ga near Robinson's Manila is best for a price that's budget-friendly.
Hye Won Jang

I love getting Razon's halo-halo when I want to treat myself for that day. I love ice to begin with (Laughs) and the combination of saba and leche flan is just so good.
Bianca Guidotti

For me, chocolate is my greatest weakness! I love Reese's Peanut Butter Cups and Cadbury.
Kara Gozali
Cheat day snack? Sweet Ecstasy's Double Cheeseburger and fries. There is no better way to my heart than a burger with cheese and caramelized onions.
Maan Marquez
My cheat day treat is falafel sandwich with lots of garlic aioli and 8 Cuts' Onion Rings.  Beni's Falafel is number one or [if not from] Café Mediterranean. I also like ginataan and biko made by my family or friends.
Chelsea Robato
I love frozen yogurt specifically anything with chocolate, caramel, and Oreo cookies. I like the ones from BLK153, Pink Berry, and Llaollao, whichever is nearby.
Eriko Malabanan
Okay, so cheat day, I should say I go for wholesome comfort food because it's a healthier decision to make. I'd go for burger or pizza because we all know any sort of greasy [fare] is awesome. There's this good burger joint in Ise, Japan named Ace Burger. I also love Domino's Pizza. I haven't tried the Domino's in Manila but their Cheese n' Roll Quattro Delight is my new favorite pizza. Army Navy is my go-to place in Manila for my greasy food fix, though, as it's near my condo.
Jullian Culas
When it comes to diet, I have no restrictions. (Laughs) But my ultimate snack or dessert would have to be halo-halo. If given the chance, I could eat one every day. There are two kinds of halo-halo I know of, the regular one with all the ingredients and the one from Pampanga. For the first kind, I love having it at Mesa, for the other one I love the one from Teresitas.
Jodilly Pendre
Jollibee C3 with rice and Sarsi. It's spaghetti with spicy chicken. I also have chocolate mousse from Red Ribbon after.
Tessa Burton
I'd say my major cheat food is pizza. I'm a self-proclaimed "Pizza Princess" (Laughs) Pepperoni is my favorite. I love the one at S&R, Shakey's is good too with some mojos. Ultimately, I love brick oven pizza. The one from Flotsam & Jetsam in La Union is so good. Project Pie is good too because you can build your own pizza.
Dessert-wise, I love fruit desserts like froyo, apple crumble, and strawberry tarts.
Wanda Chen
The ultimate cheat day snack for me would be anything with chocolate. Guylian Chocolate is my fave but Mars and Milky Way could do too.
Follow Preen on Facebook, Instagram, Twitter, Snapchat, and Viber