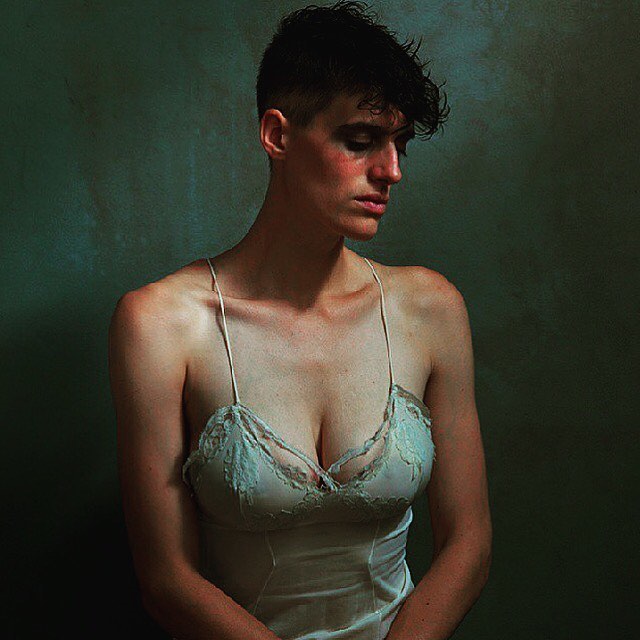 The first time I chanced upon model Rain Dove was via Allure's "Dispelling Beauty Myths" series. Rain is known for her androgynous looks featured in editorials for Mod, Huffington Post UK, and Elle. She also walked for London Fashion Week last February and became a Dove ambassador.
Despite her gender-bending appearance, what really struck me about her is how she starts a conversation on gender norms and double standards. "When I'm in masculine clothes, I have the privilege of looking like a white, young decent-looking guy. When I walk around in a dress, if I try to walk as confidently, people see it as aggressive," Rain told Allure. She then narrated how she felt safer when she dressed like a man.
That anecdote alone is enough to spark discussions on what is expected of one's gender. To further this, Rain often creates social experiments and shares them on social media. Sometimes even her captions are enough to spark debates. View them below to see how she does it.
#1 Anyone can wear lipstick
It's not new anymore to see a man donning a full face of makeup, whether it's for a show or it's their regular look. But there are still some who are disrespectful when they see masculine-looking people wearing makeup. "If I decide to wear makeup and don't pair it with the right outfit people can get aggressive," Rain wrote. She added how people would instantly assume that one is transgender or a cross-dresser when they don't look feminine enough.
#2 The catcalling problem
As Rain mentioned in "Dispelling Beauty Myths," she's often followed when she's seen in a dress. In several Instagram posts, she also proved this by posting side-by-side photos of her looking like a man and a woman. "Same shoes. Same hair. Same person. Same park. But the walk took twice as long in a dress because of the catcalling and people asking me questions," she noted.
She did the same thing on the streets of London, saying that she received several wolf whistles while walking. "So to get home safely after a night of drinking I often choose shirts and pants."
The fact that women are required to dress "decently" to avoid catcalling is sad. Rain continues to prove that and advocates how this part of society should be changed ASAP.
#3 Doing a man's job
Before becoming a full-time model, Rain worked as a fireman. When people find out, the first reaction is always how it's "an amazing accomplishment" as a woman. But when she's dressed as a man and tell people the same thing, she said that people are less interested and don't congratulate her for the achievement.
There's nothing wrong with praising a woman for being a fireman or any profession. But to base it on her gender and being surprised that a woman managed to do a man's job is borderline sexist. This begs the question: Why don't you believe that women can work the same jobs as men?
#4 Breaking beauty standards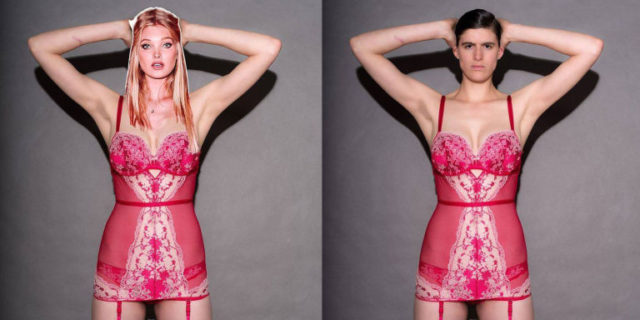 After the Victoria's Secret Fashion Show in 2015, Rain did a photo shoot in VS lingerie to prove a point to "stop viewing gender and beauty as a binary system." She told Elle, "I'm constantly told in the industry that I don't look like a woman, so therefore I can't be put in editorials and campaigns because people wouldn't get it." She then made a point that not every woman looks like a Victoria's Secret model, but that doesn't mean that they're less of a woman or person.
#5 What to eat?
Rain did a social experiment in New York where she asked passersby to point out what she would likely order. She did this while dressed up as a man and then as a woman. She noticed that 70 percent of people ordered a light meal of grilled salmon and Caesar salad when she was in a dress. Meanwhile, people ordered burgers and ribeye steak when she looked like a man. Seriously, who's to say what a person should and shouldn't eat?
#6 "Will work for food"
Probably the most surprising experiment (for me) was when she held up "Will work for food" while walking in the street. When dressed as a woman, she was asked to do sexual work. As a man, she was offered to do cheap-paying handyman work. If that doesn't open your eyes to blatant sexism, then we don't know what will.
Photo courtesy of Rain Dove's Instagram account
Follow Preen on Facebook, Instagram, Twitter, Snapchat, and Viber
Related stories:
Girl Watching and Why Men Can't Take Sexual Harassment Seriously
Barbara Kruger, Laura Mulvey, Black Widow, Wonder Woman, and The Male Gaze
How Do I Deal With Catcalling?
Hong Kong Proved that Women in Revealing Clothes Don't Cause Rape