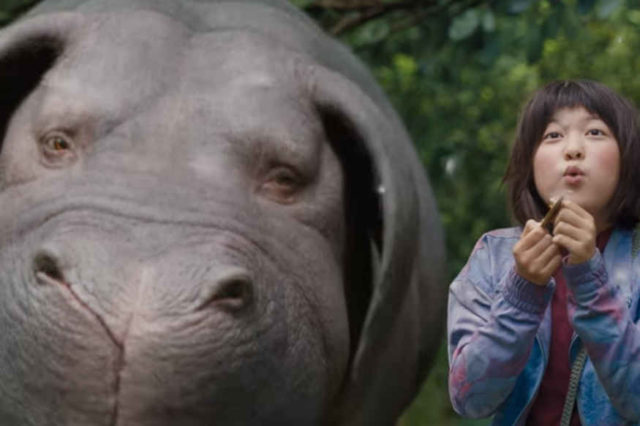 Don't let the image of the giant pig-like animal fool you into thinking that Okja is a wholesome film. Its brutally honest take on animal rights and corporate greed will leave you emotional.
The Cannes-approved film centers on a young Korean girl Mija and her pet super pig Okja. It takes you on a journey of saving the super pig from getting slaughtered by a multi-million company.
Okja first premiered at the Cannes Film Festival 2017, and later on Netflix last June 28. Despite the controversy surrounding the festival entry, it became an instant hit among viewers. Many also noted how they cried hard while watching it—myself included. Here's what you should expect if you want to stream it.
#1 Cute super pigs
The stars of the film are, obviously, the super pigs. They're like a cross between a hippo and a cow, and are also as big as trucks. They're smart and loyal like how Okja is to Mija. You're going to want around five super pigs once the film ends, trust us.
#2 Tilda Swinton is the worst person ever
Tilda Swinton didn't hold back in portraying a power hungry businesswoman who wants to make money out of super pigs like Okja. In an interview with The Wrap, Tilda admitted that she channeled Ivanka Trump's plastic doll-like demeanor for Lucy Mirando. "When we shot in New York last summer, I stood watching the Republican convention on the television in our lunch break dressed as Lucy, watching a different daughter of a different dubious dynasty addressing, from a high podium, a big crowd with glossy blond hair, expensive orthodontics and modeling her Barbie-perfect modest pink dress." And you'll get just that in the most exaggerated and unnerving way.
#3 The pseudo animal lover
All throughout the film, the Mirando Corporation drills into everyone's heads that they're breeding super pigs for the benefit of the world. They would repeatedly note how the super pigs would be more eco-friendly and their meat is healthier. Mirando even has a Steve Irwin-like host, Dr. Johnny Wilcox (played by Jake Gyllenhaal), as the face of their campaign.
Among all the characters, Dr. Wilcox is probably the biggest paradox in the film. He's a well-known animal lover, but also supports and heads the inhumane slaughter of super pigs. There are also several scenes where he would prove that "getting the shot" is more important than the animals' welfare.
#4 The extent of greed
Would you forget animal and human rights for money? That's a question that will pop in your head while watching Okja. Aside from putting the super pigs through horrible circumstances, the Mirando Corporation also held Mija captive and used her for their promotional tools. They'd even order a SWAT team (known as Black Chalk in the film) to beat down animal activists who try to stop their project.
It's also worth noting how Mirando also milked the "GMO is friendly" message, only to act otherwise behind closed doors. It's like when brands say they're cruelty-free but would still test on animals in other countries and condone child labor.
#5 Feel-good and dark humor
Okja director Bong Joon-Ho inserted humor that's not cliché and leaves room for intellectual discussions. Some of them were dark that you don't even know whether you should laugh or cringe at the reality of it all. His style and approach are also often likened to Wes Anderson's whimsical movies. The only difference is that he doesn't mask the disturbing scenes with bright colors and cartoon-like transitions.
Screengrab from Okja
Follow Preen on Facebook, Instagram, Twitter, Snapchat, and Viber
Related stories:
The Questions that Sense8 Should Answer in Their Two-Hour Finale Special
The Dark Side to Cruelty-Free and Vegan Cosmetics
Netflix' The Keepers Is a Reflection of How We Treat Sexual Abuse Victims
Why The Handmaid's Tale Is the Anti-Woman Series You Need to See Right Now
5 Things that Make Riverdale (Kind Of) Messed Up