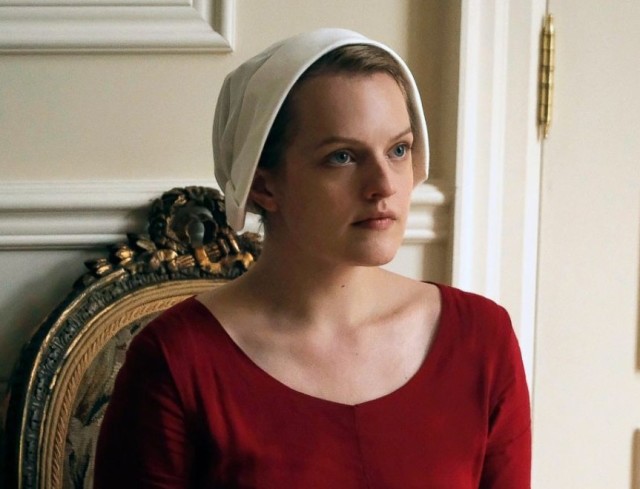 During these trying times wherein women are often pushed to a corner, we look for media that voice out these plights. HBO's Big Little Lies did a great job in portraying domestic abuse. But just yesterday, the premiere of Hulu's The Handmaid's Tale pushed the envelope and kept people on their toes.
The series is an adaptation of Margaret Atwood's 1985 novel of the same name. It occurs in dystopian England where a male-dominated theocracy rules and women's rights are non-existent. The protagonist, Offred (played by Elisabeth Moss) belongs in a class of women called "handmaids" who are raped by powerful men for reproduction.
What's disturbing about this show is not how anti-feminist it seems. It's the fact that what's happening is highly possible, especially with recent misogyny-filled events. Here's a quick breakdown before you watch the next episode.
#1 Removal of women's rights
If the Women's March told us anything, it's that our rights are in danger thanks to misogynistic politicians. The Handmaid's Tale shows how misogyny will thrive in a world like this. As you watch the series, you'll see how poorly women are treated that they have no choice but to depend on the men. It's so bad that they're even named after the men who own them—like how Offred is literally read as "Of Fred."
"There's violence and sexual assault to spare, but it's the milquetoast misogynists that feel more familiar," The Guardian wrote. "It's a creeping sort of sexism that American women are all-too familiar with—the kind that pats you on the head instead of on the ass."
This fact shouldn't just disturb women. To quote Elisabeth Moss, "It's also a humanist tale. That's all. Women's rights are human rights."
#2 Fertility problems
The main reason handmaids exist is due to the infertility of women caused by pollution and STDs. Hence, resulted in a decline in childbirth.
This is relevant in our country right now with the government still hesitant to teach sex education and distribute condoms in schools. We're also guessing that the infertility was caused by reproductive diseases—something that could've been avoided if women were prescribed with the right medication, aka, contraceptives.
US President Donald Trump, for example, vows to repeal the Affordable Care Act and defund Planned Parenthood. Thankfully, this hasn't been implemented yet, but this is still threatening for women everywhere.
#3 Abortion is (still) taboo
As expected in a fictional theocracy that holds no importance to women's rights, abortion is also a prohibited practice in the show. An episode showed six dead men who were hung on a wall, one was an abortion doctor. This is telling of how dead-set the men are to increase the population, even if the children were born out of rape. They treat these women as mere vessels to carry children in and not as human beings. So just imagine if we let government officials remove our freedom to choose whether to have an abortion or not.
#4 Education is not allowed
The handmaids were not allowed to read or write, or do anything educational for that matter. If they were caught, they would get their hands chopped off. This is allegedly meant to keep them away from words that are deemed "undesirable" by their dystopian society.
You'd think that it's like the medieval times all over again. However, it's also saddening to know that, as of right now, there are nations who don't allow girls to get an education. Isn't it scary?
#5 Inequality with the LGBTQ community
One flashback scene showed how the women's bank accounts were freezed and all their money went to their husbands. But if the woman was a lesbian, she wouldn't have any access to her account whatsoever. This obviously shows that discrimination among the LGBTQs are still common, but more targeted at lesbians since no gay man was mentioned in the series.
Screengrab from The Handmaid's Tale
Follow Preen on Facebook, Instagram, Twitter, Snapchat, and Viber