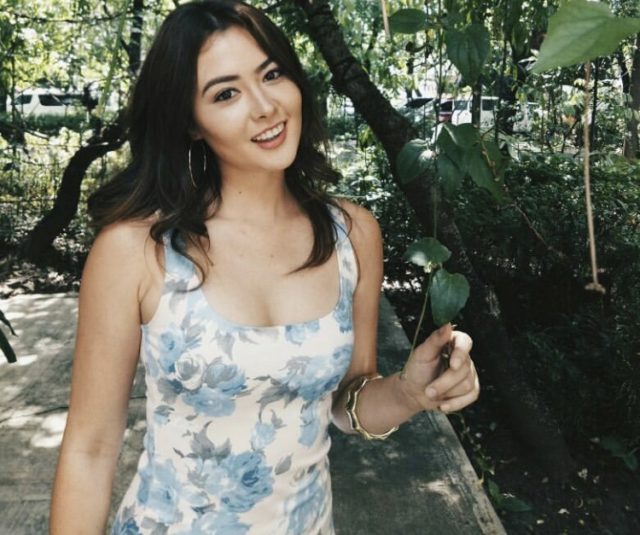 Actress Coraleen Waddell is one friendly face you wouldn't mind seeing on a Saturday. I should know as I caught up with her during her #CoraleeWaddellxMACRetroMatte Meet and Greet. She shared her enthusiasm to see her fans and the people who have supported her through her PBB life and even in her budding vlogging career. "I want to meet you all even though you're more than a hundred," she said.
The work doesn't seem to slow her down either. She tells me of future projects (scroll down to find out) and how she's happy to be where she is. "I have always wanted to be an actress because my dad is a photographer. I have always been exposed to art."
Who was the person you last texted?
Probably Cedric Pasco or Patricia to come here already. That's my best friend and my road manager.
Who is the person who texts you often?
My mom. We text every single day. She usually wakes up earlier than I do and would text me first.
What's your dream career?
Other than the one I have right now, I would probably be a dessert-taster. Or a beach resort critic or own a beach resort myself.
I noticed on your Instagram that you love the beach. What's your favorite one so far?
I was in Palawan recently so I have a bias for that place. I also went to Tioman Island in Malaysia. I went there to do some work with National Geographic. We did some [coastal clean-up] work. It was focused on the starfish that eat corals. We collected those and hatched some turtles. It's a show we're waiting for come out. It's called Stepping Out that will come out on National Geographic channel.
Which Hollywood Chris is your favorite?
Hemsworth is gorgeous. Pratt would make me laugh. Pratt is pretty fine right now, though. I don't know, I have to meet them. I have to try them out first. [Laughs]
One food item you don't mind clocking extra exercise minutes for?
Anything with cheese. I will never be able to give up anything with cheese on it. And chocolate.
What's your workout routine like?
Lately, I've been running. Definitely cardio. I also do a lot of aerobics so I can stretch at home along with yoga.
What three makeup items would you use if you had just five minutes to get ready?
I'll use BB cream, mascara, and lipstick.
What kind of nude lipstick do you like?
I love a greyish-nude because it lightens your teeth and with my skintone, that shade makes my lips look fuller.
What makeup items are always with you?
Mascara is my favorite and also a lip liner because it will stay on longer and it's also easy to use as a lipstick.
What album is on repeat on your phone these days?
Lorde's new album. Me and Cedric have been listening to it so much.
Describe your fashion sense
I am a very lazy person. So I like something more Bohemian. Even on dressier occasions, I like to sneak in a bell bottom. If I can be chic and comfortable, then I'm happy.
Which celebrity do you think would be a good stylist for you?
I've been working with Lovi Poe. I love her style. When she comes to set, she's always presentable. She always looks fresh. I have a girl crush on her on the set of Woke Up Like This. [Laughs]
You've been labelled as bossy. What can you tell women who face the same criticism?
To women who are working to become women of power, working to have control over their own finances and lives, if someone calls you bossy, of course it's going to be hurtful at times. But bossy is a term that is used to describe people who take action, people who take life by the reins and control what they want to do. So if you are doing what you want to do, getting your paper, getting your goals set, girl, go! If they call you bossy, they're just envious. They aren't as organized as bossy women tend to be.
What's one thing you want to do in your acting career?
I want to do an action film. I want to do something like Colombiana. I would do my own stunts. I would love to have fight training.
What's next for you?
We just finished taping for the movie with Lovi Poe and Vhong Navarro. I think it's coming out this August. I am also working on a movie with Christian Bables from Die Beautiful.
Photo courtesy of Coraleen Waddell's Instagram account
Follow Preen on Facebook, Instagram, Twitter, Snapchat, and Viber
Related stories: 
Lovi Poe's Easy Makeup Tips for the Clueless
Palawan Is the World's Top Island for the Second Year in a Row
Preen Series: How to Do the Sharpest Cat Eye