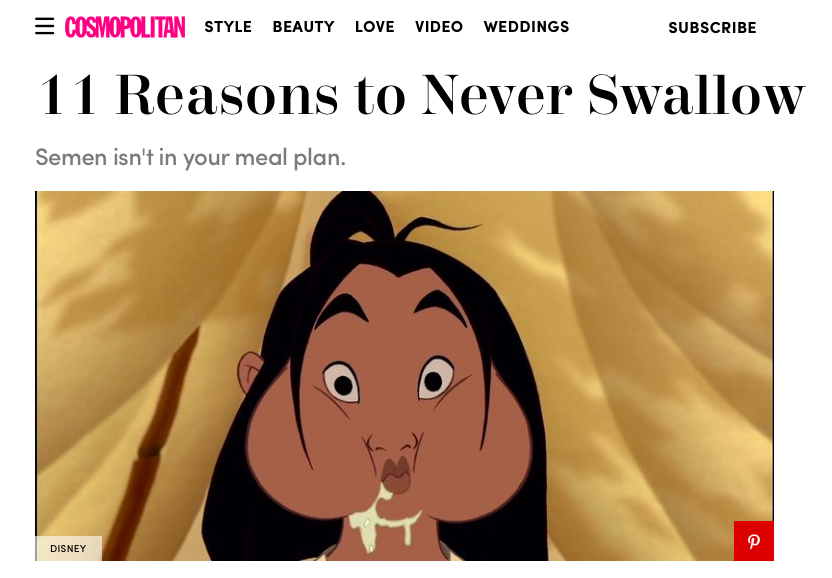 Disney's animated film about the legend of Hua Mulan, a female warrior who fought for China against invaders, is funny, lighthearted, and entertaining. But the scenes were not supposed to be used as a representation of something sexual.
Cosmopolitan US posted an article with the title, "11 Reasons to Never Swallow," and yes, they were talking about blow jobs and semen. The image they chose to headline the said article is a screenshot of Mulan with her mouth full of porridge.
Appropriate? I don't think so. One, Mulan is part of China's history and folklore as a strong woman who defended China. I think she deserves respect and none of the misappropriation. Second, the film was created in order to educate the younger generation about her history, what she has done, and an encouraging representation that women can do anything! So yeah, we agree with an Instagram post that said, "Mulan did not save ALL OF CHINA so Cosmo could use her for a headline pic like this."

Don't get me wrong, we're not in any way looking down on blow jobs and whether or not you swallow. My point is that there are other images that could've replaced that picture and that Cosmopolitan US should've been more careful.
Screenshot from Cosmopolitan US
Follow Preen on Facebook, Instagram, Twitter, Snapchat, and Viber
Related stories: 
Why We're Not Feeling Solenn Heussaff's New Endorsement Trailer
Erich Gonzales' Rom-Com Moment via Billboard Isn't Cute for Other Reasons
Isn't It Time We Gave Women the CEO Position?
Why Are People so Obsessed with 'Boob Shaming'?