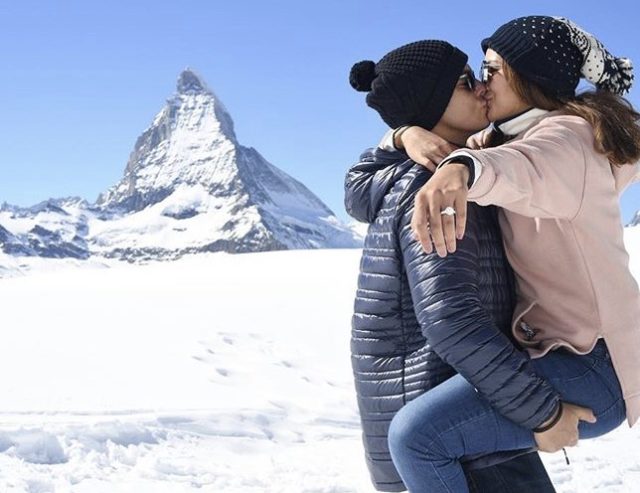 The premiere episode of the fifth season of It Takes Gutz to Be a Gutierrez, the guilty pleasure of a show about the intriguing lives of our favorite showbiz family, served as the formal announcement of Richard Gutierrez and Sarah Lahbati's engagement.
Richard apparently popped the question during their vacation in Switzerland, as Instagram photos would testify. Shortly afterwards, they celebrated their five-year annivesary, where Richard suprised Sarah by showing up unexpectedly at the premiere of her film, Ang Pagsanib Kay Leah De La Cruz. 
Preen.ph got a closer look at the engagement ring last night during the private viewing party of the first episode of season five. It's unsurprisingly a sparkly perfection that you could see a mile away (Okay, not that far, perhaps half a mile). It was also quite the accessory to pair with Sarah's dress for the night: a Boom Sason creation with a thigh-high slit that lasted for days. To be a Gutierrez means to be a little over-the-top, anyway, don't you think?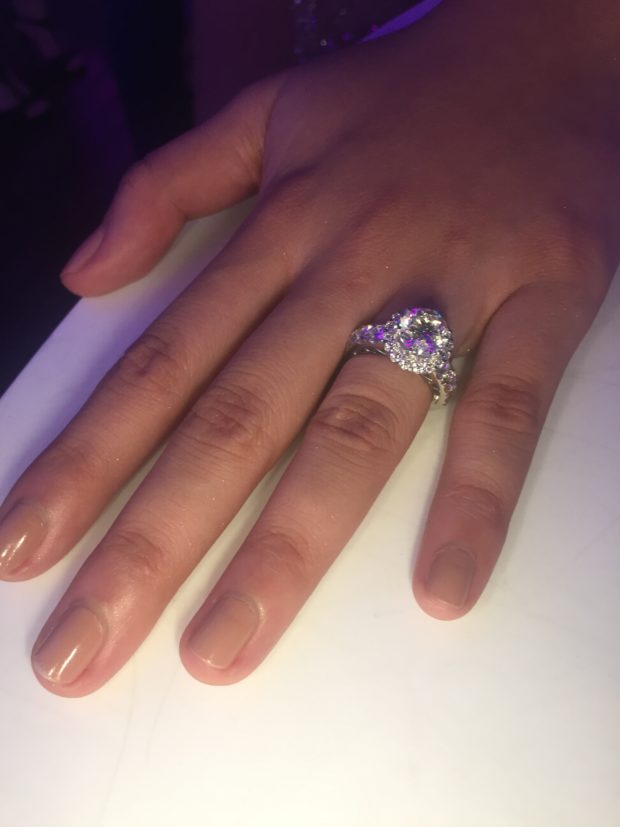 As we raised our glasses for a toast to the show's latest season, led by the family's revered patriarch Eddie Gutierrez, it indeed felt like the start of something new. For Richard, especially, the wedding is another chapter in their lives. "I guess it's a fresh start. We've been living our lives as a married couple but this formalizes that so it's always exciting." In between taking more questions from a wanting press and flashes of cameras, they were adorable and acting like a married couple already, fighting about who Zion takes after more. (Richard says it's him, Sarah says it's her especially because of Zion's love for music.) So one would doubt that these two need a new beginning. They also admitted that they haven't really changed up their routine to prepare for it so far. No special diets or schedules. In fact, career still comes first. Richard shares, "For our line work now, it's required [to always be at our best.] We always have to be consistent on taking care of yourself and we're both focused on our career. Looking good is part of it."
Still, this engagement has been a long time coming, especially after everything he and the rest of the family have been through. He found that this was the best time to get engaged and to tie the knot, since the Gutierrez family has been seeing better days. "It's been a very good and positive year. The past few ones have been rough, to say the least. It's the perfect timing."
As with most engaged couples, high on the wedding jitters and the general festive feeling, they still want to keep a few things intimate. They refuse to say much about where they want the wedding to be. Sarah only has a decisive condition, however. "It has to be somewhere cold." At this, one might believe that they would most likely chose a European destination, defintely a trend in the celebrity weddings we saw last year. They could choose to go back to Switzerland or another popular destination like Monte Carlo, Monaco. If they want to keep things little closer to home, we already saw how Niseko, Japan is desirable place if you want to getaway from the heat.
Richard was a little more candid about their honeymoon destination. "I think the honyemoon [came first]. So this is our second honyemoon. We're probably looking for a tropical destination. The beach, most likely." For this, Richard and Sarah can keep it local with Palawan, voted the best island in the world. But they would most also likely book another out-of the country plane ride. The usual suspects are Aruba, along the Dutch Caribbean or Ibiza. If they want both white and pink sands ,they can choose Tikehau Island, French Polynesia or they could opt for a private hut in the Maldives.
One thing is for sure, however, for Richard, regardless of all the other details about the wedding. "My entire family has to be there, Sarah's entire family has to be there, no matter where will it be."
Congratulations again, Richard and Sarah!
Photo courtesy of Richard Gutierrez's Instagram account
Follow Preen on Facebook, Instagram, Twitter, Snapchat, and Viber
Related stories: 
Sarah Lahbati and Richard Gutierrez Are Celebrating their Fifth Anniversary in the Cutest Way Possible
Sarah Lahbati on Relationships And Motherhood
Meet Sarah Lahbati, Mother, Actress, and Now Book Author
What Does It Take to Make a Celebrity Wedding?