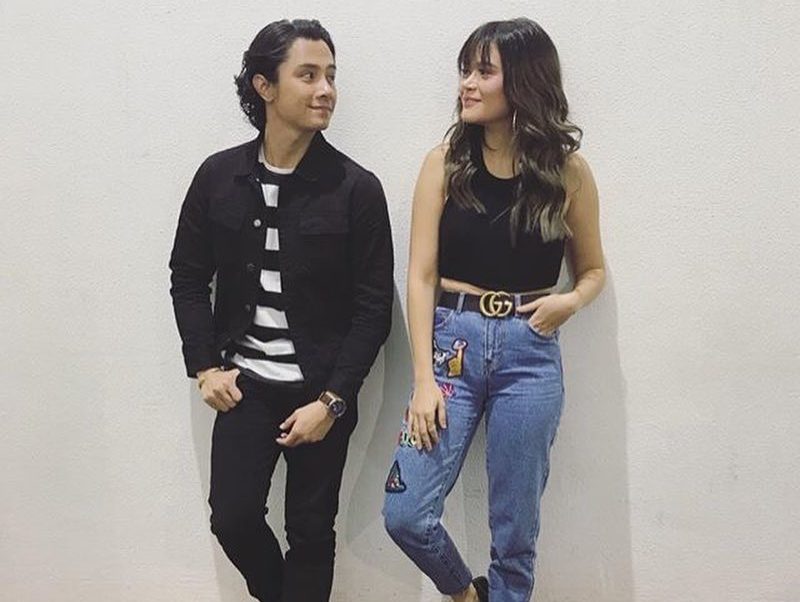 The last time we were with JC Santos, we talked about his skincare routine. It gave us a clue about how he takes his craft seriously, knowing how to do makeup on himself given his background in theater.
Fast forward to today, the actor is aiming at star status. He plays the lead role in 100 Tula Para Kay Stella, an entry in the first Pista ng Pelikulang Pilipino, created by the Film Development Council of the Philippines and in partnership with Globe. The film fest coincides with the #PlayItRight campaign of Globe as well. The campaign is aimed to encourage playing content like shows and movies only through legitimate sources in light of the growing piracy problem.
JC, who has films lined up this coming year, says that he is affected by piracy. At the press launch of the Pista ng Pelikulang Pilipino, he expressed how piracy is a shame given the hard work the cast and crew puts in each film. It also hinders the progress of our entertainment industry.
After the press launch of the film festival, which boasts of actresses like Jasmine Curtis-Smith and Jessy Mendiola, we got to talk to JC once more about what's lined up for him along with some fun facts.
Who is the last person you texted?
My manager. I have a new movie where I'm going to be with Vic Sotto and Dawn Zulueta. There's no title yet so I'm supposed to go to a story construction meeting for it.
What's the best part of '100 Tula Para Kay Stella'? 
The climax. When she was holding the poems already. We don't know what's going to happen. The character wanted to give it for so long and finally she gets it. It's exciting.
How is Bela Padilla like behind the scenes?
Bela is so easy to work with. She's smart and funny. This is the first time meeting and working with her and it was great.
She's a lot of things. She's wonderful, she's also a writer. She's a great actress and the scenes went by effortlessly.
How did you prepare for this lead role?
What's important to me is the story-telling part and I have no restrictions. I always give my all and give the roles justice.
What's the biggest challenge for the film?
The speech defect. I had to be conscious about it and get into the mindset of having it.
Who is your dream leading woman?
Kiersey Clemons and Léa Seydoux.
A snack that you don't mind working out extra for?
McDonald's French Fries. Come on! Regular and Twister. [Laughs]
Workwear essentials?
White t-shirt, chambray shirt, and loafers.
What's your current playlist you have on repeat?
Your Favorite Coffee House on Spotify.
A celebrity you still get starstruck by?
Richard Gomez. I don't know but I feel a lot of people will agree that he really has charisma. He's amazing to talk to and he commands the room.
Who is your best shopping buddy?
Myself. I prioritize stuff for my house because I just moved houses.
A movie that really got your attention lately?
Okja.
One thing people get wrong about you?
People have told me "Straight ka pala talaga." There's nothing wrong with being gay. One co-actor even once told me that I look like a girl. I said, "Sure! Thank you!" [Laughs]
Pista ng Pelikulang Pilipino will be held at all theaters nationwide from August 16 to 22, 2017. Get your tickets via GMovies app (first time users get P50 off their first movie.)
Photo courtesy of JC Santos' Instagram account
Follow Preen on Facebook, Instagram, Twitter, Snapchat, and Viber
Related stories:
How Long Does It Take JC Santos to Get Ready in the Morning?
WATCH: JC Santos Woos Bela Padilla In New Romantic Flick
The 8 Chokers You Should Own Right Now As Seen on Kathryn Bernardo and Bela Padilla
How Okja Targeted Capitalism and Animal Rights with Dark Humor