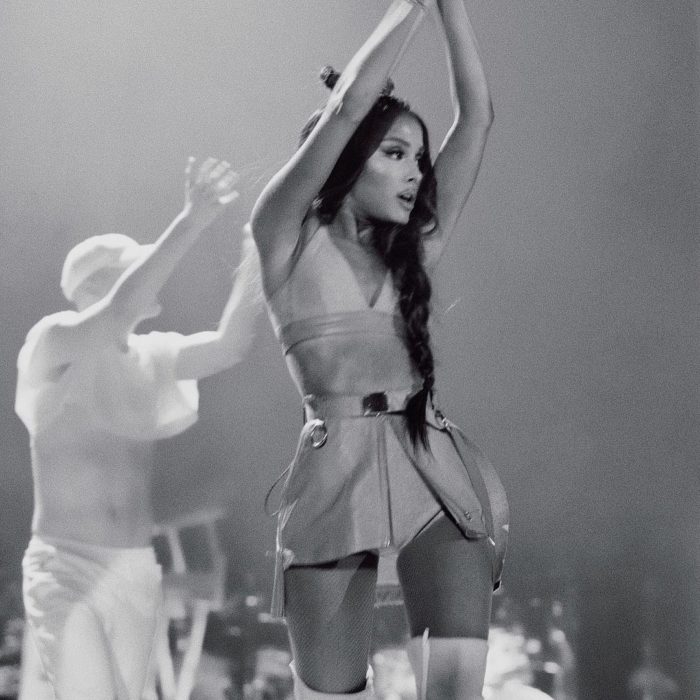 Ariana Grande's concert last night was a success (just don't mention "bag claim" and we're good). The set featured 23 songs that had their own dance numbers, light shows, and costume changes. Fans can attest to how fun it is given all the singing Instagram Stories that flooded my feed. (Looking at you, Alex Gonzaga and Katz Salao!)
Ariana loved the energy so much she gave a shoutout to her Filipino fans via a post on Instagram. Her sweet caption read, "Manila, I love you always!!! Thank you for having me and for alwaaaaaays bring me so much light!! Whenever I'm under the weather, you give me so much life. Thank you for your love, your sincerity, your sense of humor, and your overall you-ness. You stay recharging me. I love you all with all my heart and appreciate you more than you know!!! Mahal Kita!" (I love you!) She reportedly suffered from bronchitis, but she still gave quite a performance and by the feel of her caption, it sounds like she'll keep coming back.
Meanwhile, celebrities and personalities alike couldn't help but show their excitement by dressing up like Ariana. From cat ears, high-ponytails to even her signature oversized sweaters and off-shoulder jackets.
Andrea Brilliantes went all out and copped Ariana's high-ponytail with silver ringlets and paired it with a black and pink outfit.
She even posed with Kevin Balot, who was also dressed up like Ari, while they were waiting for the show to start.
Nadine Lustre was also spotted in a look inspired by Ariana's "Focus" music video—complete with metallic blonde locks.
Ylona Garcia, who was photographed with her mom, wore an oversized red sweater and hoop earrings. She styled her hair to look like little bunny-slash-cat ears.
Singer-songwriter Reese Lansangan also attended the concert with her sister. She wore cat ears paired with a black and pink ensemble.
Artist Heaven Peralejo wore a matching black crop top and jogger pants paired with an olive green jacket.
Gabbi Garcia, Issa Pressman, and Trish Ramos all dressed up in Ariana's sports bra and denim look. They were photographed with artist Marga on the Mic.
Daughter of the President Veronica Duterte also couldn't be more excited to watch the show. She wore an oversized Ariana Grande sweater paired with cat ears.
It's okay to feel FOMO, because you really missed out. Kidding! Pretty sure there will be more fun concerts up ahead and I also hope Ariana comes back.
Follow Preen on Facebook, Instagram, Twitter, Snapchat, and Viber
Related stories:
Ariana Grande Showed Some Love to Filipino Fans on Her Twitter Spree
Ariana Grande, Justin Bieber, and More Share Heartwarming Moments at One Love Manchester
Attention, Cat Lovers! Charlotte Olympia Designed an Athleisure Line Just for All of You
Ariana Grande Released a New Song in the Light of #BlackLivesMatter