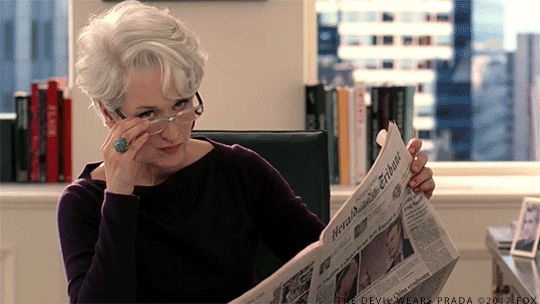 Meryl Streep's role as Miranda Priestly in The Devil Wears Prada will always be iconic to many, most especially if you're in the fashion or publishing industry. The movie focuses on the relationship of a strict, uptight and stoic editor-in-chief Miranda with her bright-eyed and eager new assistant Andrea Sachs.
Ten years later and a lot of people are still divided about what they think of Miranda and her icy exterior, but we feel like this deleted scene changes everything and folks at Refinery29 agree.
To refresh, the scene takes off from when Andy was supposed to make her way to her boyfriend's birthday party, but was called to attend an event with the other assistant Emily. Their role was to feed Miranda all the names, important information, and even context so that she doesn't get lost in any conversation. Emily, due to a bad flu, forgot the name allowing Andy to take over. She then leaves the scene after getting on Miranda's good side.
In an alternate movie universe, this is what went down:
I'm just seeing this deleted scene from The Devil Wears Prada for the first time, and honestly it changed the whole movie for me pic.twitter.com/6Zkr6UxHQO

— Spencer Althouse (@SpencerAlthouse) August 28, 2017
Digest that for a bit. Yes, another side of Miranda Priestly was shown in that clip—a much more vulnerable woman compared to who she portrayed in the final cut. Now, that's a lot to take in.
Some wondered why that was deleted as it seemed like a crucial bit, but I stand by the rest when they say it was better left the way it was or else it would've ruined the whole narrative of Miranda being publishing's ice queen.
What are your thoughts? Should it have been included in the final edit or better left as a deleted scene?
[
Refinery29
]
Photo courtesy of 20th Century Fox/Giphy
Follow Preen on Facebook, Instagram, Twitter, Snapchat, and Viber
Related stories:
Our Excitement for The Devil Wears Prada Musical Told in Memes
5 Tips on How to Be a Boss B*tch from Solange's Interview with Beyoncé
7 Ways 3.1 Philip Lim CEO Wen Zhou Breaks Every Female Boss Stereotype
Reality Check: Powerful Women Are Neither Crazy Nor Desperate for Attention