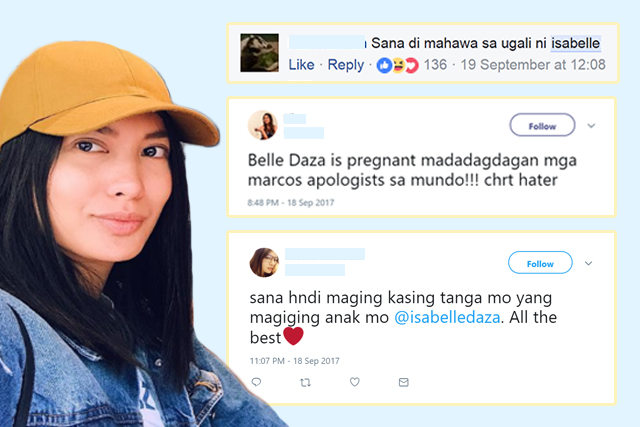 When Isabelle Daza found out she was pregnant with her first child, she said she was both surprised and happy. Any mom would be. Fans of the actress were equally excited and sent their congratulations to the expectant parents. Meanwhile, I couldn't help but notice a few harsh comments made toward Isabelle.
There were tweets that said that Isabelle "shouldn't breed" because of her past controversies. (Note: These are now unsearchable as the netizens may have deleted them.) Others wished that the baby won't grow up to be "stupid" or become a "Marcos apologist" like his/her mom.
Belle Daza is pregnant madadagdagan mga marcos apologists sa mundo!!! chrt hater

— liana #OustDuterteNow (@keetbee) September 19, 2017
https://twitter.com/nicx_cristobal/status/910022405355012096

It's no secret that Isabelle received flak several times. She made an insensitive comment about the children of Africa and made fun of Japan's meishi culture. She was also criticized for including her godfather Bongbong Marcos in a "Reading Mean Comments" video. However, that still doesn't give anyone the right to tell her that she doesn't deserve to be a mom. No, just no!
Is there an unwritten rule that people have the right to determine who should be a mom or not? It doesn't matter if you're simply making a joke or injecting your beliefs onto Isabelle's pregnancy. You may think you're taking a moral stance, but it just sounds like pure mom-shaming. Particularly one that wishes ill on the mom and her child.
We understand that Isabelle made mistakes in the past. But there's a time and place to say such comments, and this is not one of them. This also includes congratulatory comments with backhanded insults.
Repeat after us with complete sincerity: "Congratulations to Isabelle and Adrien Semblat. We hope the baby grows up healthy and happy." Is that so hard? Or just don't say anything at all. That's way easier.
Art by Lara Intong
Follow Preen on Facebook, Instagram, Twitter, Snapchat, and Viber
Related stories:
How Isabelle Daza Broke the Baby News Is Too Cute
Baby Announcement Ideas Courtesy of Georgina Wilson, Isabelle Daza, and Beyoncé
Isabelle Daza's Latest Video Features Sen. Bongbong Marcos, and People Aren't Happy
Why Isabelle Daza Wanted to Add Men's Swimwear Designer to Her Portfolio