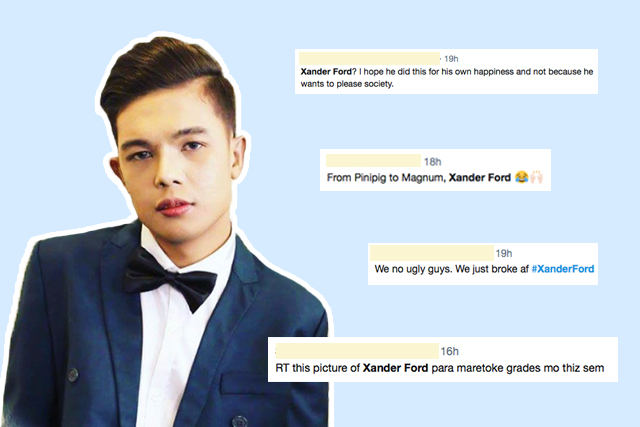 It's a fairy tale made perfectly to generate conversations in your Viber/WhatsApp groups: an ugly duckling who knew nothing but being bullied for his face, shows up with a brand new look and identity. Xander Ford is the recently unveiled persona and face of Internet sensation Marlou Arizala. The unveiling happened, of course, in the hub of human interest stories: Rated K.
My drawer full of expensive creams and serums will be the one to tell you that there is nothing wrong with aspiring to look better. Being a girl who also suffered from bullying, I get how the need to shut up all the haters is the ultimate fantasy. And he got to do it on Sunday night television? I need to sign up for this package.
As with all these stories, though, things go more than just skin deep. Xander's been on your news feed because of the bullying. People are still taking the man down despite doing exactly what this lookist culture dictates: Happiness is only afforded to good-looking people.
https://twitter.com/JrMoeSelma/status/914508668703346688
https://twitter.com/HugotAtenista/status/914516570491310080
https://twitter.com/mrkjhnp_/status/914483783952351232
As much as we should leave Xander alone for his choices, and allow him to be happy for finally achieving his dream, we need to re-evaluate how we put a premium on good looks. We teach people to feel bad and make fun of people who don't match our glossy magazine standards. We glorify a limited idea of beauty so much, that people find themselves even more miserable. Xander, arguably, took what society gave him to heart and followed it. Still, he's not getting any love. He can't win.
https://twitter.com/ahndantaee/status/914510456307326977
https://twitter.com/kuromilloart/status/914712157165465602
Xander might need to learn a different kind of bullying. Even if he did exactly what his detractors wanted him to do, they still won't accept him. Here's to hoping Xander did all this solely for himself and that the people who still criticize him can just keep watching him online. They'll keep talking whatever you do and they can't be happy. Here's to hoping the pressure and the need for acceptance don't get the best of him.