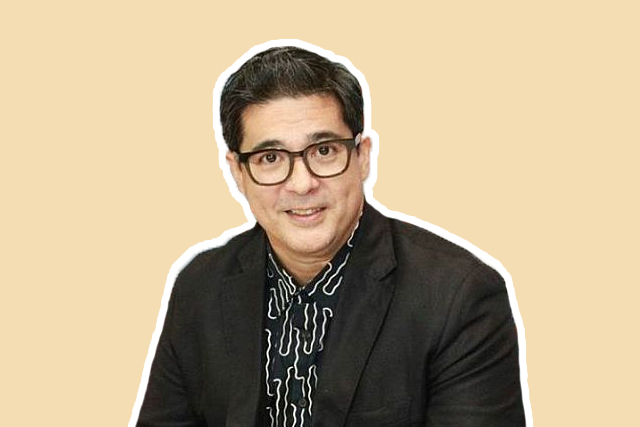 We've reached peak throwback as Aga Muhlach is officially making his comeback on the big screen. The original leading man of the '90s, the man who has sold chicken like no other, is one of the stars of Seven Sundays. The film brings together him, Dingdong Dantes, Cristine Reyes, Enrique Gil to play siblings who fulfill their father's (Ronaldo Valdez) last request.
The feeling still hasn't changed, for Aga, however. He claims that his passion for film making is what keeps him going. At the press conference, he took on the questions like a pro. May I note he was the only one present at the conference? How many others can do the same?
Who is a leading lady do you want to work with? 
I think we owe it to the public. We really want to do a film with Lea Salonga. We've been planning it for years. We'll see. There's another one who I haven't worked with but I think we are going to work together this November. I can't say who first. I'll announce mid-October.
Which of today's younger celebrities do you think has the potential to make it big? 
When I was in my 20s, I was being compared to the great actors in their 40s. When I was in my 30s, I was being compared to my contemporaries. Now in my 40s, I am still being compared to the people in their 20s. It's tiring! It's stressful but I don't think about it. For the next generation, I don't know [who will do really great.] It's so different now. It's not the craft anymore. People work for endorsement. They want to make it big to get endorsements so it's money, money, money. It's okay and normal. But before, we started, you did just want money. But when you are in the middle of your career, [you go to] the craft, which is acting. You want to get awards before you do [endorsements.] Before, you target that and you know your competition and watch their films and think of projects to do. That's my training.
Do you think it's harder to be a credible leading man now? 
Yeah, it's harder now. There are so many love teams. That's all I see. Which is nice. The fans are enjoying it and the stars are enjoying it too. It's fun. You work every day with your girlfriend with trips abroad.
So what do you want to see from them? 
I hope they won't be just content with what they are doing. I want to see them make their move now. There's nothing wrong with what they're doing. But you want to see them do something different. It comes with age also. But when I was young, I was already challenged, after Bagets, the press said I was so big but I wasn't good at acting. So my dad produced Miguelito with Lino Brocka. So that was my path, drama agad. I then got awards at once at an early age.
What's your secret to looking young? 
There's no secret, it's just my wife. When you sleep beside your wife and you wake up for the past 16 years, you realize that [you did] the right thing. And you pray that you are the right one for her. I might be the only one who is lucky, I hope she's also lucky to have me. It's just that. Aside from that, there's no stress with me. I don't stress about anything.
I work out a lot. When I just went on a hiatus [for a long time], I let go of that. It's like all the time in my career, I had to be conscious of my body and weight. So I rested and let go of that for a bit. I do exercise now again because if I don't I would be 300 pounds. [Laughs]
Art by Lara Intong
Follow Preen on Facebook, Instagram, Twitter, Snapchat, and Viber
Related stories: 
What's the Last Thing Enrique Gil Gave Liza Soberano?
Cristine Reyes and Ali Khatibi Have No Time for Your Parent-Shaming
Piolo Pascual and Toni Gonzaga Reveal the Night They Want to Last Forever
Miss World's Laura Lehmann on the Last Person She Stalked on Instagram