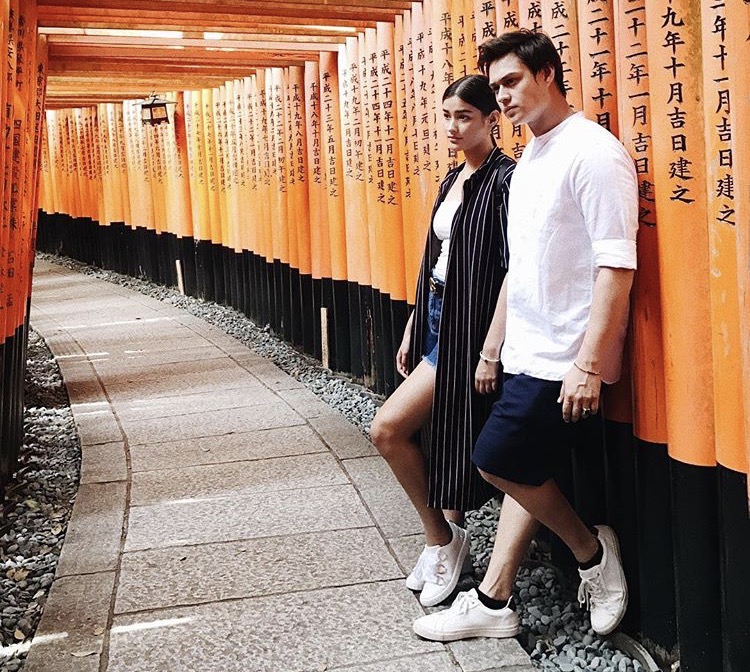 In the small area of 20:20 the tension was great as fans lined up to see #LizQuen: Liza Soberano and Enrique Gil. They are one of the few bankable and hot couples of the moment, nabbing endorsements and projects left and right. Yesterday, I met them for the first time at the CloseUp event. And the snob in me got a little giddy to see them work their chemistry.
Beyond that, they seems to quite the team. As they took on our #PreenPopQuiz, they helped each other out in answering questions (Liza coached Enrique a little.) They were also very game to give in to requests like taking selfies and Boomerangs. The kicker for me though was how Liza insisted I sit between her and Enrique  during the quiz. I never felt like such a special third wheel. But that just shows how they're good at what they're doing and they enjoy it, coupled with some professionalism. That's quite admirable for this millennial hot item.
Which celebrity couple do you root for? 
Enrique Gil: I like Zayn Malik and Gigi Hadid. They're going strong compared to others.
Liza Soberano: I'm thinking…I like Adam levine and Behati Prinsloo. They're cute.
What was the last show that made you laugh?
EG: I watched Annabelle.
LS: You didn't watch without me!
EG: I won't explain why I found it funny because it will give spoilers. And I didn't finish it.
LS: I was just watching RuPaul's Drag Race. I'm still on season seven and I like Violet.
Who takes longer to get ready behind the scenes? 
LS: Quen! He has a lot of preparation. He has to make sure he eats, then brushes his teeth. And then he chit-chats with everyone so he takes so long.
What do you often do together off set? 
LS: We watch movies.
EG: We do Breakout. We like fitness activities and sports like basketball and volleyball.
https://www.instagram.com/p/BVSLM51jwGj/?taken-by=lizasoberano
Who always wins in these sports? 
LS: I do!
What was the last screencap that you sent to each other?
LS: Photos of houses.
EG: We're looking for lots for our future. A few investment ideas.
One trait the other had that you wish you had?
LS: I wish I was funny.
EG: I wish I could wake up as early as she does.
Favorite snacks on shoots? 
EG: Coffee. Cold or hot. I like it with milk and sugar.
LS: I love hot Cheetos.
The last present you gave each other?
LS: I gave him a Stormtrooper figure.
EG: I gave her a bag, the Chanel Boy bag. It's her favorite.
Who is your career inspiration?
LS: Audrey Hepburn
EG: Johnny Depp, Ryan Reynolds, and Mark Wahlberg. Jim Carey too. I love him.
Favorite dessert?
LS: Cookies and cream ice cream and milkshakes
EG: Pablo's cheesecake.
Photo courtesy of Liza Soberano's Instagram account 
Follow Preen on Facebook, Instagram, Twitter, Snapchat, and Viber
Related stories: 
Liza Soberano's Photography Rules Might Get You that Feed You've Always Wanted
Vogue Breaks Down Liza Soberano's Cool Girl Style
Liza Soberano Is on Team Iggy Azalea
Jasmine Curtis-Smith on Why She Takes Forever to Pick an Outfit for the Grocery