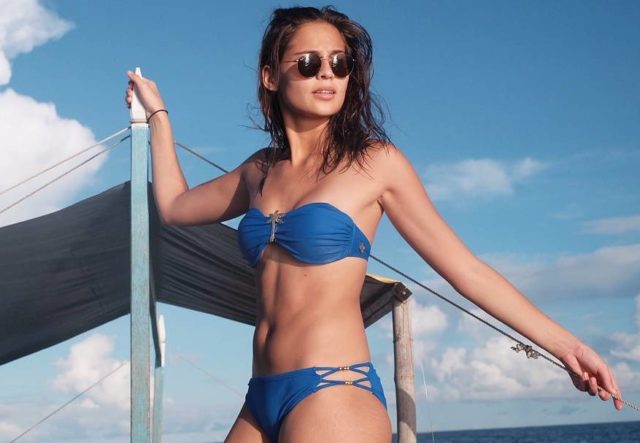 It was a hot, humid night when we caught up with Jasmine Curtis-Smith. She was poised in a white jumpsuit, trying to cool down with a blowdryer (on cool mode, of course) because of the weird weather. I, on the other hand, was slightly slick with sweat and simply greeted her with a big smile.
It's been a while since we last saw her and it's understandable given the movies and projects she's working on—she had Baka Bukas late last year, a film with director Samantha Lee, and she just finished filming another movie set in one of the go-to surfing destinations in the country. She also just shot a new endorsement in Thailand which will be launched next year. Did we mention she's the new face (or hair!) of Pantene? Yeah, her plate's pretty full and in that light, I wanted to get to know what she does on a regular day—if there's even free time.
So enough of me and more of Jas. Scroll below and learn a thing or two.
What's keeping you busy lately?
I wrapped up a film about a month ago called Siargao with Erich Gonzales and Jericho Rosales, directed by Paul Soriano. We just released the first eight episodes of Forever Sucks 3 and we'll be filming the fourth season soon.
What's your usual morning routine?
Simple! I get up, brush my teeth, and I wash my face. That's about it. I make sure I moisturize and put my eye cream on because I tend to get dry skin and deep-set dark [under eye] circles. I have to make sure I always apply and then I'm good to go for the day.
How long does it usually take for you to get ready?
Short lang. I'm very fast when I shower and get dressed, but on a pretty relaxed day when it's not for work, I take forever to get dressed. Because parang sa dami mong options, parang wala pa rin. And hindi mo ma-figure out ano ba talaga kailangan kong suotin to go to the grocery. (Even if you have a lot of clothing options, it feels like yo
u can't figure out what to wear when I'm like going to the grocery.) For events, it's specified. So I know what I have to wear.
I'd say 20 minutes and I'm good to go—that's shower, makeup, and get dressed. Fast!
What are your five makeup essentials?
Mascara, eyelash curler, blush, lip balm, and concealer. That's about it! It's really just my eye bags. I try not to put a lot of foundation or powder because my skin absorbs everything so it doesn't sit well for long periods of time. Unless I have a makeup artist on standby who retouches my face. So I try to keep it light so my skin can breathe.
Any hairstyling hacks? 
I usually just air dry my hair. As much as possible I let it dry on it's own, if there's work that's when I use a blower. On a good day and I want to make an effort and blow dry, I have a blowdryer that they say is good—the GHD? That's what I use now, on my own, and I gave it to my hairstylist also so when he works on my hair, it's what he would use.
Go-to hairstyles?
It's always up! It's usually in a bun or a ponytail.
Best beauty advice you received?
For me, I think it would be from my ate (Anne Curtis) when I was starting to model at like 12 or 13. She told me that less is more with makeup. That time, I wanted smokey eyes… to look like a woman and I was just 13 starting out in the modeling world, so I was excited. Now I appreciate lesser [products] on my face.
Is there a beauty trend you want to try?
I want to try the Korean five-step, 12-step, whatever-step regimen because it worked for my friend. Not that I have to fix my skin, but I want to see how it feels. [I heard] It feels so incredible, you're massaging your face and it's like self love. I want to do that!
Who do you follow on Instagram?
Majority of them are pet accounts, but there's this pug that I just followed—Loulou the Pug! She's a girl pug and all of my pugs are boys so I can't make them wear flower crowns. Other than that I follow Hello Giggles because I feel like they come up with all these silly things but sometimes they also have useful hacks and videos that cheer you up. And Frenchie the bulldog (Manny the Frenchie), as well.
What's the last thing you screen capped and sent to a friend?
[
Laughs
] Let me see! The last screen cap I have is Waze telling [my team] where I am. But to a friend… Someone's follow list on Instagram [
Laughs
]. Then I told my friend, "
Wala ka
!
Wala ka dun sa
follow list
niya
. (You're not there! You're not part of his follow list.)" So she got sad because she has a crush on the guy.
Where is your next travel destination?
Maybe La Union again, because of [my boyfriend] Jeff [Ortega]'s family. They live there and his business is there. He brought me onboard to conceptualize their events, to come up with their posters, so I am his private creative consultant. He would always ask me for opinions or ways to make an event more enjoyable for the people of La Union. Either that or maybe my ate's bachelorette, but it's a secret!
How are you prepping for your sister's wedding? 
I am her maid of honor and it's a little bit crazier than I thought it would be because it's so hard to get everyone to answer at the same time. Especially since all of her friends are busy, so getting everyone's schedule is hard. I talk to Anne half the time and say, "Ate! Ang hirap ah. Can you buzz them and tell them to reply?" But most of the time it's happy and we're just throwing around ideas. It's exciting, but it's hard pala to be maid of honor. I think it would be a little bit stressful on the day itself because emotions will be running! Everything needs to be water-proof!
How fast can you pack for a week? 
I usually plan my outfits per day, so as long as I know what the standard weather is then it'll take me about an hour to pack and I'm good. I'm meticulous with my things and everything in my bag needs to have a purpose.
What about your usual airport outfit? 
Black leggings, white shirt, sports bra underneath, and a jacket.
Traveling must-haves?
In my travel bag, it's usually to help me freshen up so there's facial wash or wipes, moisturizer, my five makeup must-haves (mentioned above!), extra pair of underwear, extra pair of clothes, and a neck pillow. Maybe a camera, a book, and my phone with pictures of my pugs.
Unexpected travel memory?
Recently, ate and I were in LA. She's friends with this guy who gets into the coolest parties. So we were having dinner and I thought we'll be going home after or just enjoy one drink in the restaurant. But we went out, for like an hour and a half. And then we get to this cool house that looks like a regular house, but when you go upstairs, there are three bedrooms and you get to choose one door—then that's the entrance. There's a lady sitting on the bed who welcomes you and then the bed slides and it's the entry way to the bar. And it was Ryan Cabrera's birthday! And he was there!
Photo courtesy of Jasmine Curtis-Smith's Instagram account
Follow Preen on Facebook, Instagram, Twitter, Snapchat, and Viber
Related stories:
Spoil Your Furry Friends the Way Jasmine Curtis and Tricia Centenera Do
Cong. Pia Cayetano, Teresa Herrera, Sam Lee on What Women Empowerment Means
Lesbian Love Story Baka Bukas Premieres Tonight
A Review of No Filter: Let's Talk About Me, A Play About Millennials