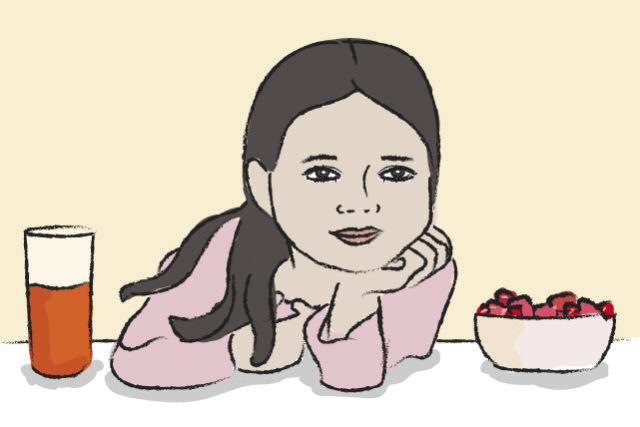 Every week, Preen tackles motherhood sans the rose-tinted glasses. Our columnists L. Juliano, Marla Darwin, Monica Eleazar-Manzano, Rossana Unson, and Ronna Capili-Bonifacio tell their personal experiences like it is—at times frustrating, oftentimes confusing, but always enlightening.
"Sino sa mga alaga niyo kumakain ng fast food?" (Which of these kids eat fast food?) I asked a group of yayas, who just stared at me blankly. "Eh junk food? Candy?" Still no response. "Ano kinakain nila?" (What do they eat?) Apparently, their kids from two to six years old only eat healthy food. Wow. I could feel the collar of my shirt closing in and wondered if I was even equipped to give this seminar to them. My friend, who owns a small cooking studio for hobbyists, invited me to present simple but healthy recipes for toddlers, with a background on why it's important to give kids well-balanced snacks. I've been working in a culinary consultancy company for the past decade and after having little bub, I got into making snacks for her too. But judging by the bored looks of my participants, they appeared to probably know more than me. Again: wow. I must meet these parents! To be able to hold off on anything junk for three years, let alone SIX, is a feat! I definitely have to revisit my baby girl's menu.
My friend, who personally knows most of the bosses and kids of the caregivers, probably saw the look on my face. She whispered to my ear, "They have a different notion of healthy. Trust me, I know the kids and they eat junk!" So I asked more specific questions. Processed foods, tetra pack drinks, and packed snacks that aren't marketed as chips or candy, but definitely contain more sodium and sugar than they should, are all part of the diet. The relief I felt was short-lived. Great, my child appears normal and eats what every other kid does these days. But then, the very reason why I was asked to give this talk means there is much to learn when it comes to feeding our kids right. After all, good food both nourishes and heals.
As much as I tell myself I'm a cool mom and I'm not (yet) the type who'll "veganize" the home for my kid's sake, I do believe in the power of food. Being married to a chef, we see food as a tool for bonding, sharing, and commemorating. What would life be without awesome delicacies?! But as a mother, I want our daughter to have a positive relationship with it. A balanced diet is always the goal. But hitting three years old, we couldn't completely say no to treats, the occasional junk she gets when with her grandparents, and processed meals in her diet.
That's what my talk revolved on: Coexisting with the world of food we have now but making smart choices. The three things to remember when establishing a healthy menu are simple.
First, be an example. Your child will emulate your behavior, even when it comes to eating.
Second, always opt for healthy substitutes. You don't necessarily need to get rid of chips, candy, or even soda at home. What we do is replace them with baked root crop or vegetable chips, dried fruits, and fresh fruit juice mixed with carbonated water. One tip I always give is to get sugar-free gummy bear vitamins and vitamin C pops at your neighborhood healthy grocer. It has replaced my child's fondness for grocery counter candies while actually being beneficial to her wellness.
Last, sneak in the good stuff. Get busy in the kitchen and find recipes that'll turn the usual into power-packed meals. Little bub's spaghetti makes use of malunggay-enriched noodles and tomato sauce mixed with mashed carrots. Her mac and cheese has blended squash and cauliflower. Cookies are now with dried fruits and whole wheat flour. Nuggets are homemade ground chicken with chopped cauliflower that are breaded and baked. Be creative, keep it very simple (so that yaya, and even lola, can easily follow) and provide options.
So now you've laid down the basics, time to write the market list. My next issue is choosing the right brands. Even if you're not a big believer of the health benefits of organic food or pasture-raised, cage-free animals, I personally prefer being an environmentally, empathetically conscious shopper. True, some choices are just ridiculous (I'm looking at you, organic hotdogs). But do a quick research on the state or farms and farm animals in the country and you just might be convinced to choose brands who take extra care of the food we eat. Make that your little contribution on creating a better, more positively energized future for our little ones.
There you have it: A trying-to-get-it-together mom's advice on eating healthy for toddlers. I admit I still have days when I give in to things like fast food, but by just being aware, I steer back to the right direction without actually making my child feel deprived. It doesn't have to be complicated or life-changing, it just has to work. If you're like me, these tips will fit in your lifestyle just fine. Happy healthy eating!
Disclaimer: The views expressed here are solely those of the author in her private capacity and do not in any way represent the views of Preen.ph, or any other entity of the Inquirer Group of Companies.
Art by Lara Intong
Follow Preen on Facebook, Instagram, Twitter, Snapchat, and Viber
Related stories:
How I Lived My Life Without Desserts
5 Bad Effects of Refined Carbohydrates
It's Possible: Sweet Treats that Cut Down on Your Refined Sugar Consumption
Your Favorite Fast Food May Have More Salt Abroad
Improving My Food Choices Was Not Just For Me, But For My Daughter