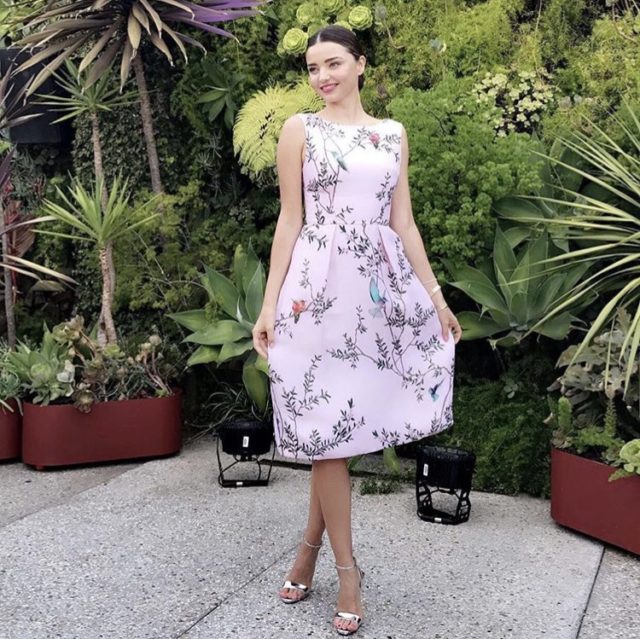 Miranda Kerr recently opened up to the The Cut about a few secrets that get her through the day. She also talks about her mantra for Kora Organics, her skincare line that features ingredients filtered through rose quartz. "There are so many different ways out there we can have magic in our lives, and this is one way I saw that I could incorporate it into my line," she said.
Below we've listed down key tips we picked up from the Q & A as we're more than ready to live in the Miranda way even just a little.
#1 She keeps a heart shaped rose quartz in her bra 
Miranda believes in the healing power of crystals and how they promote self-love and give protection. She's such a big believer in crystals that she has one in her bag and a small heart shaped rose quartz in her bra. "I know it sounds crazy. But I feel as human beings, that we either come from love or fear. If we have something like that little reminder, like rose quartz, to always come from love and not from fear, it's a much more expansive place to come from," she said.
#2 Crystal skeptic? Miranda says you still should try it 
If believing that crystals is a bit too left of center for you, Miranda says you should just give it a try. You don't have to be very specific about it at first, "It depends on the individual. It's like exercise, you have to find what works for you," she said. She also adds, "If a crystal is speaking to you for whatever reason, and you go to a crystal store and naturally just gravitate towards it, you can read up about that stone."
#3 You might have the same morning routine as she does 

Miranda said that she reaches for apple cider vinegar and water in the morning. She likes how it helps with digestion. After that she makes a smoothie made with kale, blueberries, spinach, papaya, avocado, with some almond milk. She then switches up the blend with either almond butter, protein rice powder, or coconut water. I don't know about you, but it sounds yummy and feels so much better than my piping hot coffee that I gulp fast on rushed days.
#4 Wellness isn't just a physical thing 
Miranda has a heightened approach to being at her best. She likes to think how a cake would make her feel energized or not, rather than counting calories. When it comes to her outlook in life, wellness comes in handy too. She said, "I think about wellness from the mind perspective. I make a conscious choice to choose my thoughts in a positive or neutral way, as opposed to a negative way. There's always two sides to everything. You could think, 'Ugh, it's raining today.' But you could think, 'I'm so appreciative, the rain is so cozy.' Wellness is trying to see things in that way."
#5 She loves a good burger and apple pie
I love it when models and celebrities reveal their guilty pleasures. Most of the time, it's nothing fancy and it's the one thing that can equalize us. Miranda loves a good burger as she claims her husband, Snapchat CEO Evan Speigel makes a mean one. On the other hand, Miranda said she makes some apple pie, something she never did back in Australia.
#6 She swears by kundalini yoga and she's a soccer mom 
Miranda likes to do kundalini yoga to stay fit. "Kundalini helps your nervous system and energize and open the chakras in your body," she said. To keep her physique, she also has a Pilates reformer at home and does some swimming. In between she keeps up with her son Flynn by playing some soccer.
#7 Aromatherapy helps 
On a more serious note, Miranda talked about her bout with depression. She shared, "When I went through that period when I was really depressed, I was like 'Wow, I really understand what people mean.' It's a serious thing. It's like a chemical imbalance in your brain. It's so important to have support from your friends and family."
Aside from this, Miranda said aromatherapy helped her during that tough time, along with her crystals. "For me, I needed to ride that wave and that moment in my life and realize this intensity will pass. But until that happened, I thought, I've got these supportive tools in my life to get me through that."
Photo courtesy of Miranda Kerr's Instagram account
Follow Preen on Facebook, Instagram, Twitter, Snapchat, and Viber
Related stories: 
LOOK: Miranda Kerr's Wedding Gown Was Inspired By Grace Kelly
The One Bag Both Miranda Kerr and Laureen Uy Love
How a Kundalini Yoga Class Can Bring Out Your Inner Glow
Inhale, Exhale: 6 Essential Oil Blends that Deal With Your Problems