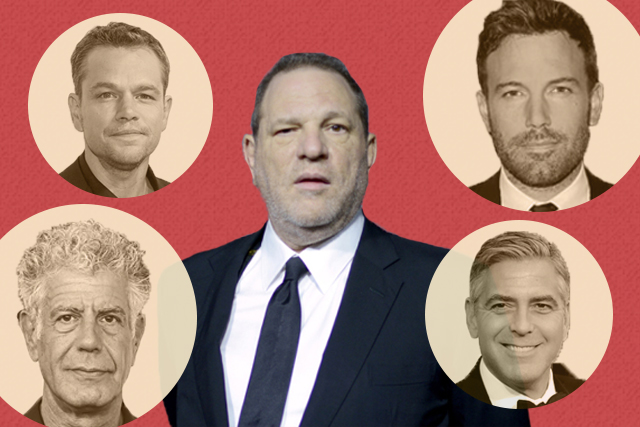 Earlier this week, someone shared an excerpt from The Guardian saying that many Hollywood actors were silent on the Harvey Weinstein controversy. The list shocked me because it included well-known and respectable names like George Clooney, Ben Affleck, Leonardo DiCaprio, Lin-Manuel Miranda, Brad Pitt, Martin Scorsese, and more.
This raised the question on whether or not these men are staying mum in support of Harvey. Some speculated that it's because they're good friends with him or that Harvey helped propel their career. Lena Dunham pointed out just that in her recent New York Times column. Take note that many of these men are also self-confessed feminists. Why aren't they using their voices?
Although it's also worth noting that some of the men in the list have already spoken out against Harvey, as collated by Vanity Fair. Other notable men like Anthony Bourdain, Mark Ruffalo, and Seth Rogen took to social media to express their anger and showed support to the victims.
Looking forward to "THE BOURNE APOLOGY" in which Jason fights off attempts to expose a pimp

— Anthony Bourdain (@Bourdain) October 10, 2017
Can everyone who dismissed @rosemcgowan now do the right thing and go fuck themselves?

— Anthony Bourdain (@Bourdain) October 10, 2017
I believe all the women coming forward about Harvey Weinstein's sexual harassment. It takes bravery to do so.

— Seth Rogen (@Sethrogen) October 7, 2017
To be clear what Harvey Weinstein did was a disgusting abuse of power and horrible. I hope we are now seeing the beginning of the end of these abuses.

— Mark Ruffalo (@MarkRuffalo) October 8, 2017
However, Hollywood men aren't off the hook just yet. Many of them are still complicit for letting Harvey get away with it. And yes, we're looking at Matt Damon, Russell Crowe, and Ben Affleck.
https://twitter.com/Breaking911/status/917867892355497984
The Wrap EIC Sharon Waxman called out several "media enablers" who silenced media outlets, including NYT, in order to protect Harvey. She also called out Matt and Russell for contacting and pressuring her to scrap her 2004 investigation on Harvey's misconduct and his colleague Fabrizio Lombardo's task of bringing women to him.  Sharon's article was later gutted despite getting the greenlight earlier.
Matt has denied that he helped pressure Sharon to kill the story and said he doesn't support Harvey's behavior. However, he did admit that Harvey told him to call Sharon about the "negative" story and to vouch for Fabrizio. So he's still complicit.
On the other hand, Ben also took to Facebook to say how "saddened and angry" he is. But let's not forget that his brother Casey Affleck sexually assaulted women as well, and his silence on it is problematic. Even more damning, Rose McGowan tweeted that Ben knew that Harvey was dodgy but didn't do anything.
You want to play let's play #ROSEARMY pic.twitter.com/uqd26Z78gc

— Rose McGowan (@rosemcgowan) October 10, 2017
So amid the disapproving declarations, the problem isn't just Harvey. The actors, most especially the silent ones, also need to check themselves. As Lena pointed out in her column:
"Men of Hollywood, what are you sorry for? What will you refuse to accept anymore? What will you say to fill the void and change the standard? Are you afraid because you heard the whisperings but accepted a role or a position on a host committee or a glass of Champagne and a pat on the back? Are you embarrassed because you're in a photo with him smiling broadly or because he gave money to your organization or introduced you to your girlfriend or earned you your Oscar nomination? Are you operating under the assumption that this is very sad but that it is not your problem?"
This kind of incident doesn't just stop with Harvey Weinstein. The sad reality is that several men are capable of such things as well, and they get out unscathed. This is why it's important to speak up and fight against sexual predators regardless if you are a woman or man. Or someone who became famous because of this person. You also don't need to say that you're "a father of a daughter" to justify your words and intent.  The damage has been done to so many women, and it's not too late to change Hollywood for the better.
Art by Lara Intong
Follow Preen on Facebook, Instagram, Twitter, Snapchat, and Viber
Related stories:
LISTEN: Harvey Weinstein Admits to Groping Breasts of Filipina-Italian Model
Dark Hollywood: How to Solve a Problem like Harvey Weinstein?
Rape Has Nothing to Do With Desire But Everything to Do With Power
A Really Dodgy Casey Affleck Won an Oscar Today
Joss Whedon Cheated on His Ex-Wife and Used Feminism as a Shield