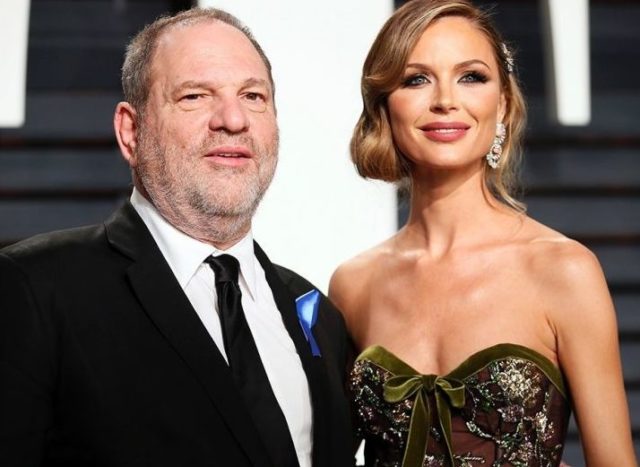 Three days ago, Harvey Weinstein said that his wife, Marchesa co-founder Georgina Chapman was "standing by him" amid his sexual harassment scandal. But Georgina later announced that she's leaving him for that very reason. Meanwhile, many are also speculating that this may be a power move to save Marchesa.
Let's backtrack a bit. When The New York Times exposed Harvey last week, Marchesa and Marchesa Notte were presenting at New York Bridal Fashion Week. Georgina instantly received comments that she's making "so much money off young women while your husband has been assaulting them."
Marchesa Jewelry also just sealed a deal with Helzberg Diamonds, and was supposed to launch in their stores this month. However, Helzberg Diamonds confirmed to The Hollywood Reporter that they're dropping the brand.
A fashion exec told Page Six that Harvey's sexual harassment sh*tstorm will surely affect Georgina's business. Especially since Marchesa is also a celebrity-favorite. Meanwhile, a fashion publicist also said, "They both benefited from the relationship, but she certainly knew about his bad behavior." (Yikes.)
Harvey also released a statement to Page Six: "I know she has to do what is best for the children, for herself and her business, she employs 130 people. I don't want her or my children to be hurt any more than they already have."
That said, the separation may be caused by either the scandal or Marchesa's downward slope. And if it's true that Georgina was aware, why didn't she do something? Why condone such behavior? For now, we just have to wait how this will unfold in the coming days.
Photo courtesy of Fox News
Follow Preen on Facebook, Instagram, Twitter, Snapchat, and Viber
Related stories:
Dark Hollywood: How to Solve a Problem Like Harvey Weinstein
LISTEN: Harvey Weinstein Admits to Groping Breasts of Filipina-Italian Model
Must-Read: Lena Dunham, Meryl Streep, and Hillary Clinton Condemning Harvey Weinstein
Anthony Bourdain Speaks Up Against Harvey Weinstein, More Men Should Too
Filipina Model Charlene Almarvez at Marchesa's S/S 2018 Bridal Presentation