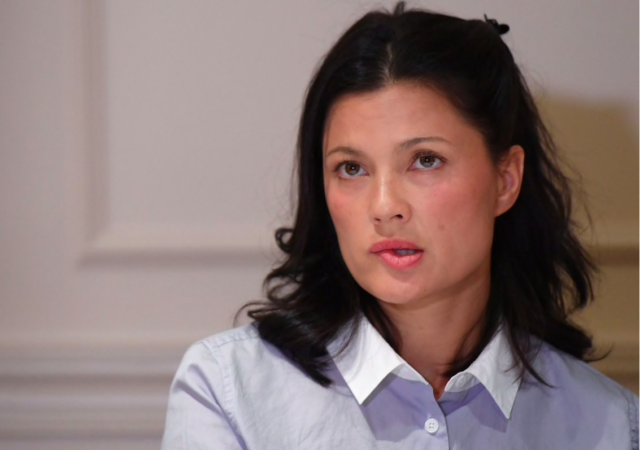 The list of women speaking against Harvey Weinstein grows longer as Norwegian actress Natassia Malthe disclosed that she was allegedly raped by Harvey in 2008.
Natassia and her attorney Gloria Allred held a press conference in New York and painfully told reporters how Harvey forced himself on her. The incident happened at the Sanderson Hotel after they first met at the BAFTAs in February 2008.
"His clothes were messy and his face didn't look normal and I thought: Could he possibly be on drugs?" she said. Natassia said that Harvey barged in her room and took off his pants as he dropped names of A-list actresses that he made famous. "He told me that these actresses have gotten to where they were because of him and because they had sex with him."
She did not use the word "rape" during the press conference, but what she described was clearly non-consensual sex. "I believe I disassociated at that time…that he was having sex with me. I played still and closed my eyes and just wanted it to end. I played dead."
Fight or flight doesn't immediately take effect when faced with a threatening situation like Nattasia. In an article we released, it has been said that "many victims of sexual assault experience a temporary paralysis" during an attack. Natassia's mind did race as she thought of how to leave the scene, but she, like many women, ended up paralyzed.
Harvey Weinstein has gotten away too many times and we hope that this time around we give proper justice to all the women that he's wronged. To echo what Atty. Allred, "It is time for the Weinstein Company to put their money where their mouths are."
[
The Guardian
]
Photo courtesy of The Telegraph
Follow Preen on Facebook, Instagram, Twitter, Snapchat, and Viber
Related stories:
Women Against Harvey Wesintein: What Took so Long?
Anthony Bourdain Speaks Up Against Harvey Weinstein, More Men Should Too
How #MeToo Unites Women Beyond Race and Class for an Overdue Cause
How Many More Medical Studies Do We Need to End Rape Culture?