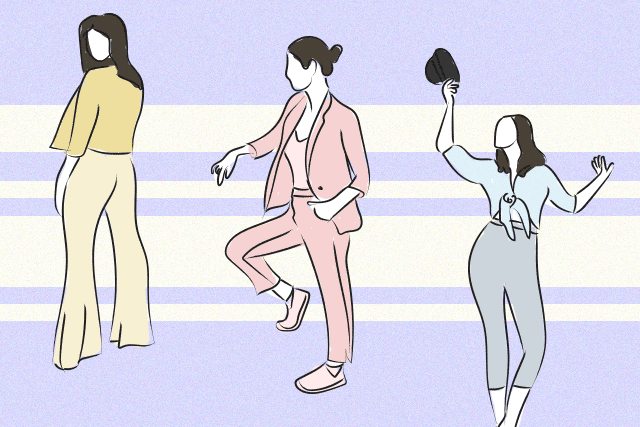 When it comes to posing for photos, I hope I'm not the only one who struggles with finding the right one. You have to find the right angle and position, one that doesn't make you feel awkward. Aside from the rap squat, celebrities have mastered the art of posing for Instagram photos. From casual shots of them walking on the street to something more choreographed, take inspiration for your next Instagram shots.
Stand Tall
Take it from Coco Rocha, keeping your posture straight and standing tall will make anyone look good. Keep a wide stance and look right at the camera. You can also put your hands in your pockets to keep it more casual and relaxed.
Walk the Streets
If you look at Kim Jones' Instagram account, you will notice that she likes to pose for photos while she's walking. Whether she's crossing the street or strolling on the sidewalk, it adds movement to the pictures. This also works if you're wearing a flowy outfit. So take to the streets and have your friend capture your best pose.
Stay Seated
For an effortless pose, find yourself a seat. You can be sitting at a cafe, on your couch at home, or on the sidewalk like Bella Hadid. If you're traveling, this is also a great way to get the buildings as your backdrop. Find the pose you're most comfortable with and take a few shots.
Over the Shoulder
For Jess Wilson, she goes for the over the shoulder pose. You can do this facing sideways, to show the full effect of your outfit. You can also opt to show the back of your look if you're wearing something backless or with intricate details.
Keep It Casual
Just like Karlie Kloss, have your friends snap candid shots of you. You can be on the phone, eating ice cream, laying on the beach. Whatever it is, it could make for an IG-worthy picture.
Art by Lara Intong
Follow Preen on Facebook, Instagram, Twitter, Snapchat, and Viber
Related stories:
The Evolution of Georgina Wilson and Kylie Jenner's Favorite Instagram Pose
These Dolls Were Inspired by Vitiligo-Skinned Model Winnie Harlow
Coco Rocha on What It Takes to Be a Successful Model
Kelsey Merritt on Her Crazy Student-Model Schedule and Working With Gigi Hadid