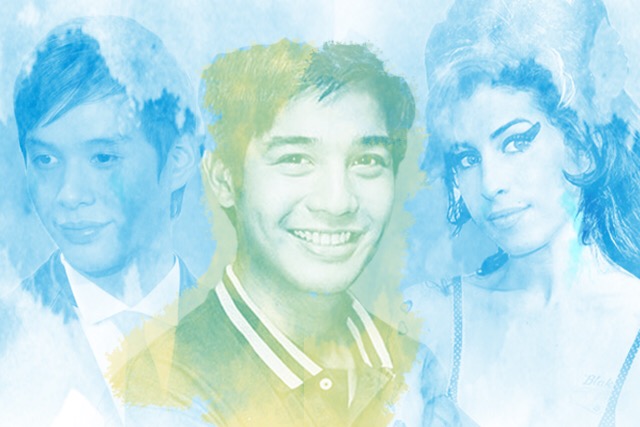 The sad news of Isabel Granada's passing proved once more that we feel a loss over a celebrity's death even if we've never met them. Vice explains that such a phenomenon is real and is part of how we tend to form "para-social relationships" to the public figures that entertain us. For some people, their idols' demise is the first time they deal with death. While the distance between us and the celebrity as opposed to losing a loved one also gives way to more emotional sympathy. Unhindered by legal responsibilities we deal with family, a celebrity's death allows us to turn our attention to the grief and to the people who have suffered the loss.
Social media has magnified this shared effect. It was evident with the various posts that popped up when the news of Chester Bennington's death broke out. Twitter becomes a support group especially when a big star like David Bowie dies or that of a revered actor like Alan Rickman. The magnitude of the loss just pierces across cultures.
A celebrity's death also brings to mind the stories of other celebrities that were gone to soon. In looking back at their life, and what happened after, we again acknowledge our own existence.  Vice quotes Dr. Samita Nandy of the Center for Media and Celebrity Studies for this, "As in real life, any such death also reminds us of our own mortality, which we tend to reverse through cultural constructions of immortality in fame."
Here we list down and remember a few celebrity deaths which still are heavy in their fans hearts.
AJ Perez
Six years ago today. Praying even more that that smile is still as bright as you watch us. ☝?️? pic.twitter.com/G0XIZPZwda

— Steph Ayson (@stephayson) April 16, 2017
Earlier this year, AJ's family penned a few tributes to remember his sixth death anniversary. The actor was just 18 years old when his life ended in a car crash. The teen star was groomed to be a bankable leading man given his projects with directors like Jose Javier Reyes and Francis Xavier Pasion.
Amy Winehouse 
I am genuinely heartbroken about this #DearAmy

— Rihanna (@rihanna) July 23, 2011
Every other artist of late will most likely list Amy as one of their influences. The singer-songwriter tragically joined the 27 Club. She died of alcohol poisoning due to a session of binge drinking. Her problems with alcohol were part of the many demons she dealt with through her songs.
Rico Yan 
https://www.instagram.com/p/_yaFEqOG8n/
Claudine Barretto posted a series of photos to remember Rico on his 15th death anniversary. This included a Polaroid of the two of them along with a note Rico penned for his then-girlfriend. Rico, who was a darling of the industry, met his demise in Palawan due to acute hemorrhagic pancreatitis.
Corey Monteith
Four years ago, Glee's Corey Monteith was found dead in his hotel room in Vancouver due to heroin and alcohol intake. Fans of Corey tried to offer comfort to his co-star and real-life flame Lea Michele, who spoke openly about moving on and what his death taught her on The Ellen Show.
Miko Sotto 
https://www.instagram.com/p/BFOq1OUxSjQ/
Miko passed away in 2003 due to accidentally falling from his condominium in 2003. Every year, Miko's former girlfriend Angel Locsin remembers his birthday and death anniversary via Instagram. Upon Miko's death, mom Ali Sotto decided to donate Miko' cornea's to deal with the loss and to make sure that her son did not die in vain.
Aaliyah 
In 2015, fans of the R&B star created the #AaliyahforMAC hashtag to pressure MAC Cosmetics to create a collection to commemorate the 20th anniversary of One in a Million, Aaliyah's monumental album. This just proves the lasting impact Aaliyah had on. The young actress died at just 22 years old in a plane crash that shocked the whole world. In 2003, Aaliyah's song Miss You became a tribute to her with cameos from different music personalities including Missy Elliot and Jamie Foxx.
Art by Lara Intong
Follow Preen on Facebook, Instagram, Twitter, Snapchat, and Viber
Related stories:
Lovi Poe, Lea Salonga, and Janno Gibbs Pay Tribute to Isabel Granada
Glam Rock Icon David Bowie Dies at 69
The Harry Potter Family Remembers Alan Rickman
Fans Lose It over Claudine Barretto's Throwback Rico Yan Post