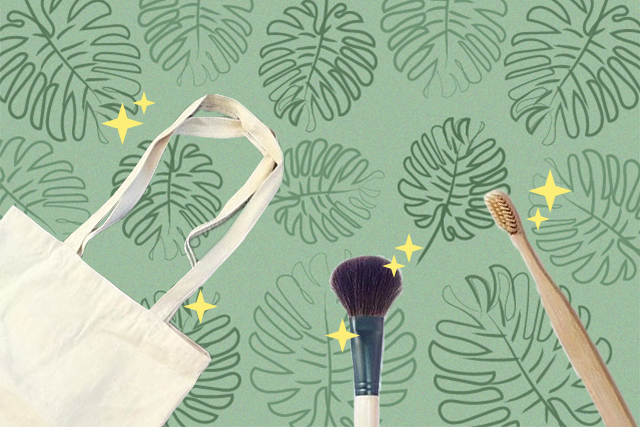 In theory, sustainable beauty sounds great. All the materials are recyclable, the ingredients in your products don't cause harm to the environment, and you even contribute to local start-up companies. In reality, it feels like a burden. The convenience of what we are used to when it comes to beauty can't be beaten. You can buy makeup even at 7-11 (Have you heard how they now have their own cosmetics line?) It also feels like such a big, lifestyle change, like you have to throw out everything. And as much as change is normal in our lives, we humans have this weird way of side-stepping it.
Is that it for sustainable beauty? Shall the world rot away for the sake of blemish-free faces? I hope that your answer to the last one is a no.
In practice, sustainable beauty is a slow process. It's the little things that lead to more environmentally-sound decisions. "It's not a huge change that you can do all at once," says Krizia Cortez. This PR and communications manager made a decision a year and a half ago to be more conscious about her personal care options. "I started researching for zero-waste options and videos on YouTube, looking for alternatives."
Since the cosmetics industry comes up with so many options you never thought you need, sustainable beauty is being conscious of the almost throwaway stuff on your vanity. "I use muslin cloths from The Body Shop instead of makeup wipes," says Krizia. "I am really against makeup wipes because after one use, that's it." For toothbrushes, she recommends The Toothbrush Movement Bamboo Toothbrushes.
When it comes to facial wash, she also observes not to choose ones with plastic or insoluble beads. Krizia thinks about how she saw how these get to the ocean, to be eaten by the fish we consume. "I don't want to eat anything that has plastic in it."
Gross, right? But I guess that's the ugly side of the beauty industry. For Harmony Adiao, a marketing associate, the sight of her skincare empties made her a little sick. "It shocked me how much I was throwing out every month," she says. Her zero-waste journey started just two months ago. Aside from trading in sanitary napkins for a menstrual cup, she's also eliminated her dependence on cotton rounds. Instead, she uses nursing pads for her toner. "You just have to work quick since they absorb the liquid fast." She admits that she's far from being "perfect" but at least she says it's all about always looking for options. "You shouldn't be too hard on yourself but always do what you can." It's why she believes that one good way to adapt a more eco-friendly routine is just to be a fan of responsible disposal.
So, are you convinced to go green? Are you scared to part with your ride-or-die products?
KC Aguila, an account manager, says that being a zero-waste beauty routine isn't about compromising your skincare. "You can't just choose everything eco-friendly if it doesn't work for your skin." But just as much as it took you several trials-and-errors to find the facial moisturizer you swear by, it will take you some time to find the eco-friendly option. Nevertheless, look for it. Talking to her made me realize that whenever we buy a makeup or skincare product we ask a million questions but we forget one: "How much trash is this product going to produce?" At first, she made her own facial wash with coconut oil, baking soda, and essential oil. When she found it drying, she tried  products from Dr. Bronner's. The old-school brand has a responsible, eco-friendly thrust in their products. She also opts to go to Ritual for her other bath and body needs. Her razor? "I use this one from Old Fashioned Man where you just switch the blade so you don't throw a plastic component every shave."
"My main goal was to significantly lessen the waste I produce. As I said, no matter how much I want to, I don't think I'll be able to be achieve 100% zero waste," says KC. It's something to keep in mind because you might feel a little guilty you eye cream is still in a plastic tube. "Your goals should be realistic," says KC.
You can start reducing the trash from your vanity and bathroom today. What products have alternatives you know of? What are products can you do without so you can avoid buying them? Answer this and start small. From there you can work up bigger.
Sadly, all three women had one advice on how to lessen your makeup waste: Don't buy makeup if you don't need it. So maybe I will hold off ordering my nth tube of lipstick from the new Kylie Cosmetics release. But I did find a nice option: packaging-less makeup from Lush. I have an eyeshadow sitting on my vanity inside a re-used container of candies. My eco-friendly beauty routine is off to a sweet start.
Art by Lara Intong 
Follow Preen on Facebook, Instagram, Twitter, Snapchat, and Viber
Related stories: 
The Day I Tried a Menstrual Cup and My Thoughts on the Tampon
Before Buying Another Tube of Lipstick, Consider the Environment First
Why You Should Follow Emma Watson's Eco-Friendly #OOTD Instagram
7 Retailers Who Prove That Eco-Fashion Isn't Just for Hippies
7 Everyday Items that We Can Use to Lessen Our Environmental Footprint