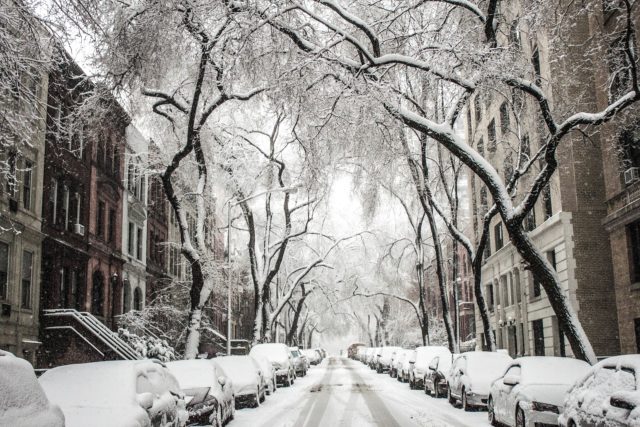 Is Christmas the same everywhere else in the world? They probably don't have the second national anthem that is "Christmas in Our Hearts" by Jose Mari Chan but I bet they have their own share of holiday music blasting in their malls. Is it a "White Christmas" as the movies would make you believe? Or is it just a holiday overshadowed by other occasions such as Thanksgiving and Halloween?
In New York City, it certainly looks like Christmas is true to what we've seen on-screen. Kristelle Batchelor, who moved to the Big Apple early this year, tells us that it can get a little manic as well. "Malls and shops were very crowded starting from Black Friday up to Cyber Monday because of the manic sale. People are doing most of their Christmas shopping around this time."
She digresses a little and says it's not as crazy as it is here in the Philippines."The US is heavily-driven by online shopping after all, and you can get amazing deals and discounts, too, on the web." Hint, hint to those who want to skip out on the traffic to shop for those Christmas presents.
Nevertheless, this doesn't discourage everyone to get the decorations up."Light decors were put up immediately after [Halloween] with Christmas songs being played everywhere." Kristelle says the spirit gets a big boost. "Best believe people even greet each other 'happy holidays!' from that point on. Christmas in NYC is also glorified even more by the highly-anticipated tree lighting festivity in Rockefeller Center and the lights display on Saks Fifth Avenue's facade."
Okay, so they aren't as excited as we are that we already see Christmas trees and parols up by September. Still, it's good to know that we're not the only ones who jump the gun at the festivities. Bernadine So, a resident at Soho, Manhattan, says that the displays of the giant merchandisers such as Bergdorf Goodman, Saks Fifth Avenue, and Macy's are indeed a sight to see. And people still get giddy about the snow. "But not the aftermath because it turns into slush," she says. Take note of your footwear if ever you find yourself waking around New York.
Be wary of crowd in New York though. Crowds and tourists are everywhere. New York's economy is a bit dependent on the tourist industry which doubles during the Christmas. Bernadine tries to avoid them at best and spends Christmas Eve on a rooftop with some friends. (Not a bad way to spend the holidays, if you ask us.) If you're brave enough, don't forget to visit the Christmas markets. Some are pop up spaces while others are the local markets which New Yorkers frequent for food and hot chocolate. With the different food trends that New York gives birth to, you just might be eating the new It-dessert by the time 2018 rolls around.
Photo courtesy of Pixabay
Follow Preen on Facebook, Instagram, Twitter, Snapchat, and Viber
Related stories:
Spend Your Christmas Vacation In an Ice Village or On an Island
Preen Gift Guide: Make Traveling a First-Class Experience For Your Loved Ones
Ladies, Meet the 5 Ghosts of Christmas Lovers Past
5 People On What It's Really Like to Have a Birthday on Christmas Day