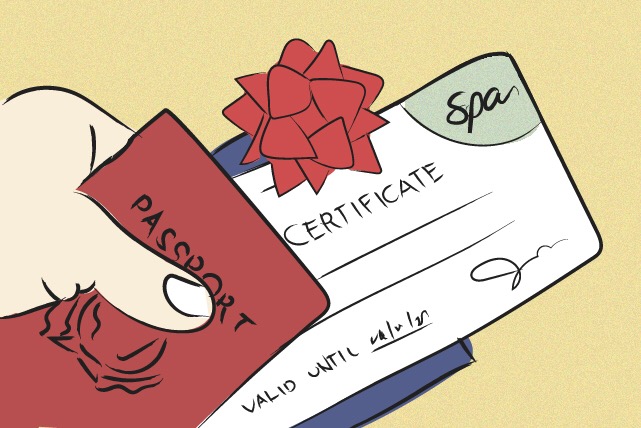 Having trouble with your gift list for the holidays? Our weekly gift guide series will help you figure out what you can get your loved ones this coming season. From food to fashion and beauty, we'll be covering all possible areas to make sure you have the best options to choose from. We will be posting gift guides every week till Christmas comes around so keep checking back for more!
Some of the best things in life are not material. When you think about it, gifts draw their value from the sentiment of the person giving them. It could just be a simple key ring or a complete set from your coveted makeup line, it's always a plus when it's from someone you love.
This is why gifts that aren't found in boxes. For your loved ones, don't get stuck getting them the next it-item. You can also give them an experience, a trip, or a date with you. Instagram moments will ensure along with stories that you can tell until the next Christmas. Who wouldn't want that? Warning, though: You might have a difficult time topping this gift next holiday season.
Gift them a food intolerance test
What better present is there than good health. If you notice a loved one constantly complaining about how certain food seems to not sit well with them, you might be able to save them with this one. A food intolerance test will determine if they are suffering from any allergies or if certain dishes affect them in a way they aren't aware of. It can also help jump start someone's healthy lifestyle. For more information, visit www.lifescience.ph
Relax at Onsen Spa
Who doesn't want a spa-cation? If you've got a friend who needs a time-out, you can treat them to a visit to Onsen Spa. The Indulgence of Time package is something needed to reset their frazzled mind. It has healing stone therapy (90 minutes), foot therapy (60 minutes), indulgence milk bath and inclusive of lunch or dinner buffet. That's just three hours but you can bet they will be thankful for it for the next few weeks. For more information, visit www.imonsenspa.com
Grab some dinner at Toyo Eatery 
Treat yourself to one of the best Filipino restaurants in the city. Toyo Eatery offers up a Set Menu and a Tasting Menu which offer remixed Filipino favorites, depending on their freshness and availability. Tip: Call in early for a reservation as the place is a favorite for those who want to splurge on something good without fuss. For reservations, call (0917) 720-8630
Have a date at Climb Central 
If your friend is an adrenaline junkie, pump it up with a visit to Climb Central. The indoor rock climbing gym is an exciting way to test how much you work together and trust each other. You can do a walk-in session or sign up for a program that will help you scale scary heights. For more information, visit www.climbcentral.ph
Get lost in time at Vigan
Now that we're upping the ante, why not change the usual beach itinerary with a trip to Vigan. Treat a friend to a tour of this UNESCO World Heritage City. Walk among the preserved Spanish houses and get an enjoyable history lesson while you're at it. For more information, visit www.vigan.ph
Try ice skating at Museumplein in Amesterdam 
https://www.instagram.com/p/BN4iTMpj6qy/?tagged=museumplien
This public square was reconstructed in 1999 and boasts of three major museums: Rijksmuseum, Van Gogh Museum, and Stedelijk Museum. In the winter, the pond at the Rijksmuseum becomes an ice skating rink where your friend can live out their ballerina dreams. For more information, visit www.iamsterdam.com
Have a cup of coffee in Stockholm
Art by Lara Intong
Follow Preen on Facebook, Instagram, Twitter, Snapchat, and Viber
Related stories:
Preen Gift Guide: Last-Minute Gifts that Don't Feel Rushed At All
Preen Gift Guide: The Practical Items You Never Knew You Needed
Hit Refresh on Your Filipino Cuisine Know-How with this New Resto
8 Ways to Prep and Make the Most Out of Your Spa-cation