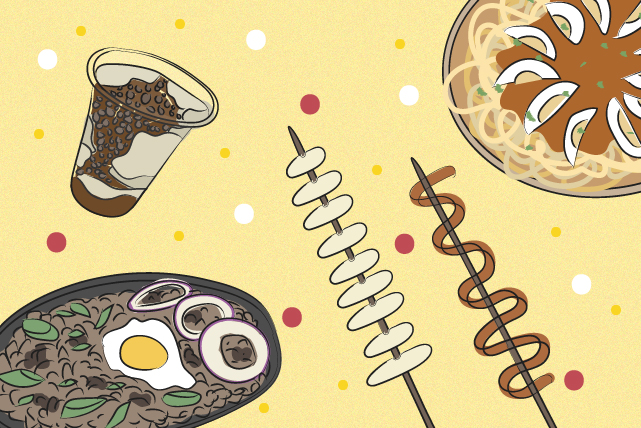 Here at Preen, we're fully aware that adult life doesn't always go as smoothly (and look as beautiful) as curated Instagram feeds. We all face challenges amidst all the good things. Meet Mikka Wee, a former food editor-turned-working gal in Singapore, who's about to share all the ups and downs that come with adulting and living. Welcome to Bless This Mess! 
As a Manila girl working in Singapore, there are so many cravings I get from time to time and I'm not just talking about the staples: adobo, kare-kare, bulalo, and laing. I'm talking about the food chains as well—Pancake House, Potato Corner, Mang Inasal, and more! A lot of people mistakenly think that just because I was a food editor in Manila, I only care for dégustations and the newer, fancier restaurants; when in fact, it's the undeniably Pinoy (mostly "gangsta") stuff that I can't wait to relish. Fishballs, squidballs, tokneneng, isaw, and balut, rank high up there.
And now that Christmas is in a week, let me share with you my list of must-have eats for all you Manila girls (and guys!) making their way home for the holidays. Unfortunately, I'm taking a backseat this year, and I'm spending Christmas and New Year's in Singapore. But that's all right because I'll save my belly space for when I'm back to visit on Feburary 2018.
1. Pancake House Fried Chicken
In the several times that I've visited Manila since I moved, I noticed a pattern: the first photo that I always upload on my Instagram profile is that of a 2-piece Pancake House Fried Chicken Meal with extra rice, extra gravy, and a generous sprinkle of Knorr seasoning. I always get flattered when my friends go to Pancake House, take a photo of the same order (with extra rice, extra gravy, and all), and jokingly call it the "Mikka Wee Special."
It's almost always my first meal when I'm back, and the meal I dream of when I sleep in the airplane. That crunchy skin with the tangy hint of calamansi, drowning in a pool of their brown, thick, buttery gravy and sitting on a spoonful of rice makes for the perfect last bite. Always.
2. Manam's House Crispy Sisig and University Fried Rice
One the most cleverly named items on a restaurant menu, Manam's University Fried Rice never fails to hit the spot. It's a throwback to my university days when my metabolism was so much higher, and I could shove plates of garlic rice with tapa and egg inside my mouth. Whenever I have Manam's University Fried Rice, I always start by getting "shy" spoonfuls, which eventually turn into heaping servings. I can't help it—it's heavenly and nostalgic at the same time.
Manam's House Crispy Sisig is already a given, but have you tried eating the House Crispy Sisig and University Fried Rice together?! Angels will sing. Have a bottle of Pale Pilsen to go along with it, and you're golden.
3. Dekada's Pancit Palabok
If you're a garlichead like me, then trust me on this: You will love Dekada's Pancit Palabok. I won't talk about the sauce-to-noodle ratio, or how notes of umami were highly present in this dish. It's just so darn garlicky good without being overpowering. I also like a lot of calamansi in my palabok, and the best thing about Dekada's version is that the sauce still manages to rise up to the top despite all the citrusy and pungent flavors. I never fail to wipe the plate clean.
4. Conti's Lengua Estofado
I enjoy Conti's Baked Salmon, but their Lengua Estofado is genuine comfort food to me. Part of the reason why it's one of my go-to dishes in Manila is because they're so generous with the mushroom gravy that comes with the lengua. I could eat three servings of this in one sitting, but of course, I'll pretend to be on a diet and save room for other dishes.
5. Aristocrat's Adobo, Crab Foo Yung, and Chicken Barbecue (of course!)
I grew up eating a lot of Aristocrat after church with my grandparents every Sunday (we went to Malate Church), so this just brings back a lot of memories. My grandma would always mix the ketchup with the java sauce, and I would always order their Pork and Chicken Adobo (the sauce is half parts fat and half parts oil), pour the sauce on my rice, inhale it, and then dig into my Boneless Chicken Barbecue Meal with Java Rice. Aristocrat's Crab Foo Yung it pretty delish, too.
See, I was such a fatty even before. But now that I think about it, perhaps a huge reason why I dig Aristocrat's Adobo so much is because it reminds me of how my Lola in Cavite would prepare her version—twice the oil and the fat. It's simply so good and so satisfying. I love adobo and its many renditions.
6. Omakase's American Dream Roll and Dynamite Roll
Judge me all you want (I know my fiancé does whenever I tell him that I'm craving some Omakase!), but I could have both these rolls all to myself. I'm sure that 70 percent is because of the mayo-soy sauce each roll comes with, but seriously, stop pretending you didn't have an Omakase phase because we all know it was the cool thing before Jiro Dreams of Sushi was released! It's still the cool thing to me. I love bastardized playful Japanese food.
7. Locavore's Sizzling Sinigang
I can't leave Manila without having this. My favorite part is when the sinigang gravy cools down and thickens up, and you dump it all on your piping hot cup of garlic rice. Make sure you make room in your spoon for some tomatoes, garlic chips, and beef short rib. Place everything in your mouth and bam!
8. Others
I thought of a ninth, and a tenth, which I'm sure would pretty much go on and on, so I just decided to write down an "Others" section for the other restaurants and food I enjoy whenever I'm in town.
– Taho from the Manong who goes to our compound in the morning.
– Penoy with a dash of salt and loads of vinegar
– Fishballs, Squidballs, and Tokneneng with the sweet sauce and vinegar
– Chicken Isaw drowning in vinegar (wow I love vinegar)
– Kikufuji's Spicy Tuna Sashimi and Wagyu Cubes
– Nihonbashitei's Spicy Salmon Sashimi and Asari Butter with Rice
– A trip to Sosing's for their liempo and Baka Soup is mandatory
– Mr. Kabab's Keema and Ox Brain
– Tawilis—man, I love tawilis, especially with lots of—you guessed it—VINEGAR
– Mamou—usually a family affair where we get steak, lamb tapa, and Lorenzo's Truffle Cream Pasta
– Dampa food: sweet shrimps in garlic butter, Halaan, crabs, inihaw na tuna belly or gindara
– Wildflour
– Mary Grace's Cheese Roll with Hot Chocolate! (Their Fried Kesong Puti salad is also delicious)
– Ooma
– Ukkokei's Tantanmen
– Tater's Sour Cream Nacho Chips with Sour Cream & Chives Dip
This is not the end of my list, but I can't keep going on. I am getting really hungry.
I love Christmas Day in Manila because I enjoy the traditions that makes it what it is—the Christmas carols, the malls playing Christmas songs 24/7, and of course, the food. Apart from the lechon and the tubs of buko pandan, I'll miss my grandma's Christmas Day Russian Macaroni Salad and my mum's Paella on New Year's. Have a good feast, folks!
Disclaimer: The views expressed here are solely those of the author in her private capacity and do not in any way represent the views of Preen.ph, or any other entity of the Inquirer Group of Companies.
Art by Lara Intong
Follow Preen on Facebook, Instagram, Twitter, Snapchat, and Viber
Related stories:
Filipino Food Is One of the Predicted Food Trends for 2017
Nigella Lawson's Favorite Filipino Flavors
Why Anthony Bourdain Keeps Coming Back to Filipino Food
Ivanka Trump Made a Very Filipino Snack at Her Daughter's Party