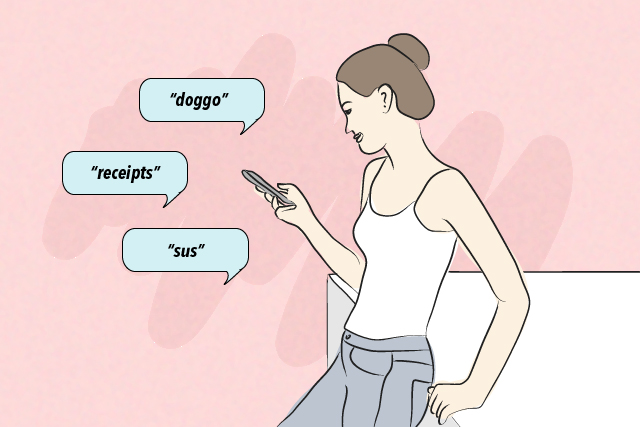 The list of Internet slang words is always evolving. By the time you learn what a term means, another one is bound to pop up somewhere. We can't keep up and it's leaving us #shookt. (Yes, I did that.)
Now that we're in 2018, people have already predicted which ones will be popular among netizens. We also scoured through social media to see what they've been typing up for the last few months. You can still expect the usual like "fam," "savage," and "tea." But here are new Internet slang that you should start familiarizing yourself with.
"Puppo/Doggo"
What it means: A cute way to refer to a dog or puppy
Internet linguist Gretchen McCulloch told Bustle that "puppo" and "doggo" aren't going anywhere this year. "It's no secret that the world in a somewhat unsettled state and that societal issues are at an all-time high. In the 2017 year in particular, to escape the madness, it was common for people to focus on social good and all of the warm and fuzzy feels," she said. So you might just find yourself saying this to every dog you see from now on.
"Wig"
What it means: Usually comes after "snatched," which expresses excitement or happiness.
According to Urban Dictionary, this term is mostly used by women and gay men. It notes that this is a common expression when their favorite divas like Beyoncé does something amazing. This is also another version of "snatching weaves," and usually comes with a GIF of a bald person for, you know, added humor.
"Gucci"
What it means: Something cool or great; highly coveted
"Gucci" is technically an old slang word, but it's gained popularity again thanks to hit songs like "Gucci Gang" by rapper Lil Pump. Besides, who wouldn't want to have a luxe brand's name in their vocabulary to describe something awesome? Make everything feel like Gucci!
"Clapback"
What it means: A witty response to an argument
We had no shortage of celebrity and influencer clapbacks on social media in previous years. Bustle reported that as people become more outspoken about various issues, expect to see this term more on social media.
"Sus"
What it means: Abbreviation for "suspicious"
No, this isn't the same as our Filipino expression. "Sus" is often used if someone or something is being shady. Though, we don't know if using this abbreviation is necessary now that we have 280 characters on Twitter.
"Receipts"
What it means: Evidence, mostly used to expose someone
With the rise of call-out culture in social media, the term "receipts" have often popped up. This usually refers to screenshots and photos of the person/people they want to expose. This is particularly useful when a woman wants to bring to light someone's abusive and gross ways. One great example was when Ambra Battilana Gutierrez released the voice recording of Harvey Weinstein where he admitted to groping her breasts.
"Schrödinger's Text"
What it means: According to Oddee: "If you turn your phone off the text is both received and not received until you turn it back on and see."
This is a play on the thought experiment Schrödinger's cat, which states that you can't know if the cat is dead or alive until you open the box. So if you're anxiously waiting for a text that isn't likely to come, just turn off your phone and tell your friends that you're doing a Schrödinger's Text for a few hours. This will lessen your worry and the blow if the person rejects your offer.
"Ravan"
What it means: A version of "laban," (fight) which offers motivation to another person
We know that Filipino terms like "lodi" and "petmalu" are everywhere on social media now. Another word that you should be familiar with is "ravan," which is commonly heard in variety show It's Showtime and we also sometimes see Kathryn Bernardo use this on her Instagram Stories.
Art by Lara Intong
Follow Preen on Facebook, Instagram, Twitter, Snapchat, and Viber
Related stories:
How Do You Decode Today's Millennialspeak?
My FWB Is Hot AF and Is Def DTF: A Primer on Millennial Dating Acronyms
The Best Celebrity Burns by Rihanna, Solenn Heussaff, and Mariel De Leon
Keep Your Social Media Troll-Free With These 6 Steps
I'm Worried About What Instagram and the Internet Are Doing to My Daughters