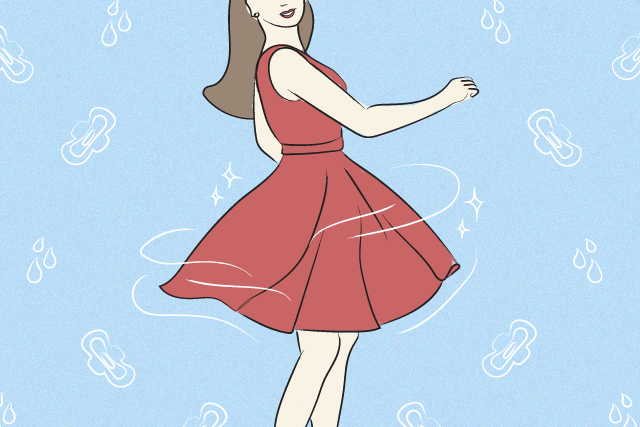 Periods. They happen every month to every woman and there is nothing to be ashamed of. Your main goal at this time is to make sure you're comfortable and safe from leaks while at work or asleep. You also want to stay confident even if your energy levels are lower than usual.
To give you a glimpse of what it's like for working ladies when it's the time of the month, watch the video below starring Sarah Carlos. You will see the challenges she goes through and the choices she has to make like picking the perfect pad. We've also put together a list of tips to make periods hassle-free and have you staying energized.
Get moving
To reduce cramps, you have to get the blood flowing. If you can, carry on with your regular workout routine. For those who experience more discomfort and pain, try light exercises like jogging and walking.
Sip some tea
Aside from the soothing sensation from the heat, there are some teas that act as mild sedatives. Ginger tea, for example, can decrease pain while chamomile can help relax the body.
Avoid leaks and stains
There's nothing worse than waking up to stained sheets or leaks that have gone through your favorite pair of pants. Go about your day worry-free by choosing the right pad. During the day, Whisper Cottony Clean will work great for regular flow as you will be secured from leaks. It also protects skin from discomfort with its Dermacare lotion. For when you're ready to sleep, switch up your day pad for overnight pads that are longer and tailored for your bed time needs. Whisper X-Long has all night, all around leakage protection and anti-leak channels. What does that mean? No need to wear two regular pads or set a towel on your bed. You'll be able to move around as you wish without the risk of staining your sheets.  
Sleep
When you have your period, your energy level will be lower than usual so try to get more sleep. Achieve your #SleepGoals by wearing the proper pad to make sure you're comfortable. Whisper's overnight pads will do the trick as they are longer, wider, have more absorbency, and gives 12-hour comfortable protection. These pads also offer a leak-free, worry-free, and relaxing sleep so no need to lie in constrained positions.
Eat the right snacks
It's inevitable to give in to your salty and sweet cravings. But if you want to feel less bloated, eat the right food. Some snacks you can add to your diet are nuts, oranges, bananas, and dark chocolate.
Once you incorporate all these tips, you're sure to feel fresh and comfortable from day to night.
The Whisper Cotton Comfort Day & Night Pack is available on Lazada.
Art by Lara Intong
Video by Meraki in collaboration with Metapixel Inc.
Talent: Sarah Carlos
Creative Direction by Nimu Muallam
Hair by Sherwin Amodia
Makeup by Diane Coles
Styling by Tisha Ramirez
Produced by Sharm de San Jose
Clothing by Forever21
Follow Preen on Facebook, Instagram, Twitter, Snapchat, and Viber
Related stories:
So How Are We Going to Solve Period Pain?
The Day I Tried a Menstrual Cup and My Thoughts on the Tampon
You Buy More Clothes and Makeup When You're Fertile
Beat Period Cramps With Food From Your Pantry