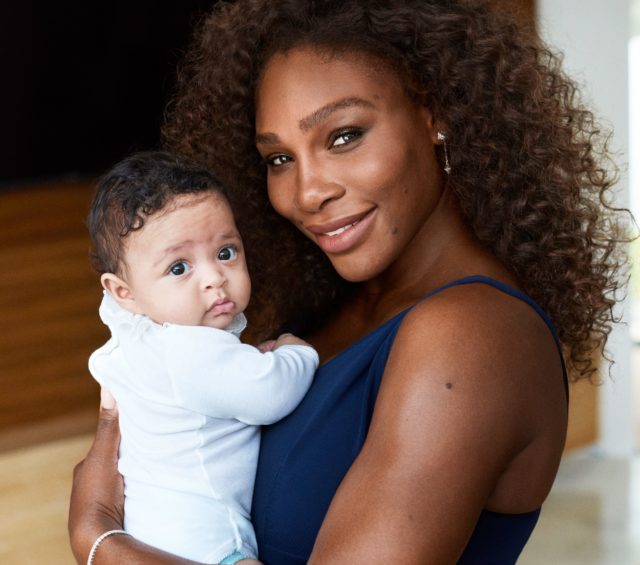 Tennis star Serena Williams shared her Feb. 2018 Vogue cover last night, and it's a special one for a few reasons. First, because she talks about life as a new mom and wife; and second, her daughter Olympia Ohanian is the youngest Vogue cover star.
On her Instagram post, Serena said she teared up when she saw the cover. She also noted that Olympia's milestone is a "moment I will never forget."
Serena's Vogue feature mostly focused on her future comeback and how she's dealing with motherhood so far. "Sometimes I get really down and feel like, 'Man, I can't do this.' It's that same negative attitude I have on the court sometimes. I guess that's just who I am," she said. "No one talks about the low moments—the pressure you feel, the incredible letdown every time you hear the baby cry. I've broken down I don't know how many times. Or I'll get angry about the crying, then sad about being angry, and then guilty, like, Why do I feel so sad when I have a beautiful baby? The emotions are insane."
Olympia was born on Sept. 1, 2017, making her four months old now. (She now has a magazine cover even before she could walk.) Serena also shared her birth video to introduce her baby girl to the world.
Photo by Mario Testino for Vogue
Follow Preen on Facebook, Instagram, Twitter, Snapchat and Viber
Related stories:
WATCH: Serena Williams Debuts Video on Baby's Birth, the World Goes 'Awww'
You'll Never Guess What Alexis Ohanian Surprised Serena Williams With During Their Wedding
See Serena Williams and Amy Schumer Strip Down for Pirelli
These Celebrity Baby Photoshoots Will Make You Want to Plan Your Own