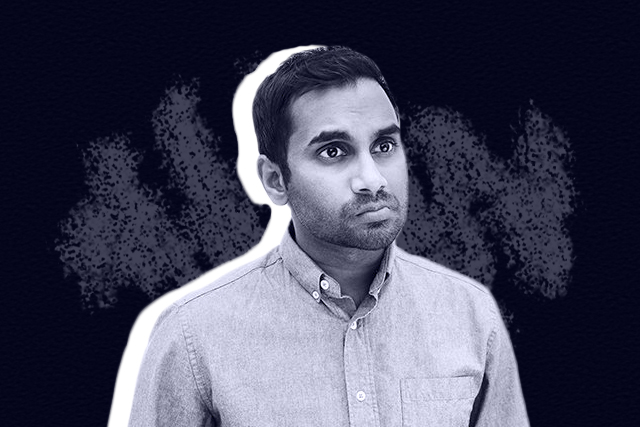 This column may contain strong language, sexual content, adult humor, and other themes that may not be suitable for minors. Parental guidance is strongly advised.
It started out as a familiar scenario. Boy meets girl, they flirt, they go out, they make out. So far so ho-hum. Then girl decides she feels violated, goes home, and dishes out on her unsatisfactory sexual encounter with boy to an online magazine, complete with details of boy's sexual repertoire.
The boy, of course, is the celebrity comedian and actor Aziz Ansari. The girl, in a desire to remain anonymous, is known as "Grace." She claims he didn't heed her verbal and non-verbal cues. He claims he was sure their encounter was consensual.
Their reactions to the ensuing furore have been mixed and fierce. Is this the #MeToo movement gone rogue and extremist, some asked, where every sexual encounter can be weaponized for the movement in order to prove the point that consent has to be explicitly and affirmatively expressed, and if not, the man has to be able to decipher any and all cues a girl might emit and stop when it appears that she's not into him? Is this another instance where, while not rape, illustrates how a woman has less of a voice than a man in dictating the direction of a sexual encounter, before and during? Or is this merely, as some have suggested, a case of bad sex, a once potentially exciting coupling turned disappointing, a sexual caveat emptor if you will, that is suddenly framed as nonconsensual, even catastrophic, "the worst night of my life" level of horrible?
Boy meets girl meets second thoughts meets social media with a twist, indeed.
I don't know what to make of the whole Aziz Ansari debacle. Having re-read the infamous Babe article a second and third time, and then hearing Ashleigh Banfield's comments on the matter, followed by the ad hominem attacks hurled against her by the piece's author, not to mention finding myself agreeing with Bari Weiss' column, I am inclined to think that there is a divide between how millennials (such as "Grace" and the article's author Katie Way) and older women perceive the incident. For all our talk about empowerment and choice, Grace seemed to have exercised very little of it judiciously, and instead revealed the opportunistic, cry-baby entitlement we like to associate with millennials everywhere. Why didn't she just say no when he was going down on her as she sat atop the kitchen counter? Why didn't she leave when they took a break and chilled for a while before he apparently went at it again and tried to initiate penetrative sex? What happened to the voice #MeToo was supposed to have given women everywhere? There was no uneven power structure here apart from the fact that one party was a celebrity and the other a nobody. There was no job opportunity or salary discussion involved. And there was no real coercion. So how the f*ck did the prospect of sex with a celebrity turn into a nightmare?
On the other hand, Grace is young. This didn't sound like her first hook-up, and by all accounts she seemed excited about the date. It was Aziz Ansari, after all, who had declared himself an ally of feminists. So what could go wrong?
At her age, though, she probably still hasn't learned to verbalize what she wants or doesn't want in a sexual encounter. She couldn't even tell him she didn't like the wine he'd ordered! She felt trapped, she said, but her momentary paralysis was perhaps the result of what happens when reality does not match expectations but you don't know how to extricate yourself from under someone else's arms, tongue or penis. In echoes of Kate Roupenian's The New Yorker short story "Cat Person," it seemed to be a case of "it's not rape but it's not what I want anymore yet I don't know how to tell him."
In my early 20s, I recall meeting a much older man at an art fair in Paris who turned out to be the editor of a prestigious international art journal. We had somehow gotten into a discussion about Balthus, exchanged numbers and a few days later he invited me to dinner at one of those classic French bistros close in his quartier. He invited me to his apartment after, on the pretext of showing me his library. In his library he decided to read William Butler Yeats to me, choosing, of all poems, "Leda and the Swan," while urging me to sit on his lap. In a meta moment, he even said something to the effect of "Did you ever think you would be sitting on an older man's lap in Paris listening to him recite Yeats to you?"
To say I was uncomfortable was an understatement, and I knew that there was no way I would ever sleep with this man. I was drawn to his erudition, yes, but I certainly did not find him attractive, high-profile editor or not. But I firmly refused his advances and walked out of his apartment and hailed a cab. I was even younger than Grace was. So how come she couldn't walk out on her own when she decided she didn't want to sleep with Aziz?
The actor may have been clueless about his failure to heed her "verbal and non-verbal cues," but it would appear, from his text conversation with Grace the next day, that he meant her no disrespect. Not that he deserves a medal for actually texting her the next day, that's just good manners, which seems to be rare in hook-ups. But I'm not sure he deserves the vilification he's received from some quarters.
What's clear is that the conversation needs to revolve not just around consent, but pleasure. We bring in so much baggage to every sexual encounter, even to a casual hook-up that it's easy to forget that sex should be hot and fun and mutually satisfying as much as possible, and not a war. And yet sex is, and always will be political. Grace's experience reflects current and lingering attitudes towards sex, among them the passivity of women in the service of a man's sexual satisfaction. Even when consensual, women still expect men to take the initiative and dictate the rhythm of a sexual encounter, where the goal is male ejaculation; the woman's orgasm is secondary. This attitude is enshrined in porn, where young people tend to get their sexual education, leading to distorted notions of sex and the pleasure both men and women have a right to feel and enjoy.
I don't know what Aziz Ansari was thinking, apart from wanting to get off and believing Grace was into him. And yet, for all the possibilities casual sex presents, sex is still a deeply intimate act that leaves us feeling vulnerable. So for a woman to actually say to a man, in the midst of for the most part consensual congress, that "I don't like what you're doing, that doesn't work for me," is to allow too much honesty into a noncommittal encounter, shatter an unspoken sexual pact, cast doubt on a man's sexual prowess and upend what has always been considered the natural order of things.
But it's not the natural order of things. Women should learn to have sex for their own real pleasure, and not be a receptacle for men's desires or a projection of men's fantasies. Sexual pleasure should be mutual and equal. A man who knows how to push a woman's buttons—or should that be button?—again and again, who makes her sexual satisfaction a priority may be rare. But trust me, he exists. And if he doesn't, you can always train him.
B. Wiser is the author of Making Love in Spanish, a novel published by Anvil Publishing and available in National Book Store and Powerbooks, as well as online. When not assuming her Sasha Fierce alter-ego, she takes on the role of serious journalist and media consultant. 
For comments and questions, e-mail [email protected].
Disclaimer: The views expressed here are solely those of the author in her private capacity and do not in any way represent the views of Preen.ph, or any other entity of the Inquirer Group of Companies.
Art by Lara Intong