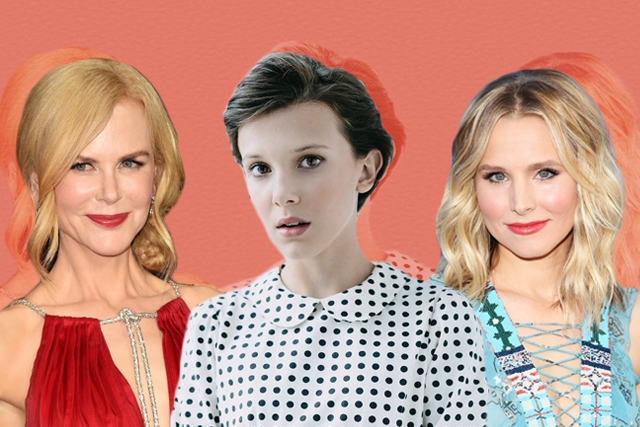 This year's Screen Actors Guild Awards may not have opted for a blackout dress code and #TimesUp pins, but the attendees still made a stand against sexual harassment, among other topics, in their own way. Aside from the all-female presenter lineup, the actors had meaningful quotes that everyone should live by. For reference, we gathered the best SAG comments for you.
Kristen Bell
During Kristen's opening monologue, she took a subtle dig at Melania Trump and her anti-bullying campaign. "There has never been a host for this awards show. First time. First person. First lady. I honestly never thought I would grow up to be the first lady, but you know what, I kind of like it. I think my first initiative as first lady will be cyberbullying because I have yet to see any progress on that problem quite yet."
Millie Bobby Brown
The Stranger Things star wore Converse sneakers to the SAG Awards, and she made a point that heels aren't always a must at award events. "You gotta dance the night away, win or lose!"
Timothée Chalamet
E! Online asked Timothée Chalamet if the Time's Up movement is resonating with men. He said, "I think at the level of campus sexual assault, for people my age this was a dialogue that was somewhat already happening. But with the centralization of the Time's Up movement and that it's hopefully happening at award shows like this, the conversation's getting out there. Thank God. Equality in the work place. 50/50 by 2020. These are messages that are getting out there."
Allison Williams
"That to me is the most incredible wielding of power to be able to take our platform and the microphones that we have and use it to raise money for people who do other jobs and everywhere," Allison Williams said about the Time's Up movement.
Zoe Kazan
The Big Sick star Zoe Kazan opened up about how men are now engaging conversation regarding sexual harassment. "I'm not hearing a difference in conversation, I think what I'm hearing more is just really more conversations. And a lot more conversation is being initiated by men. I've had more men initiate conversations with me about harassment than I ever had in my life, so that's really exciting."
Nicole Kidman
Nicole Kidman won Best Female Actor in a TV Movie or Limited Series for Big Little Lies, and she decided to highlight ageism in Hollywood for her acceptance speech. "I want to thank you all for your trailblazing performances you have given over your career and how wonderful it is that our careers today can go beyond 40 years old. Because 20 years ago, we were pretty washed up by this stage in our lives, so that's not the case now. We have proven and these actresses and so many more are proving that we are potent and powerful and viable. I just beg that the industry stays behind us because our stories are finally being told. It's only the beginning and I'm so proud to be a part of a community that is instigating this change, but I implore the writers, directors, studios and financiers to put passion and money behind our stories. We've proven that we can continue to do this but only with the support of the industry and that money and passion."
Kumail Nanjiani
The actor reflected on how men should listen and assess their behavior when a woman speaks up about their actions. "I think it's time for us to listen to the discussions that women are having, and look at ourselves in the mirror and interrogate our own behaviors because a lot of times men are coming off in ways that they don't understand are harmful."
Rosanna Arquette
Rosanna Arquette & Marisa Tomei thank and celebrate the "silence breakers" — Rosanna included — during a touching #SAGawards moment pic.twitter.com/RT1o1umZm1

— Jarett Wieselman (@JarettSays) January 22, 2018
"So many powerful voices are no longer silenced by the fear of retaliation. We can control our own destiny," the actress said as she thanked the "silence breakers."
Brie Larson and Lupita Nyong'o
Brie Larson and Lupita Nyong'o announce at #SAGAwards that SAG has developed a new on-set Code of Conduct with #TimesUp pic.twitter.com/gNN2gSEI3Q

— BuzzFeed Arts & Entertainment (@BuzzFeedEnt) January 22, 2018
The Marvel actresses announced that the SAG Awards has a new on-set Code of Conduct in partnership with the Time's Up movement. "So that there will be a safety on set so we can continue to be vulnerable," Brie said.
Art  by Lara Intong
Follow Preen on Facebook, Instagram, Twitter, Snapchat, and Viber
Related stories:
Are You Ready For All-Female Presenters at the SAG Awards?
#TimesUp: This is Why Celebrities Wore Black to the Golden Globes
Celebrities Speak Out Against Sexual Harassment at the Golden Globes
Donald Trump Should Watch More TV Award Shows
James Franco Accused of Sexual Misconduct by His Students