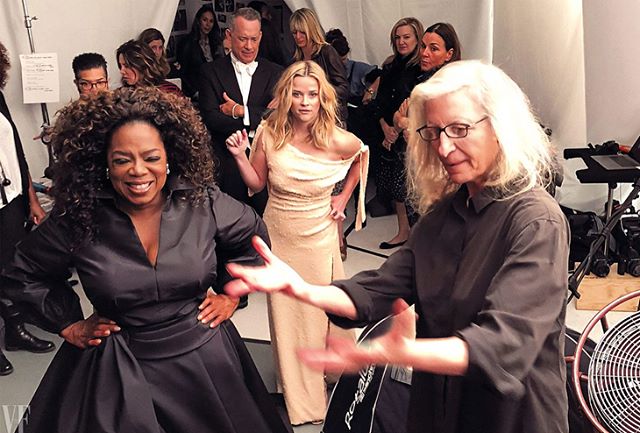 We all probably gushed and let out a sigh of appreciation when we saw the latest cover of Vanity Fair featuring Oprah Winfrey, Nicole Kidman, Reese Witherspoon, Tom Hanks, Michael B. Jordan, Zendaya, Claire Foy, Jessica Chastain, Michael Shannon, Harrison Ford, Gal Gadot, Robert De Niro, and Graydon Carter (aka the man who started the Hollywood issue of VF.)
It's one breathtaking cover photographed by Annie Leibovitz until you see something odd—Reese seems to have three legs. Look closely!
12 extraordinary stars, one very momentous year. The 2018 Hollywood portfolio is here: https://t.co/6PfsFsPzK1 pic.twitter.com/MfRsp2y9Z3

— VANITY FAIR (@VanityFair) January 25, 2018
im tryna figure out how many legs reese witherspoon's got in here, it's been bothering me for the last five minutes pic.twitter.com/u1uQ63sDdd

— space wifey ? (@leiascaptain) January 25, 2018
Reese addressed the issue on her Twitter account with such humor saying, "Well… I guess everybody knows now… I have three legs. I hope you can accept me for who I am." She even shared how she doesn't regret snuggling Oprah and recommends that everyone does so when they get the chance.
Well…I guess everybody knows now…I have 3 legs. I hope you can still accept me for who I am. ?( and I will never apologize for snuggling @Oprah .. if you get the opportunity, I highly recommend it;) https://t.co/6GyrfWxNSY

— Reese Witherspoon (@RWitherspoon) January 25, 2018
Other netizens pointed out that Reese wasn't the only one with an extra limb. Apparently, Oprah had an extra arm based on the behind the scenes photos. Can you see it?
Forget Reese Witherspoon having 3 legs in Vanity Fair's photo, Oprah has 3 hands in another ?? (She's holding Reese) pic.twitter.com/ngZ4cFwRWK

— Kaitlin Hatton (@HattonKaitlin) January 25, 2018
Oprah replied to Reese's post by saying "I accept your third leg. As I know you accept my third hand."
I accept your 3d leg. As I know you accept my 3d hand??????❤️

— Oprah Winfrey (@Oprah) January 25, 2018
It may be a photoshop blunder, but who knows right? Vanity Fair handled the mishap with such ease and again, humor. Because everything is easier when it's funny.
As for @Oprah, how can we expect her to juggle it all with just two hands?
¯\_(ツ)_/¯_/¯ (We are correcting this error​ online​.) https://t.co/QNd74YtSTz

— VANITY FAIR (@VanityFair) January 25, 2018
They said that as much as they want an exclusive on Reese's third leg, it was just the lining of her dress. A trick-eye, if you ask me. While Oprah's extra hand is being dealt with at the moment.
What an eventful evening, huh?
[
Refinery29
]
Photo courtesy of Vanity Fair's Instagram account
Follow Preen on Facebook, Instagram, Twitter, Snapchat, and Viber
Related stories:
Reese Witherspoon's Debutante Daughter was Escorted by a Prince
Celebrities Speak Out Against Harassment at the Golden Globes
Why We Support Lena Dunham's Decision to Reject Photoshop in All Her Press Images
Queen Elizabeth II Fronts the Latest Issue of Vanity Fair