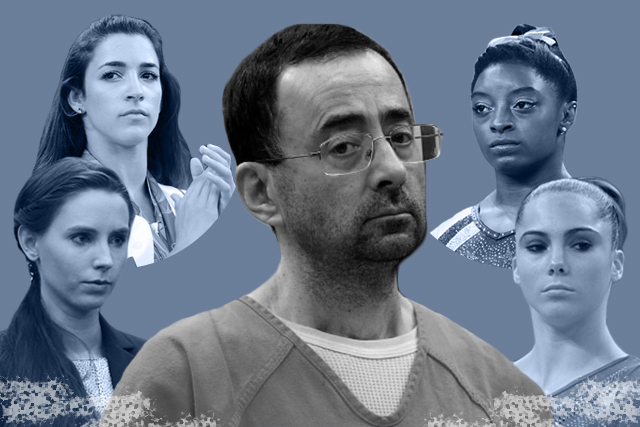 This column may contain strong language, sexual content, adult humor, and other themes that may not be suitable for minors. Parental guidance is strongly advised.
The #MeToo movement has been alternately praised, reviled, lauded, ridiculed, dismissed, and hailed as necessary. Whatever one might think of #MeToo, there's no doubt that it's given women everywhere a voice, a platform to be heard, listened to, and—finally—believed.
For centuries, a woman's word was always doubted. A woman's version of events was always considered unreliable. A woman's complaint was always given less importance than a man's. Women were hysterical, prone to flights of fantasy, and were vindictive when scorned. That was the narrative we've been fed all our lives, a narrative that bred misogyny to the point that we women believed and internalized that pernicious mentality that our thoughts, feelings, ideas, and experiences were simply not valid or credible, especially when considered alongside a man's pronouncements. Men, the narrative presumed, were always more honest, more rational, more practical, and more believable, particularly in matters of sexual assault and abuse.
This has been proven false time and time again yet there are some who persist in buying into this narrative—to the detriment of women everywhere.  How many women had to come forward before people woke up to the fact that Bill Cosby was a f*cking sexual predator who drugged women before he assaulted them? How many women had to come forward before people woke up to the fact that Harvey Weinstein was a f*cking sexual predator who used his power as a Hollywood mogul to lure women to his hotel room on the pretext of discussing movie roles before he assaulted them? How many women had to come forward before people woke up to the fact that Charlie Rose, Matt Lauer, Mark Halpern, Bill O'Reilly… At this point the names of the men are nauseatingly interchangeable, but the stories are the same. And for the longest time, no one believed all these women, no one took their experiences seriously, no one trusted their word.
Because these men were prominent, powerful men. Newscasters. Journalists. Actors. Producers. Directors. Doctors. Lawyers. Generals. Priests. Presidents. Such exalted men of integrity. Of course, the women were lying. Of course, the men did no such thing. And just as it takes a village to raise a child, it takes an entire community to turn a blind eye and enable a sexual predator to continuously and systematically abuse their own children for years and years.
Over 150 women came forward to accuse the vile and despicable U.S. gymnastics doctor Larry Nassar, who apparently got off on sticking his fingers into the vaginas of female gymnasts as a medical treatment for their sports-related issues. His victims were as young as 10 years old, such as Emma Ann Miller, now 15, who first started seeing Nassar for a back injury. Many of his victims sensed that what he was doing was inappropriate, but his stellar reputation as a doctor who specialized in treating gymnasts made them doubt themselves. So, they dismissed their own feelings of revulsion and shame and went on to perform in competitions around the world, winning medals and bringing glory to their team and country.
Army of survivors who are NOT going anywhere ?? pic.twitter.com/HIJMw5cwgE

— Alexandra Raisman (@Aly_Raisman) January 25, 2018
Even when the girl's parents were in the room, seasoned predator that he was, he managed to shield the patient's body as he "treated" her so that they wouldn't see what he was doing. They believed he was using his medical expertise to address their daughter's back or joint pain; all the while he was sexually assaulting her, and she was powerless to do anything but remain silent.
And tragically, if she spoke up, she wasn't believed. Not even by her own parents. Petula Dvorak wrote in The Washington Post, "The father of one of the survivors, Kyle Stephens, killed himself after believing Nassar over his daughter, when she described the brazen sexual abuse that took place during house calls to her childhood home. None of those officials believed it."
Of course. Why should they believe a star gymnast over an esteemed doctor? Even Olympic medalists like Simone Biles and Aly Raisman knew they wouldn't be believed.
To Judge Aquilina : THANK YOU, YOU ARE MY HERO

&

Shout out to all of the survivors for being so brave & speaking like the queens that you are while looking at that monster. He will no longer have the power to steal our happiness or joy. I stand with every one of you ? pic.twitter.com/b5SMmjZgeW

— Simone Biles (@Simone_Biles) January 24, 2018
Thank you. I appreciate you all so much. pic.twitter.com/kysEo68g5c

— Alexandra Raisman (@Aly_Raisman) January 25, 2018
No one wanted to believe Rachael DenHollander either when she filed the first police complaint against Nassar last year for sexually abusing her when she was 15 years old. In a New York Times op-ed, she revealed the personal and social cost of her accusations against Nassar.
Although it seemed like "a shot in the dark," she came prepared when she filed the suit. "I brought medical journals showing what real pelvic floor technique looks like; my medical records, which showed that Larry never mentioned that he used such techniques even though he had penetrated me; the names of three pelvic floor experts ready to testify to police that Larry's treatment was not medical; other records from a nurse practitioner documenting my disclosure of abuse in 2004; my journals from that time; and a letter from my neighboring district attorney vouching for my character. I worried that any less meant I would not be believed—a concern I later learned was merited."
The price she paid for coming forward was severe, including losing her church and close friends "as a result of advocating for survivors who had been victimized by similar institutional failures in my own community." Some accused her of being an "ambulance chaser" looking to cash in.
She refused to be silenced. "Yet all of it served as a reminder: These are the very cultural dynamics that had allowed Larry Nasser to remain in power."
As Jessica Chedler Rodriguez told the court in a video during Nasser's sentencing hearing, "Larry, now I know what you did to treat my back at that competition was nothing to help me manage my pain at all to get me through the national meet. But instead, it was just a ploy to enjoy your disgusting habit for sexual gratification. I trusted you and USA Gymnastics to take care of my pain, to help me follow my childhood dream. But both of you violated that trust and now I can't trust anyone anymore."
The consequences of not believing women are real. Nassar—who was sentenced by the feisty judge Rosemarie Aquilina to 40 to 175 years in prison for multiple sex crimes—even had the nerve to write to the judge complaining of being treated unfairly, repeating that oft-trotted out cliché that "Hell hath no fury like a woman scorned."
What about the hell his victims continue to endure?
B. Wiser is the author of Making Love in Spanish, a novel published by Anvil Publishing and available in National Book Store and Powerbooks, as well as online. When not assuming her Sasha Fierce alter-ego, she takes on the role of serious journalist and media consultant. 
For comments and questions, e-mail [email protected].
Disclaimer: The views expressed here are solely those of the author in her private capacity and do not in any way represent the views of Preen.ph, or any other entity of the Inquirer Group of Companies.
Art by Lara Intong
Follow Preen on Facebook, Instagram, Twitter, and Viber
Related stories:
Former Gymnastics Doctor Found Guilty of Sexual Assault
James Franco Accused of Sexual Misconduct by His Students
Stan Lee is Being Accused of Sexual Misconduct
The Rise of Sexual Assault Accusations Is Not a Witch Hunt