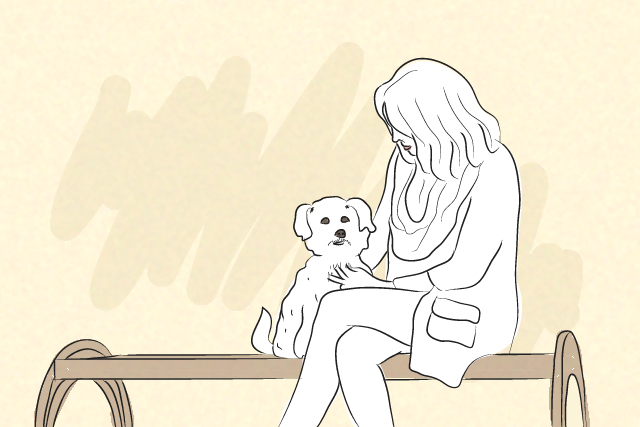 Here at Preen, we're fully aware that adult life doesn't always go as smoothly (and look as beautiful) as curated Instagram feeds. We all face challenges amidst all the good things. Meet Mikka Wee, a former food editor-turned-working gal in Singapore, who's about to share all the ups and downs that come with adulting and living. Welcome to Bless This Mess! 
When I was a little girl, there was something that I've always wanted for my own—a puppy because I grew up around dogs. We had Lux the German Shepherd, Fatso the little Labrador, Munchkin the Dalmatian, among several others. But I never had a dog to call my own. I pleaded with my parents countless of times, but they felt it wasn't time yet to get a puppy, so instead, I had Cracker the goldfish, and Cotton, Furball, and Rubba—the bunny family.
After I graduated from university, the time finally came. My godfather brought me to a pet store, and there lay, before my very eyes, two tiny, fluffy clouds, scampering about. One was energetic and playful, while the other was a bit awkward, shy, but still excited and energetic.
The latter one was soon going to be my little love, Rocket. A Maltese, who I'd often describe as antisocial and moody; yet, he is extremely loyal, intelligent, and loving. Since I grew up with dogs, I would often play with them after school, but I never had the responsibility of actually having my own to raise until Rocket came into my life. I remember when we finally brought him home, and he was excited to feel out the new environment. Rocket was running around and, I guess, he was so overwhelmed with his new surroundings that my mother tried to avoid him as much as possible. Today, my mother treats Rocket like royalty. He is the son she never had.
Throughout the years, Rocket has witnessed me during my best and my worst. When heartbreaks happened, my tears would fall on Rocket's fur. And somehow, I could feel that he could sense what I was going through. Rocket doesn't like to be over-cuddled—he hates it. But it's funny to know that pets understand. I'd like to think that pets and their humans develop a relationship with each other, which grows into an unexplainable connection. I love dogs so much because they love so unconditionally. Rocket always walks me out the gate when I leave for home, and stays there until I'm gone. And when I arrive, he gets so excited and jumps and barks as if I haven't seen him in a week. We bought Rocket his own little futon to sleep on, but after two days, I brought him to my bed, and the best part about my mornings is when he would wake me up by licking my nose. Yes, we are really that close.
Weekends were meant for the both of us to on a "date" and spend time in a café together. I'd bring Rocket to BGC for him to run, exercise, and attempt to socialize. My mom would also bring him out and meet her friends' dogs—but we always have the same feedback. Rocket is really antisocial and awkward not only around other dogs, but also around other people. He is also antisocial even to our other dog, Max, who always bugs him to play.
When I made up my mind to move to Singapore, Rocket was really the biggest factor. I had some people tell me that "Why? He's only a dog." And those people I've already crossed out from my list of friends. Just kidding. I guess it's just really tough to understand something you haven't felt. As I was packing to move to Singapore, Rocket would always be there. He would just lie down on my bed and look at me with sad, puppy-dog eyes. And my eyes were never dry as I folded each shirt, and zipped each bag. I would even jokingly place him inside my suitcase and tell my mom, "Look! He fits!" Whenever I'd imagine coming home without my Rocket greeting me at the foot of the door, I'd burst into tears and hold him close to me.
I admit, I did consider bringing him to Singapore, but just thinking about my little dog in the cargo and the month-long quarantine process (also, my mom and dad being miserable without him) was enough reason for me to forego the idea. My dream was to have Rocket walking down the aisle with me during my wedding day, but I didn't expect to have my wedding in Singapore, so we did a FaceTime instead. There is always a part of my heart that feels hollow without seeing him as often as before, but knowing that he is well-loved and well-cared for is enough reassurance to me.
Rocket recently turned seven last Feb. 3, and of course, I flew home to be with him. He is really my number one reason for coming home to Manila. And as the complications come with old doggie age, Rocket has night blindness due to his cataracts, and the surgery can only be done here in Singapore—which means, he has to go through the cargo and quarantine trauma. My mom said that "his nose is his life," and that as long as he is loved and cared for, he will be okay.
I always get a lump in my throat whenever my mom would send photos of him (which is really tough when I'm at work, by the way!), or sometimes, when I'm alone in my room, I just look through videos and photos of Rocket and I tear up the same way I am while writing this piece. But in any case, every day in Singapore is a day closer to seeing Rocket again, and when I know I'll be waking up in Manila, the first thing I look forward to is always my not-so-little-anymore ball of white fluffy fur waiting for me at my doorstep.
Disclaimer: The views expressed here are solely those of the author in her private capacity and do not in any way represent the views of Preen.ph, or any other entity of the Inquirer Group of Companies.
Art by Lara Intong
Follow Preen on Facebook, Instagram, Twitter, and Viber
Related stories:
The Happiest Day of My Life
Why Singapore and Manila are the Places I Call Home
The Four Truths I Learned as I Turn a Year Older
5 Tips on Surviving the Jungle of Adulthood