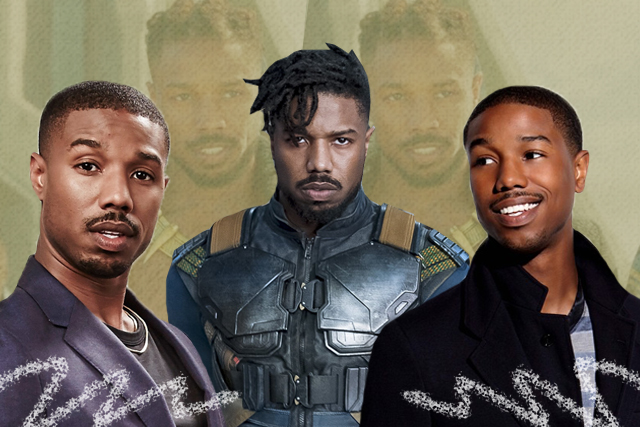 The Black Panther hype is real and so is the love for the movie's antagonist Erik Killmonger, played by Michael B. Jordan. Aside from being named one of the best MCU supervillains, fans just can't get enough of the actor's charm and looks. Even those who haven't watched the film but have seen the trailers (myself included—don't judge me, I'll go see it soon) would agree.
If you have seen Black Panther, then you must be itching for some info on Michael. We gathered interesting tidbits from a few of his interviews so you can get to know him more.
He's not related to Michael Jordan the basketball player
Michael told Jimmy Kimmel in 2013 that "it gets annoying" whenever people would mistake him for the basketball player. What's funnier is that even his dad has the same name—Michael A. Jordan. "He didn't really realize what he was going to put me through the first 26 years of my life," he told Jimmy.
He knows his comic book references
While watching WIRED's Google autocomplete game with Black Panther stars, what stood out is how knowledgeable Michael is when it comes to the Marvel universe. He explained who Black Panther is in the comic book, managed to justify why Black Panther is stronger than Captain America based on history, and so on. So if you want to have a comic book debate with someone, he's your guy.
Once upon a time, he was a model for…
If you've always wondered whether Michael had a modeling career because of his good looks, here's your answer: He did. But it was back when he was a kid. Michael modeled for Toys R Us and US sporting goods chain Modell's. (Now I guess you can consider magazine spreads and covers as modeling too, right?)
Actually boxing and getting hit on Creed
One of Michael's notable roles is starring in the boxing film Creed with Sylvester Stallone. He trained for a year for the role, gained 24 pounds of muscle, and had no body doubles throughout the film. Director Ryan Coogler told The New York Times that Michael went up against real fighters and was "routinely bloodied, bruised and dizzy." Ouch, that's gotta hurt!
What he really felt about the Fantastic Four reboot
Before becoming a part of the MCU, Michael played the Human Torch in the Fantastic Four reboot in 2015. It's no secret that the movie flopped (for reference: it has a 9 percent rating on Rotten Tomatoes). When asked to comment about it, he told IGN, "I look back at the film as a learning experience. Every film isn't going to be a home run. Everybody involved didn't set out to make a film that didn't work…You can give 110 percent every day, and the movie still might not work out. But that may or may not be on you and you've got to be OK with that." Look at him now—redeeming himself big-time on Black Panther.
He owes Lupita Nyong'o two more push-ups
.@MichaelB4Jordan, losing with a smile. On call push-ups!!! pic.twitter.com/g1W3UJqTVu

— Lupita Nyong'o (@Lupita_Nyongo) February 19, 2018
It's not revealed yet what bet Michael and Lupita made with each other. But based on Lupita's video at the backstage of The View, Michael definitely lost and went down to do one push-up. He also promised to do the two more that he owes. What a good sport! We're also very curious as to what that bet was.
Makes ironing clothes look easy (and sexy)
For Vanity Fair's "Secret Talent Theatre," Michael wore a tuxedo to show everyone how great he was at ironing clothes. That sounds so mundane, but he explains that his dad taught him to iron clothes since his mom can't do it every morning. To be fair though, he did a great job. I guess you can say that he's the real Iron-Man. (Ha!)
He knows Filipino slang
Thanks to Alodia Gosiengfiao, who interviewed the cast in Seoul, Michael now knows the meaning of "lodi" and "astig." Now we feel a bit closer to him.
His number one dating rule
On Vogue's "73 Questions," Michael showed everyone just how much of a gentleman he was with his dating tips. "Always pick up the tab—at first, anyway. And she never touches a door knob." [Swoons]
Art by Lara Intong
Follow Preen on Facebook, Instagram, Twitter, and Viber
Related stories:
The Dora Milaje Costumes In Black Panther has Filipino Elements
Give Your Makeup Look a Wakandan Vibe
Our Thoughts on Hela, Marvel Cinematic Universe's First Female Villain
All the Emotions We Felt While Watching the Avengers: Infinity War Trailer