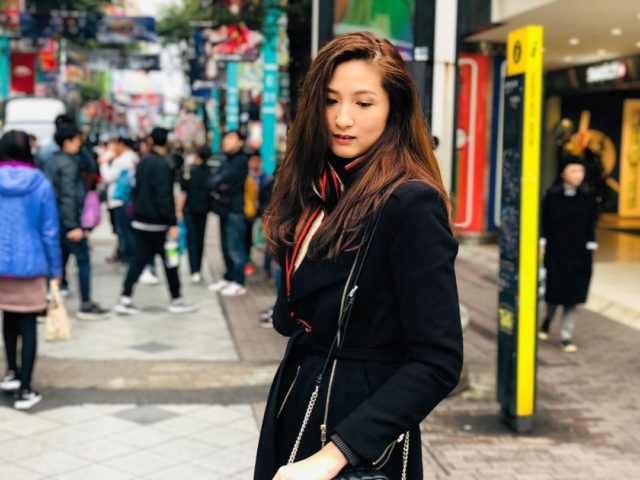 Filipina Irish Ong has been a model since she was 14 years old both locally and abroad. She was even spotted on the runway at Kuala Lumpur Fashion Week in 2014. You might have also seen her on season 5 of Supermodel Me, a show that focused on 12 Asian women who wanted to take modeling to the next level.
Although her career was successful, she felt she could do more. With the rise of social media culture and her move to Hong Kong, she saw an opportunity to apply the knowledge she gathered from her modeling experience. She then co-founded a company, AlphaConcepts.Co, that fills in the gaps between businesses and influencers, something that advertising agencies may lack. Yes, she is the CEO and co-founder os AlphaConcepts but she still models. And when she's not working, she's traveling to different countries, soaking up the culture and sharing it on Instagram. Yup, she's the definition of a boss lady.
In the age of social media, it seems like influencers are a new breed of celebrities. From YouTube beauty gurus to lifestyle bloggers on Instagram, these ladies and gents carry a huge following. Whether they have a couple thousand or close to a million followers, consumers seem to want to know more about them.
For businesses this is a great opportunity for them to tap these people to promote their brands. Perhaps, unlike other celebrities, people find them more relatable and there's an instant connection when they see a post. But how does this all happen? How do brands reach out to influencers? To get a better understanding of this culture, we asked Irish some questions based on AlphaConcepts.Co. For those who aren't familiar, it is a Hong Kong-based influencer marketplace. Basically, what they do is connect brands with influencers that will offer them the best value for their advertising money. 
What is the influencer culture like in Hong Kong?
Influencers or Key Opinion Leaders (KOL) are people who have the ability to engage with a high number of audiences through social media. People follow their life stories, their voices are heard, and their opinions matter to a massive group of audience.
In Hong Kong, most influencers started off as having a hobby on photography, travel, beauty, and the like. As they become more influential, they get more demand from brands and some of them might even consider doing it full time.
Some very influential KOL start building their own brands. Those who have a lower follower base should not be worried about not getting enough campaigns. Brands nowadays realize that micro-influencers have a more niche audience which implies more effective targeting.
How does it differ from that of other countries?
The behavior of influencers and brands is largely similar across the Asian countries that we have an aspiration to grow in. However the difference comes in the perception of "Who can be an influencer," driven by the differential of population among countries. For example, an influencer with 200,000+ followers in the Philippines would have been a super star influencer if he/she were in Hong Kong.
What do brands look for when picking their pool of influencers?
Three important aspects.
Firstly, brands look for influencers who fit the brand image. That means whether the influencer has the right audience or does he/she embody the brand's personality. Secondly, if the media value is worth it. Metrics such as number of followers, engagement rate, etc. Thirdly, the influencing power: Can the influencer create content that encourages thought exchange from the audience.
One point to note: There has been a rise of profiles created by robots or by people who buy followers and likes. This is something that AlphaConcepts has been able to help with. All of our influencers passed through a vetting process to make sure of their authenticity. Furthermore, brands look for real results after the campaign and through our platform, brands can now have a clearer picture on the actual tangible impact with the audience as well as other analytics that help them better navigate their influencer marketing strategies.
What made you want to start AlphaConcepts?
As a "rugged wanderer," I always want to venture into novel ideas. Being a model since the age of 14, it has allowed me to experience different cultures and lifestyles of various cities. This has led me to appreciate entrepreneurship and technology: Internet, social network, big data, and now artificial intelligence. I start to think if there are ways to leverage existing technology to improve advertising.
Initially, my co-founders and I wanted to create an online model agency. However, we did not work on this idea. If model agencies are already efficiently working with brands, why bother changing the behavior to bring it online. The team continued to focus on exploring ideas to improve advertising. As the team did more research, we discovered that a growing trend of marketers uses influencers for promotion. It's so self-explanatory as it is simple and remarkable. It does not matter what you say about yourselves, what matters is what others say about you.
Are there certain brands you want to tap for AlphaConcepts?
We are focusing on fashion, beauty, F&B brands, and events this year. We are very open to SMEs, to big brands so probably nothing really specific but I would love to promote tourism in different countries such as the Philippines. There is news everyday that gives the global audience a wrong impression of the country, and we would love to help spread the real beauty of it.
For you, what does it take to make a like-worthy or shareable post?
In my personal view, a key component to like or share a post is whether the content adds value to me. The content could be informative, inspirational, funny, interesting, mind-blowing, cool, or as simple as an interesting update from friends. The key is that the content has to catch my attention.
The influencer culture is booming now but do you think something will take its place in the next few years?
Influencer marketing is here to stay. Think about it, businesses have been hiring celebrities to promote as early as the birth of civilization. This culture extended to 'micro' influencer with the popularity of Facebook, Instagram, Snapchat, YouTube, and the like. At AlphaConcepts, we are confident to further ride on this growth momentum, a view that is shared by Mediakix. According to its report, influencer market is expected to grow by 50 percent per annum. The reality is that as there will be more demand in influencer markets, the technology behind an influencer platform will be more advanced and in effect create an efficient ecosystem.
Photo courtesy of Irish Ong's Instagram account
Follow Preen on Facebook, Instagram, Twitter, and Viber
Related stories:
It Might Be Time For Some Social Media Spring Cleaning
Why You Need To Take Time Off Social Media
Celebrities, Social Media, and the Responsibility of Thinking Before Posting
I Blocked My Ex on Social Media, But I Still Can't Stop Thinking About Her