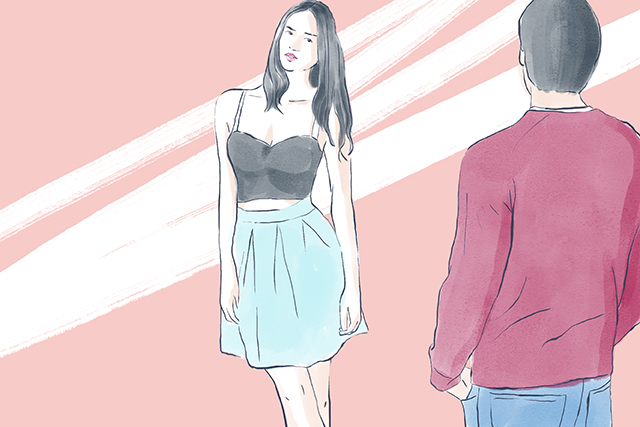 When I was in elementary, I witnessed how my cousin's boyfriend prohibited her from leaving the house because she was wearing shorts. They had a small back-and-forth in the living room, but my cousin eventually conceded and changed into pants.
Growing up, I had my fair share of comments from older people whenever I would wear shorts or a sleeveless shirt at family gatherings. I would often ignore it and simply dismiss it as "They're not used to it." Even though I was internally seething at the fact that they think men will sexualize my teenage body. But God forbid that I would have a significant other who would police me on what I should wear.
Luckily, I didn't have that kind of problem with my past and current relationships—until last weekend. I asked my boyfriend on his opinion of my outfit for a music festival I was going to—it was a muscle shirt with large holes on the sides and a bralette underneath. He told me to try other options aside from the bralette, which was fine because he would always give me constructive feedback and advice. But he continued with comments along the lines of: "You shouldn't wear that because you're showing too much skin and I don't like that."
For the first time in the three years we've dated, he told me to not wear something because he feels uncomfortable seeing me in it. Safe to say I was shocked and annoyed because he was basically telling me to cover up for his sake. Long story short, he apologized and still helped me choose the bralette/sports bra that would suit the muscle shirt. He also reminded to wear what would feel most comfortable for myself and not him.
Still, it was weird since that wasn't the first time he's seen me wear a top with oversized arm holes, especially in this humid climate. It's not new to him that I want to show off the tattoos on my sides from time to time. A male officemate asked earlier, "That still happens?" And yes, it does. I've seen enough screenshots of text conversations of men policing women's clothing. Many are claiming it's just a cute thing an overprotective boyfriend would do. One example is how James Reid said he doesn't like it when Nadine Lustre would wear sexy clothing, and fans felt kilig because it seemed like he's just looking out for her. (Disclaimer: He probably changed his mind after making that statement and props to him if he did.)
So, why do men feel the need to control women's clothing and tell them to dress "modestly"? Odyssey asked men about why they have problems with their significant others' clothing. Most of the answers pointed to their insecurity that they might catch the attention of other men because of how provocative their ladies looked.
Women are also often told that they might get sexually harassed and/or assaulted because of their clothes. (e.g. Sen. Tito Sotto) I'd be lying if I said I didn't hear such concerns from my own mother or relatives; even my current boyfriend, at one point, because of the alleged creeps that popped up in the local gig scene. Huffington Post noted that "It's about men being able to extend their control over women. Wear what I tell you to wear or else I'm entitled to sexually harass or assault you." It's not like women are dressing up with the intention of getting harassed. Then again, women will still get catcalled even when they're wearing a baggy shirt and jeans.
That said, here are a few things for all of you to remember. Guys, if you're worried about someone possibly hitting on your girlfriend because of what she's wearing, that's not her fault. It's the other men who can't control themselves and can't respect the woman's boundaries.
Ladies, don't let anyone, especially the men, tell you how to dress. As DAME Magazine pointed out, choosing what to wear isn't about fashion choices. It's about having autonomy over your body and have the freedom to express yourself. It is your choice if you feel like dressing in baggy clothing or a midriff-baring top. It's 2018 and men shouldn't have a say in what we wear because they do not own us or our bodies, nor are we dressing up for them.
Art by Yayie Motos
Follow Preen on Facebook, Instagram, Twitter, and Viber
Related stories:
Living in a Conservative Environment Isn't Affecting My Fashion Choices
How I Plan to Teach My Daughter About Dressing and Modesty
Why Restrictive Prom Dress Codes Are Misogynistic and Disempowering
These Artists Laid Out 140 Women's Clothes to Show a Daunting Statistic