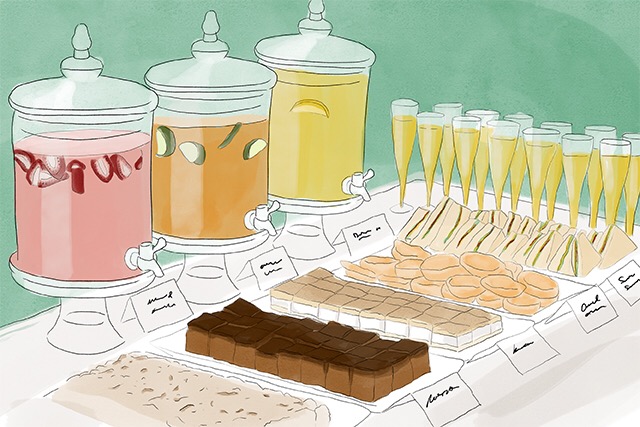 With each passing summer day, I dream more and more about throwing the perfect pool party. Inviting a bunch of my close friends and just lounging around, enjoying the pool's cool water. With Labor Day Weekend approaching, you might be thinking the same thing. You might have already sent some invites as well. But aside from getting everyone together, you have to make sure the food and drinks you serve are on point. People want to have a relaxing afternoon so preparing fuss-free food is key. They want to take a break and indulge too, so make sure to have booze ready. To give you an easier time getting ready for your next pool party, follow these foolproof food and drink recipes that are sure to satisfy everyone's cravings.
Food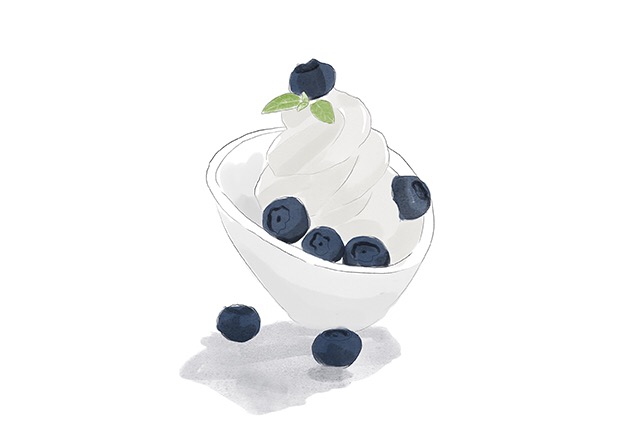 For the food, it is best to serve snacks that are easy to eat and not messy as well. You can have a variety of sweet and savory treats so that there's a little bit of everything for your guests. We suggest serving something cold like a fruit ice pop. Your guests will be able to cool down with these for sure. For something sweet, why not serve a pudding parfait? It's quick to make and the Oreo crumbs resemble sandy shores. Don't forget a savory option like a caprese skewer. These don't even require any cooking.
Fruit Ice Pops
Ingredients:
Raspberry Mixture
1/3 cup honey
6.75 oz coconut milk
Salt
1/2 tbsp White rum
1 1/4 cup raspberries
Mango Mixture
6.75 oz coconut milk
1/3 cup honey
1 tsp lime zest
1 tsp lime juice
Salt
1/2 tbsp white rum
1 1/4 cup diced mango
Procedure:
1. Combine all ingredients for the raspberry layer in a food processor and mix until smooth
2. Set the mixture aside and do the same with the mango layer ingredients
3. Fill in part of the popsicle molds with the raspberry mixture and set it in the freezer for 20 minutes
4. Remove mold from freezer and add sliced raspberries
5. Pour in the mango mixture and place in the freezer until popsicles and solid
Pudding Parfait
Ingredients:
8 oz softened cream cheese
1/4 cup softened butter
1/2 cup powdered sugar
8 oz container of whipped cream
1 box instant white chocolate pudding
1 1/2 cup milk
1 pack of Golden Oreos
Procedure:
1. Crush the Golden Oreos into crumbs and set it aside in a bowl
2. Mix cream cheese, butter, and powdered sugar
3. Fold in whipped cream until everything is well combined
4. In a separate bowl combine pudding mix and milk, and then mix with cream cheese mixture
5. In your chosen container, alternate between Oreo crumbs and pudding mixture
6. Refrigerate until ready to serve
Caprese Skewers
Ingredients:
16 ripe cherry tomatoes
16 fresh mozzarella balls
16 basil leaves
3 tbsp. virgin olive oil
Balsamic vinegar
Salt and ground pepper
Procedure:
1. Alternate layering the cherry tomatoes, mozzarella balls, and basil leaves onto a skewer
2. Drizzle with olive oil and balsamic vinegar
3. Season with salt and pepper to taste
Drinks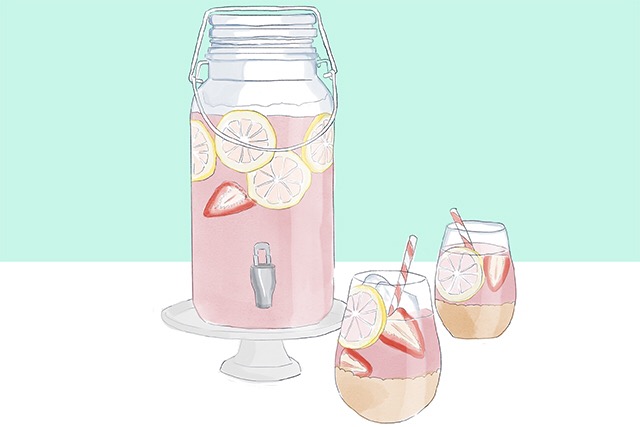 Complement your food with some ice-cold drinks. Depending on who you invite to your party, it is best to have both alcoholic and non-alcoholic options. For everyone to share, make a big bowl of rum punch. Just leave some ice and glasses so people can serve themselves. A summer get-together wouldn't be complete without lemonade. But why not switch it up with peaches and raspberries? Turn up the fun by serving some jello shots too. You'll get a kick of booze and they're fun to eat.
Rum Punch
Ingredients:
64 fl oz cranberry juice
36 fl oz pineapple juice
3 cups vodka
2 cups peach schnapps
Pineapple and strawberry slices
Procedure:
1. Combine all ingredients in a pitcher
2. Pour mixture over ice and serve
Mixed Lemonade
Ingredients:
1 1/2 cups lemon juice
1/4 cups sugar
5 cups water
Handful of raspberries
3 peaches
Procedure:
1. Mix together lemon juice, sugar, and water to make the lemonade mixture
2. Blend raspberries and peaches
3. Add blended fruits to lemonade mixture
Jello Shots
Ingredients:
2 packs unflavored gelatin
1 cup pink lemonade
1/2 cup vodka
1/2 cup lemon vodka
5 lemons
Procedure:
1. Cut lemons in half and scrape out the fruit
2. Heat the lemon juice in a pan over medium heat
3. Add the gelatin into the pan until it dissolves
4. Pour the lemon mixture into a bowl and add the two types of vodka
5. Transfer the concoction back into the lemon halves and allow it to set in the fridge for four hours
6. Slice the lemons and serve
Art by Yayie Motos
Follow Preen on Facebook, Instagram, Twitter, and Viber
Related stories:
8 Things For a Pool Party Your Friends Won't Forget
Serve Max Collins' Blue Cheese Dip at Your Next Get-Together
An Alcoholic Slushie You'll Have Fun Making This Weekend
These Parfaits Don't Have Ice Cream But They're Just as Good