Many people look to Heart Evangelista for fashion inspiration and we're not surprised. If you go through her Instagram account, you will see her various OOTDs in all their glory. From a bright pink coat to stylish workwear, Heart knows how to put clothes together and make them look good. Another fashion aspect you may notice from her photos is how she mixes different prints. Whether it's a head to toe outfit or just her accessories, she has an eye for combining patterns together to make a cohesive look. lf you're not sure how to do this yourself, here are some outfit ideas and tips we got from Heart's past outfits.
Floral + Animal Print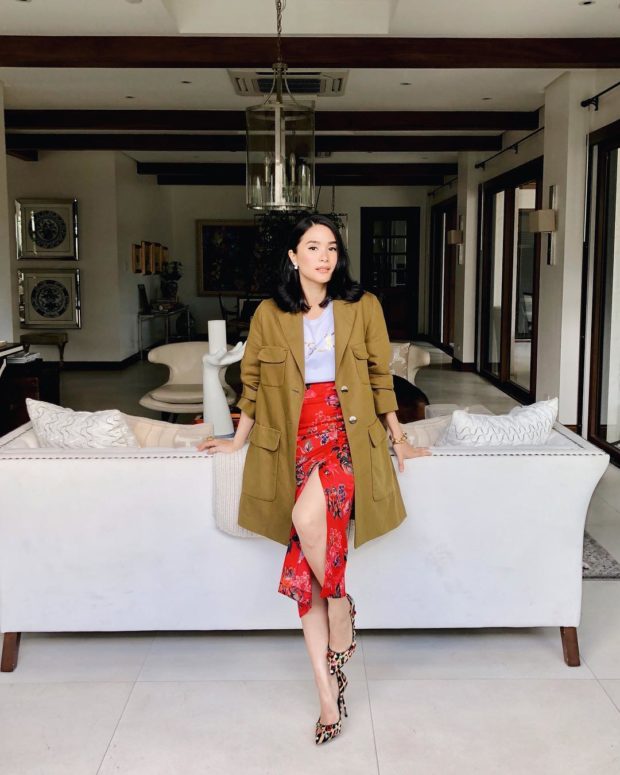 With summer in full swing, Heart is ready to bring out her summer skirts. One example is this floral high-waisted piece with a thigh-high slit. You might not think to pair this with leopard print, but that's exactly what she did. The heels also look like they have flower embellishments, which tie in with the skirt.
Vertical Stripes + Horizontal Stripes + Cats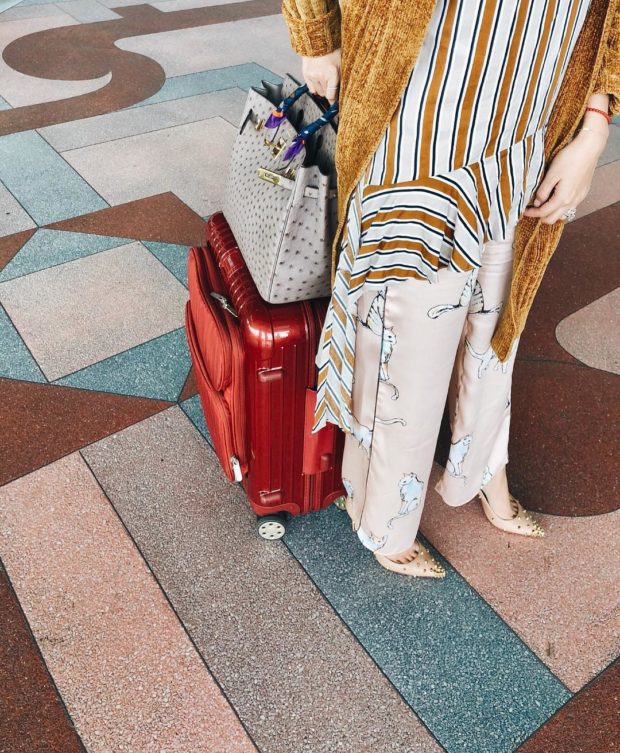 Heart's airport look consists of a loose-fitting top, lounge pants, and a long cardigan. The top she chose has stripes going in different directions. Her pants, on the other hand, was printed with white cats. What made this easy on the eyes were the choice of colors. She went for something more neutral so the prints don't clash too much.
Floral + Stripes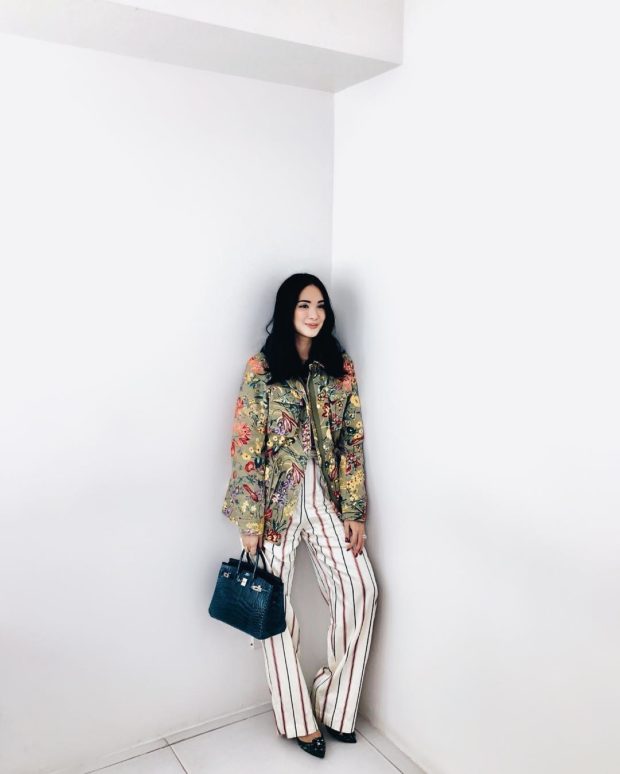 Why not pair floral and stripes together? Leaning against white walls, Heart's prints stood out even more. She wore white pants with vertical stripes and a green jacket with colorful flowers. What you can do is match the colors of the stripes and flowers so that the pieces complement each other more.
Different-Sized Dots
While on a trip to Hawaii, Heart decided to go for a polka dot on polka dot ensemble. She wore a see through black top with small dots, while her black skirt had larger ones. This is an easy way to transition into mixing prints. They are technically the same pattern but just in varying sizes.
Multi-pattern + Hand-painted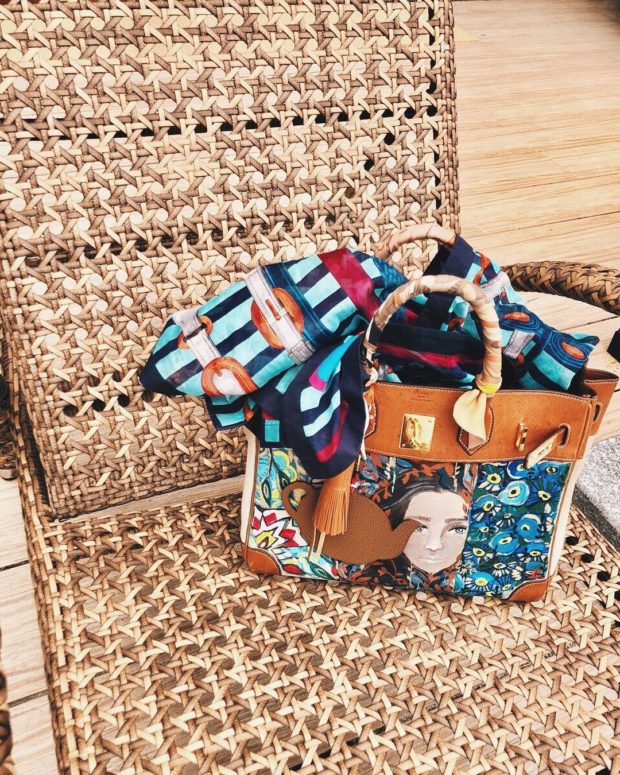 Aside from ready-made patterned clothes, Heart creates her own when she paints her bags. In an Instagram post, she shared a photo of one of her bags that featured different prints. Inside it was a large scarf that had stripes and a belt pattern. If you don't feel like mixing prints with your clothes, try using your accessories.
Polka Dots + Mini Flowers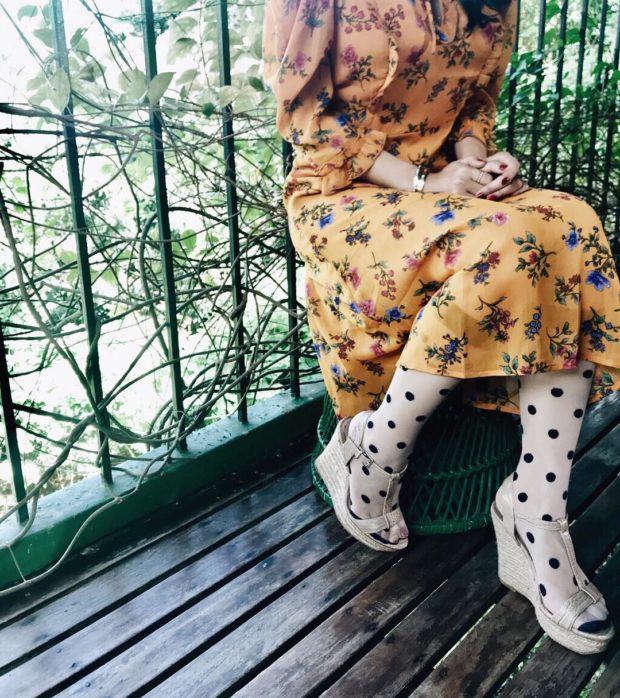 When Heart was starring in the show My Korean Jagiya, she was frequently spotted wearing floral dresses with polka dot socks or stockings. Perfect for summer time, throw on your favorite floral sundress and jazz it up with a cute pair of polka dot socks.
Art by Yayie Motos
Follow Preen on Facebook, Instagram, Twitter, and Viber
Related stories:
Heart Evangelista Wore Flats and Everyone Was Shocked
Heart Evangelista Bought Some Coffee Books in this Shop in Paris
Heart Evangelista's Fuchsia Coat Is a Paris Street Style Staple
Up Your Flat Lay Game With Tips From Heart Evangelista