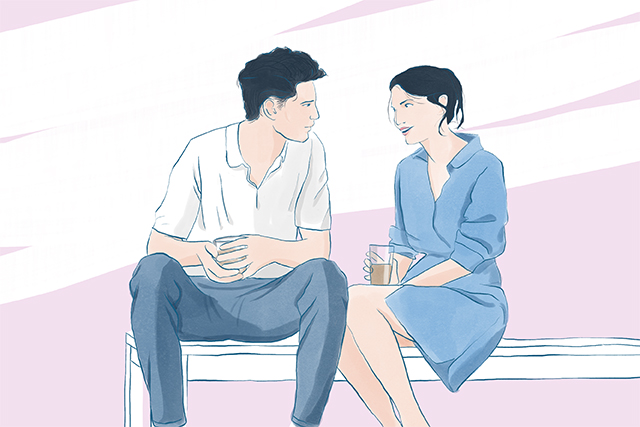 Here at Preen, we're fully aware that adult life doesn't always go as smoothly (and look as beautiful) as curated Instagram feeds. We all face challenges amidst all the good things. Meet Mikka Wee, a former food editor-turned-working gal in Singapore, who's about to share all the ups and downs that come with adulting and living. Welcome to Bless This Mess! 
I am not a marriage expert, nor am I a love guru—far from that, actually. Especially being a former Miss-I-Don't -Want-to-Get-Married-Ever, marriage has been a learning and growth process for me. There are days when I am thrown into uncomfortable circumstances where I can choose to either retreat or to step up, and there are also days when I feel validated about my decision to spend my life with someone other than myself (or my dog).
I am coming from the perspective of an everyday girl in her late twenties who just tied the knot, and who is currently settling into a life that's far different from the one she mapped out for herself a decade ago—in this case, it's easing into marriage.
Disney Princess movies don't show you what happens after happily ever after. When the wedding streamers have been put away, when the last crumb of wedding cake has been consumed, and when the petals from your wedding bouquet have dried up, this is when the actual marriage begins.
What celebrity couples don't post about is the argument that unfolds when plans are cancelled, when work gets in the way of life, when a partner is left waiting because of a meeting that overran. And these things, I'm sure, happen—not only in marriages, but also in all relationships in general. It's just how it is because we are all human and things are not perfect.
But, I believe, what is important is how we make up for the bad days. I am a strong believer that friendship outweighs romance in every marriage or relationship (may it be friendship, familial, or intimate), but I have learned through the years that there is another thing that is equally important—understanding each other's Love Language.
Gary Chapman, the man behind this idea, came to the concept of Love Languages after many years of being a marriage counselor. I think it makes so much sense to know what it is that makes you feel most loved, and how it is especially important that your partner knows it as well. There are a lot of tests online that can help you assess your Love Language (I like to joke that my Love Language is food, but sadly, there is no such thing).
Chapman says that there are five main Love Languages—(1) Acts of Service, (2) Words of Affirmation, (3) Receiving Gifts, (4) Physical Touch, and (5) Quality Time. I took this test for the first time more than a decade ago and as someone who loves to write, I always thought that Words of Affirmation would be my main Love Language, but after taking the test and learning more about myself, I realized that my Love Language is actually Quality Time.
And by Quality Time, I don't mean spending time together with attention directed elsewhere (e.g. watching a movie or a show on Netflix)—by Quality Time, I mean nice intimate coffee dates, catching up over a nice home-cooked meal and cold beers, or just any simple moment with undivided attention and good conversation. Quality Time also, I feel, is one of the more demanding Love Languages because you give time, and time is something you can never get back (literally speaking), which is why I sincerely believe that attention is the rarest and purest form of generosity. But your Love Language can definitely look different from mine. Each person's Love Language varies, which is why it's important to have this conversation especially with your partner.
Your Love Language is so important because it's part of your identity. It allows you to pinpoint your needs in a relationship, especially if you are in a marriage or in a long-term partnership. I also read an article on how Love Languages put sense around why partners usually misinterpret one's intention—the conflict of Love Languages, or not knowing what makes the other feel loved could be a source of disagreements or insecurity (because you could feel that you keep making an effort, but your partner doesn't seem to appreciate it), when the underlying reason is simply not knowing each other's Love Language.
I also believe that the purpose of Love Languages transcends marriages and long-term partnerships, and spills over to all relationships in general. If our goal is to show love to other people, especially to those who matter the most in our lives, then it is important that we know how to show love in a way that they can easily understand.
There is no perfect relationship—each is bound to have its ups and downs, agreements and disagreements. However, what matters is how we make up for these bad days with good, love-filled days. Again, I am no marriage expert or a love guru, but I have been learning that knowing how to communicate love in a language that is easily comprehendible by the other could save a lot of drama and really strengthen our relationships.
Love comes in many forms. I personally like to think of it as a form of energy that we give, share, absorb, and take. Love is not always easy, and while it is said that it is a verb (which I agree in), it does entail a bit of effort, but in the end, it's always worth it if it's for people who matter the most.
Disclaimer: The views expressed here are solely those of the author in her private capacity and do not in any way represent the views of Preen.ph, or any other entity of the Inquirer Group of Companies.
Art by Yayie Motos
Follow Preen on Facebook, Instagram, Twitter, and Viber
Related stories:
The Happiest Day of My Life
My Toughest Long Distance Relationship Ever
A Few Things I Learned While I Was Single
Why I'm a Firm Believer of Memory-Keeping