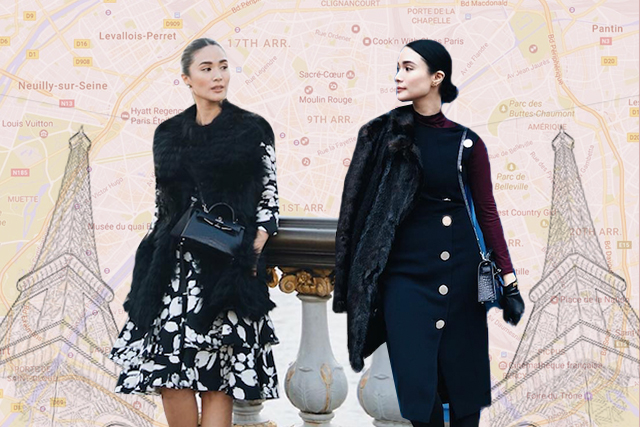 Heart Evangelista was recently spotted in Paris (a city she frequently visits, BTW.) And when she wasn't attending fashion shows or looking fab on the street, she was exploring the city. On her Instagram, she shared flatlays at restaurants and photos from a bookstore. She also posted about a fashion exhibition she visited. If you're making your way to Paris any time soon, put these spots on your list.  
Café Mademoiselle
Not only does Café Mademoiselle make for an IG-worthy photo but their food sounds delicious as well. They have a selection of pasta, meat, and meals to share. They also offer a cheese platter and different dessert items like ice cream and chocolate mousse.
Located at 21 rue Duphot, Paris.
Azzedine AlaÏa: "Je Suis Couturier"
Heart also visited an ongoing exhibition that pays tribute to the late designer Azzedine AlaÏa. On display are pieces that have been worn by Naomi Campbell and Grace Jones, along with other gowns from past collections. This exhibit will run until June 10 so you still have some time to check it out.
Located at 18 rue de la Verrerie, 75004 Paris.
Caviar Kaspia
If you're looking for a caviar-filled meal, book a table at Caviar Kaspia. Their recipes range from baked potato with Imperial Baeri caviar to king crab and crayfish salad. You can even bring home a tin of your favorites, depending on what you try.
Located at 17, Palace de la Madeleine, Paris.
Assouline
Book lovers should check out this spot in Paris. They have books that cover many topics like architecture, art, and fashion. Heart bought some coffee table books here. They also sell leather goods and notebooks.
Located at 35 Rue Bonaparte, 75006 Paris.
La Société
Heart also made a stop at La Société, a restaurant that serves French and European cuisine. She ordered escargot with bread and a side of caprese salad. Yum!
Located at 4 Place Saint-Germain des Prés, Paris.
Art by Lara Intong
Related stories:
Hunting, Hiking, and Chocolate Making: What to Do in New Zealand
Glamping Spots Where You Can Escape From the Busy City
Mapping Out Italian Landmarks With Seve Soriano and Olivia Reyes
Lauren Reid Goes on a Haiku-Writing Spree In Japan