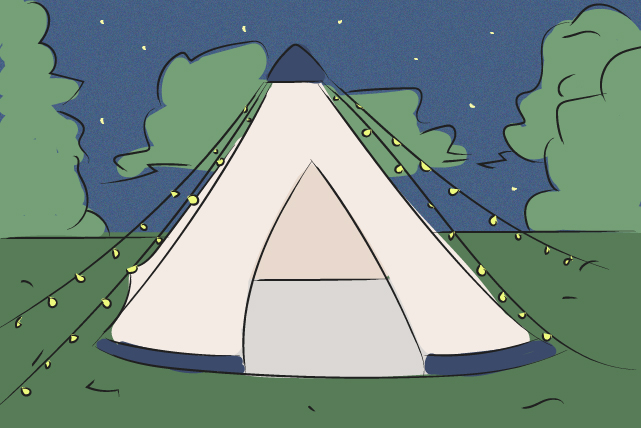 With the many long weekends and holiday breaks coming up, an escape from the busy city sounds like a good idea. Booking a hotel somewhere or traveling out of the country might be the go-to but there's another option where you can really disconnect. Glamping spots have been popping up in local beaches so it might be time to try it out. You still get to experience camping but in a more luxurious way. You'll have actual beds and sometimes even tables and chairs. However, most of these places have little to no internet access so you have no choice but to be one with nature.
Easy Adventure
For surfers and those who enjoy water sports, consider Easy Adventure for your glamping trip. Located at Charlie's Point in Baler, you'll have access to the beachfront and overall relaxation. You will also be able to completely disconnect since they don't have electricity and rely on natural resources. Book your trip and get ready to put your phone away. For more information, visit their website.
The Birdhouse El Nido
If you're thinking of making your way to El Nido, consider booking a nest at The Birdhouse. Each tent can accommodate up to four people and is surrounded by birds and wildlife. You also get a view of the Bacuit Bay and other islands. They also offer island hopping packages where you get to visit lagoons and caves. For more information, visit their website.
Sand and Stars Beach Resort

Another glamping spot in Baler is the Sand and Stars Beach Resort. Here, you will be able to camp right on the sandy beach. The fee of P1,300 to P1,050  a night includes breakfast, access to the beach, and of their grill. The tents are also fitted with colorful and patterned furniture, which makes for great photos. For more information, visit their Facebook page.
Tablas Point

Looking for the comforts of home but in a tent setting? Check out Tablas Point. Here, their safari tents have nipa roofing and a view of the beach. Aside from the king size bed, you also have a living room area, closet, and dining table. For their activities, you can book a speedboat, try snorkeling and fishing, and go on a hike trail. For more information, visit their website.
Nayomi Sanctuary Resort
For an out of town destination close to the city, visit Nayomi Sanctuary Resort in Batangas. You can book their bell tents, which are good for six to nine people. This comes with breakfast, power outlets, lamps, and an electric fan. Each tent is set up on a platform, which has a bathroom and picnic table. For more information, visit their website.
Art by Lara Intong
Related stories:
Preen Diaries: I went Glamping to Get Over a Breakup
This Is How You Glamp in 10 Different Countries
5 Local Hiking Spots That Will De-Stress You From Your Busy Week
Going on a Hike? Cop These 8 Pieces Before Going to the Mountains