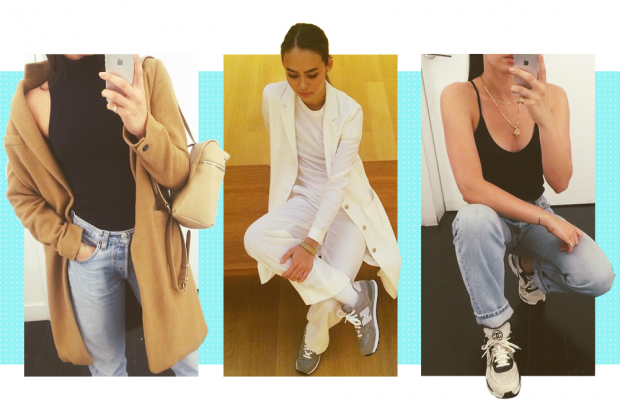 I've always had a problem with people calling me a tomboy. In the Philippines, the term comes with a lot of strange connotations. However, even without the cultural baggage, there's something inaccurate about it for me. Sure, I wear throwback jerseys and enjoy loud music with gritty distortion, but at the same time, I love dresses, lace, and am only interested in the UFC because of Connor McGregor's manbun(s). Turns out, there's an aptly paradoxical name for this seeming contradiction that I (and many other women) embody: tombabe.
Niesh Vanterpool, the 29-year-old wholesaler and visual merchandiser of Edwin Europe, the purveyor of all things denim and the ideal tombabe, defines the phenomenon as "a woman who rocks the typical tomboy aesthetic in a feminine way." A quick scan of her Instagram account (@nieshvanterpool) fleshes this idea out. Alongside her camo jackets, buzzed 'do, and full sleeve of tattoos are manicures, makeup tips, and vegan recipes.
The stark contrast of masculine and feminine isn't new though. Niesh's tombabe icons Steph Hoff, Vashtie Kola, and Jayne Min perfected the style years ago. But the lasting-power of these tastemakers isn't about buying into an image—it's about expressing an attitude of self-confidence and not giving into or even caring about society's expectations.
What's refreshing about these tombabes in the parched land of eternal crop-tops and high-waisted shorts, is that it shrugs at the uniformity that window display after window display (or style blog after style blog) sells, and, as Niesh puts it, "defies corny rules and stereotypes," encouraging women to "make no apologies for who you are." And while "who you are" sometimes means wearing heels and skirts, it also, thankfully, makes room for sporting Air Jordans and chinos.
In fact, so much of being a tombabe seems to be rooted in the tenets of feminism (i.e. freedom and equality). Niesh points out a frustrating double standard: women are both pressured to "dress in a way that makes them attractive to men" as well as "ridiculed for doing so by way of slut-shaming." Channeling an innate tombabeness in her fashion sense is her way of breaking out of that oppression.
Whether it's by cuffing straight jeans over Doc Martens, slipping on some Vans and an oversized band T-shirt, or literally wearing your boyfriend's clothes (guilty)—the essence of tombabe is, ironically, a disregard of boundaries and labels.
And in the end, the root philosophy applies to every woman. Be who you want to be, and dress how you want to dress—tombabe or not.
Niesh is neither abiding by any guidelines nor stressing over categories. "I just keep my head up and do things my way. I may have to make somebody check themselves every now and then, but what's new?"
Photo courtesy of Emily  Oberg (@emilyelaineoberg) and Mellany Sanchez (@mellany_sanchez)
This story was published with a featured image of Emily Oberg and Mellany Sanchez. However, it was brought to our attention that there were no proper credits given for the use of the photos. Due credits are now given. We regret the error.
Art by Dorothy Guya