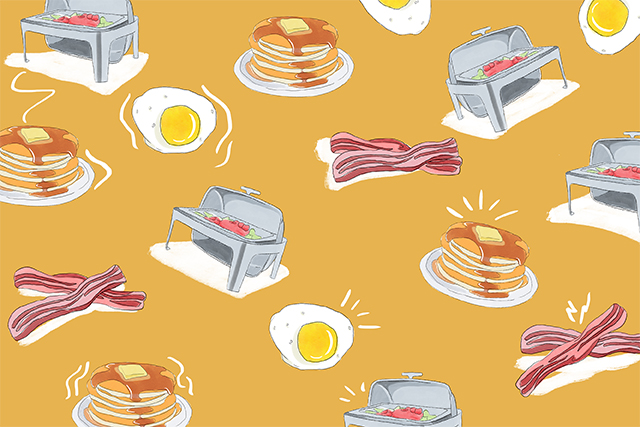 A huge factor I consider when booking a staycation is the breakfast buffet. This is also probably the only time I will get up really early. Yes, just to enjoy some delicious hotel food. There are many hotels to choose from and their breakfast buffets are always a mix of different cuisines to cater to the different tastes of the guests, You can find Asian delicacies from Japan and China along with comfort food like bacon and pancakes. There are also cheese and bread tables, juice bars, and a vast dessert station for everyone to devour. So, if you're planning a staycation or want to enjoy a hearty breakfast buffet this week, check out these spots around the metro.
I'M Hotel
Time: 6 a.m. to 10 a.m.
Price: P724+
Get a balanced meal at I'M Hotel's breakfast buffet. Before you pick your food, grab a few glasses of their selected juices. You can also start off with a bowl of cereal. For your second round, try out their sushi or their hot dishes like bacon, eggs, and beans. Located at 7862 Makati Avenue, Makati City.
Makati Shangri-La Hotel
Time: 6 a.m. to 10:30 a.m.
Price: P1450 for adults, P725 for kids
The line may be long at times but the wait is definitely worth it. Their breakfast buffet is a mix of different cuisines so grab as many plates as you can. Pick from sushi, sausages, pancakes, and tapa. For dessert, opt for a generous serving of their bread pudding. Located at Makati Avenue corner Ayala Avenue, Makati City.
Hyatt City of Dreams Manila
Time: 6 a.m. to 10:30 a.m.
Price: P1300
The Cafe at Hyatt is separated into six stations. There's Italian food like pasta and the deli, which serves bread and seafood. Enjoy kebabs and yakitori from the grill and dimsum from the Asian section. You can also pick from comfort food like fried dishes and finish off with cakes and ice cream. Located at Belle Avenue, Parañaque City.
Conrad Manila
Time: 6 a.m. to 10:30 a.m.
Price: P950
Conrad's breakfast buffet is also a mishmash of different kinds of foods. They have freshly baked pastries, turmeric-boosted fruit juice, and a bread counter filled with pancakes and crepes. There is also an assortment of cheese, fruits, and cereals. Located at Seaside Boulevard, Coral Way, Pasay City.
Seda BGC
Time: 6 a.m. to 10 a.m.
Price: P948
Seda's breakfast buffet is all about comfort as they offer hearty selections that remind you of home. There are warm waffles alongside crispy bacon. There is also a salad bar, bread table, and fresh fruits. You can also enjoy different kinds of sausages and Filipino dishes. Located at 30th Street corner 11th Avenue, Bonifacio Global City, Taguig City.
Okada Manila
Time: 6 a.m. to 10:30 a.m.
Price: P1400+
For breakfast at Okada, enjoy meals from all over the world. Pick up your plates and get spoonfuls of Japanese, Chinese, Italian, and Indian cuisine. To end your first meal of the day, try their different dessert from cakes to other sweet pastries. Located at New Seaside Drive, Parañaque City.
Sofitel Philippine Plaza Manila
Time: 6:30 a.m. to 10:30 a.m.
Price: P1900 on weekdays and P2150 on weekends
Dining at Sofitel isn't just for lunch and dinner, you can stuff your mouth with their delicious food for breakfast too. Get a ittle bit of everything from Filipino dishes to French cuisine. And don't forget to make a stop at everyone's favorite: The cheese room. You can end your meal with plates of cheese or go back for something sweet. Located at CCP Complex, Roxas Boulevard, Pasay City.
Art by Yayie Motos
Follow Preen on Facebook, Instagram, Twitter, and Viber
Related stories:
When Kids Make Mom's Day Breakfast, It's Equal Parts Adorable and Hilarious
The Meals You Should Order For the Most Important Meal of the Day: Brunch
These Parfaits Don't Have Ice Cream But They're Just as Good
Make Smoothie Bowls Better With Bee Pollen and Chia Seeds