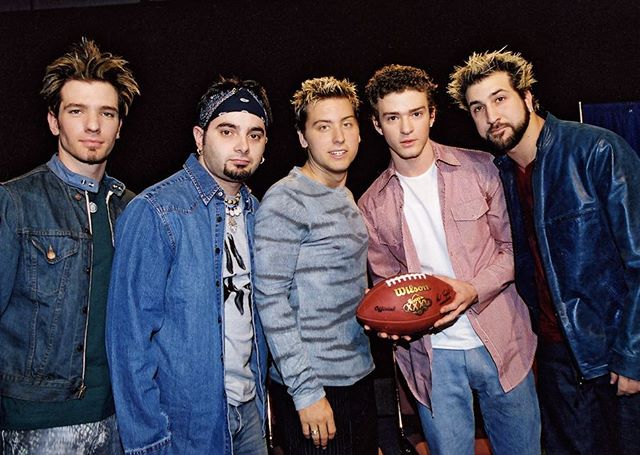 Destiny's Child isn't the only '90s group that got together again this year. In honor of the infamous "It's gonna be May" meme, Ellen DeGeneres surprised everyone with an *NSYNC reunion.
This happened after the group received their star on the Hollywood Walk of Fame. Justin Timberlake was first interviewed on The Ellen Show before revealing that the rest of the band was in the studio too. Safe to say that the audience freaked out over their childhood crushes.
The last time *NSYNC was together was when they performed during the MTV Music Awards in 2013. So of course, they indulged everyone with fun facts about their last reunion, their secret group chat, and their flashy outfits back in the day. "Y'all look like you're always in winter skiing [clothes]," Ellen joked.
Ellen also got them to play "Never Have I Ever" and there were some juicy revelations. One of them was that Justin apparently hooked up with a Spice Girl. (It wasn't disclosed who it was though, but you're free to take a guess.) And when it came to "hooking up with a fan," most of the guys asked, "What does that even mean? My husband/wife was a fan." How adorable.
There's no news on whether *NSYNC will perform together again in the near future. But we're willing to pay good money to hear "Bye Bye Bye" and "This I Promise You" live again.
Photo courtesy of *NSYNC's website
Follow Preen on Facebook, Instagram, Twitter, and Viber
Related stories:
Justin Timberlake's Man of the Woods Is A Half-Hearted Blip on the Radar
Beychella Weekend 2 Had New Wardrobe and Another Destiny's Child Reunion
A Spice Girls 2018 Reunion Is Happening, But They're Missing One Member
The Spice Girls Are Performing at Prince Harry and Meghan Markle's Wedding
The Songs that Remind Us of Awkward First Dates and Kisses