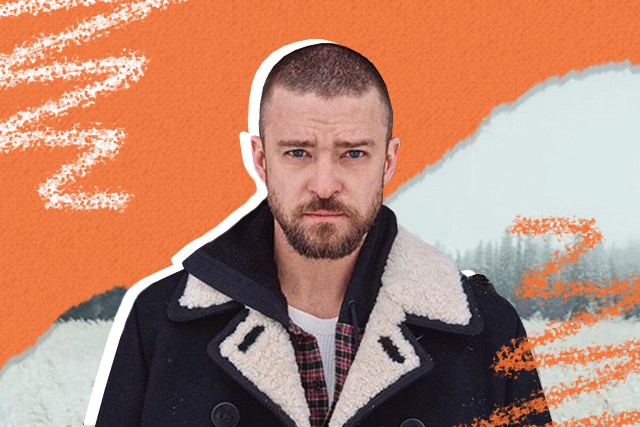 From the outset, Justin Timberlake's new record Man of the Woods is strange, no matter how you look at it: pop-R&B musician tries to make (what seems to be) a country-blues album.
Unless you followed the former N*SYNCer's music closely, there was no indication that Justin Timberlake was going to pull off something like this. The only clue was track seven of his second 2013 album The 20/20 Experience 2 of 2, "Drink You Away," a country rocker he performed at the Country Music Awards with Chris Stapleton. After that performance, I called that something like Man of the Woods could be a nice next project after the adventure that was the first 20/20 Experience. Lo and behold, here we are.
But the album would be even more normal if it was a straight-up country blues album. Reuniting with the Neptunes (the other geniuses responsible for Justified) to go along with Timbaland and Danja, Man of the Woods looks like country, but only somewhat resembles something like it.
I don't know if it's because Timberlake's learned the lessons John Mayer had to learn the hard way from Born and Raised and Paradise Valley—which, perhaps, is never to veer too closely to the source genre for fear of completely alienating your fanbase—but while some of it sounds nice, and definitely adventurous, it sounds cobbled together on the whole. The country and folk-affected cuts, like title track "Man of the Woods," "Midnight Summer Jam," "Livin' Off the Land," among others try to combine traditional elements with the trademark R&B and pop beats, maybe just to say they've still left the Justin Timberlake branding on this exploration.
That's not to say, however, that it doesn't all work. "Say Something," the third single that features the aforementioned country singer Chris Stapleton, works as a blues-tinged pop power ballad and was the first song before the album's release that hooked me into the project. "The Hard Stuff" is another example of how the best strengths of this crossover project can come together. It's just a little disappointing that poignant moments like these are few and far in between.
When the teaser trailer dropped, I wanted to see if he could be as bold as John Mayer was, really plunging in deep into these roots. It's understandable to not want to stray too far away from your forte, but the chance for adventure was a missed opportunity, especially when he's left hints as to how that could sound like.
And when you take a listen to songs like the lead single "Filthy," "Supplies," "Sauce," and the Alicia Keys guest track "Morning Light," all of which harken back to FutureSex/LoveSounds, it kind of feels like Timberlake's taking on the country aesthetic is a gimmick. It doesn't help that he makes boasts that don't quite line up with the image we've known of him, like when he sings, "I'm a man of the woods, that's my pride," checking a reputation that has never once come up when you mention the name "Justin Timberlake."
All in all, the strategy to tease the world with something that looks like a good artistic gamble demanded more than something safe. Man of the Woods is Eagles levels of soft, and while that isn't necessarily a bad thing, the man who gave us FutureSex/LoveSounds and the first 20/20 Experience could have done better. You'd think a guy who prides himself as being of the woods would take more risks.
Art by Lara Intong
Follow Preen on Facebook, Instagram, Twitter, and Viber
Related stories:
Justin Timberlake Paid Tribute to Prince During His Super Bowl Performance
Beyoncé and Kanye West Are Bringing Back Long Music Videos
Here's Why People Aren't Excited for Justin Timberlake's Super Bowl Half Time Show
White Roses Aside, the Grammys Still Failed Many Female Artists